Do you ever read a menu and say I want this item but I also want this other item? I know I do that all the time. BRAVO Cucina Italiana is alleviating your fear of commitment with their new promotion. From April 10 – June 17, guests at BRAVO Cucina Italiana will have the opportunity to choose two of BRAVO's classic Italian dishes and receive a half portion of each! The offer includes a choice of soup or salad. Dishes are priced at $14.99 during lunch and $17.99 during dinner.
BRAVO generously invited me to sample their menu. All opinions expressed herein are my own.
The Menu at BRAVO Cucina Italiana
Start off with the special appetizer for the spring menu – Crispy Shrimp Napoli. I am not a huge fan of shrimp, but this appetizer is delicious! The sauce is the star of this appetizer. I couldn't get enough!
For the half dishes, you can choose from the following:
Pasta Woozie with grilled chicken, fettuccine, alfredo, and spinach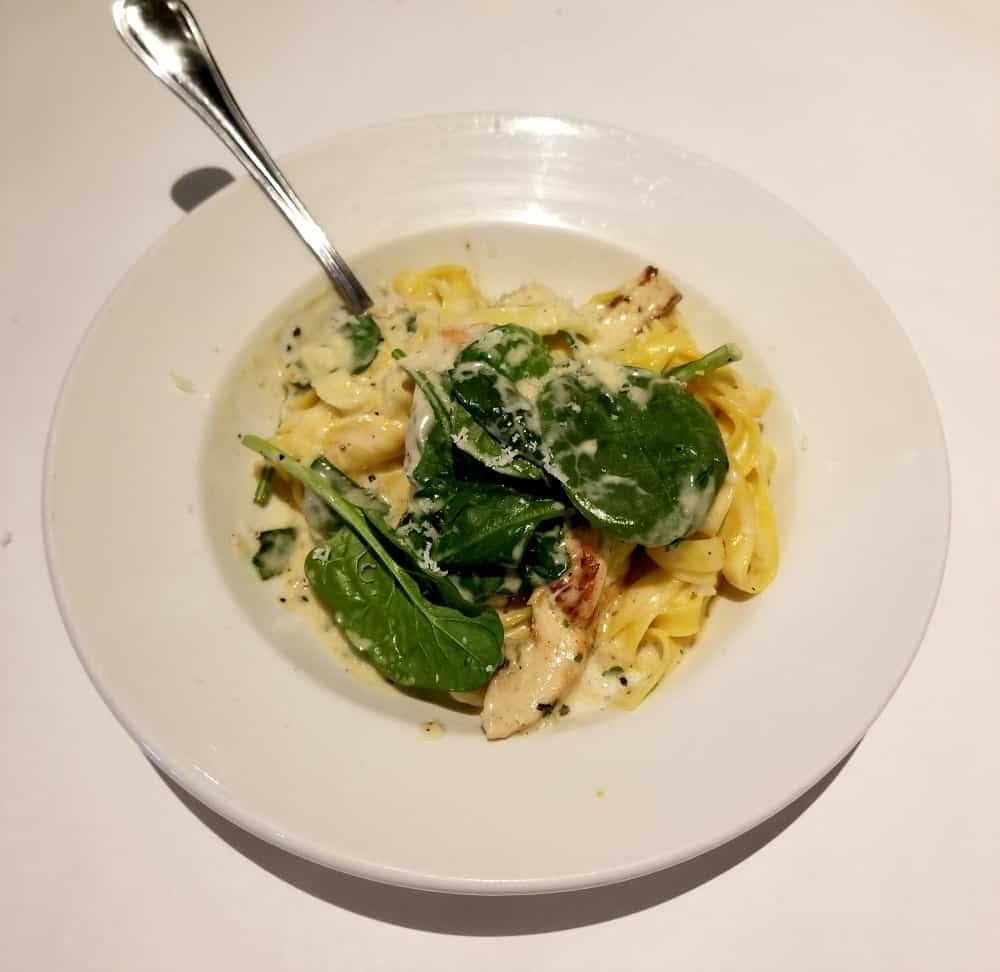 Pasta BRAVO: Grilled chicken, mushrooms, rigatoni, roasted red pepper cream
Chicken Parmesan: Pomodoro, mozzarella, herb linguine
To be honest, I am not a fan of mushrooms. Surprisingly, the Pasta BRAVO was delicious even with my dislike of mushrooms. My boyfriend is chicken parmesan's #1 fan, so I didn't get to try much of this dish. He ate the whole thing in record time, so that will speak for itself.
Mama's Lasagna Bolognese: BRAVO's signature meat sauce, alfredo, ricotta, mozzarella
Shrimp Fra Diavolo: Spicy tomato cream sauce, campanelle pasta, shrimp
To be honest, I couldn't even taste the shrimp in this dish! The tomato cream sauce was amazing. But my favorite dish was the lasagna. Oh Em Gee. This was the BEST lasagna I have ever had. (Sorry, Mom!) You must go to Bravo right now and get the lasagna. It was rich and creamy and everything lasagna should be.
End the meal with the Warm Berry Cake, made with vanilla bean gelato, butter cake, and berries, for $5.99.
In addition to a full wine list, guests can enjoy drink specials including the Strawberry Fizz, Strawberry Mango Cosmo and Strawberry Basil Smash.
I love basil in cocktails, so my favorite was the Strawberry Basil Smash. I also tried the Strawberry Fizz, which was very sweet. It tasted just like a Jolly Rancher!
BRAVO Cucina Italiana Location and Hours
BRAVO Cucina Italiana is located in the Uptown Center off Indian School & Louisiana
2220 Louisiana Blvd NE
Albuquerque, NM 87110
Reservations: (505) 888-1111
Sun-Thu: 11am-10pm
Fri & Sat: 11am-11pm
Weekend Brunch: Saturday & Sunday until 3:00 pm
Happy Hour – Weekdays from 3:30-6:30 in the Bar
To find a location near you, click here.
Looking for more Albuquerque restaurants? Try these: