It is hard for me to say no to pizza. I love it all, from Chicago Style to New York style, thin crust to stuffed crust, and basic to loaded with ridiculous toppings. Sometimes, you can have too much of a good thing with pizza. My boyfriend and I have been spending a little too much time with some deep dish pizza, so I was really happy when Blaze Pizza invited me to enjoy some pizza at their new Albuquerque location.
Blaze Pizza Locations
Blaze Pizza currently has two locations in Albuquerque:
6400 Holly Ave. NE Albuquerque, NM 87113
Coronado Center, 6600 Menaul NE T-001, Albuquerque, NM 87110
Fast-Fire'd Custom Built Artisanal Pizzas
Blaze Pizza keeps the reasonably-sized menu simple, and you are sure to find something you have to have. For the entire Blaze Pizza menu, click here. I love that you get to watch your pizza get made right in front of you. This always makes me feel like I'm getting the freshest ingredients. Each pizza costs $7.95 and feeds 1-2 people.
Once your pizza has been prepared on fresh, never frozen dough, it is popped into the blazin' hot oven for only 180 seconds! And out comes a perfectly cooked, crispy thin crust pizza.
There is plenty of seating and tons of natural light comes in through the many windows. We went around 2:00 p.m. on a Saturday and it was not very busy.
I tried the Green Stripe pizza, which is pesto drizzle over grilled chicken, roasted red peppers, chopped garlic, mozzarella, and arugula. O.M.G. This pizza was delicious. None of the ingredients overpowers the others. The flavor ratio is perfect.
My boyfriend tried the Art Lover – artichokes, mozzarella, ricotta, chopped garlic, and red sauce dollops. He looooved the clumps of ricotta cheese.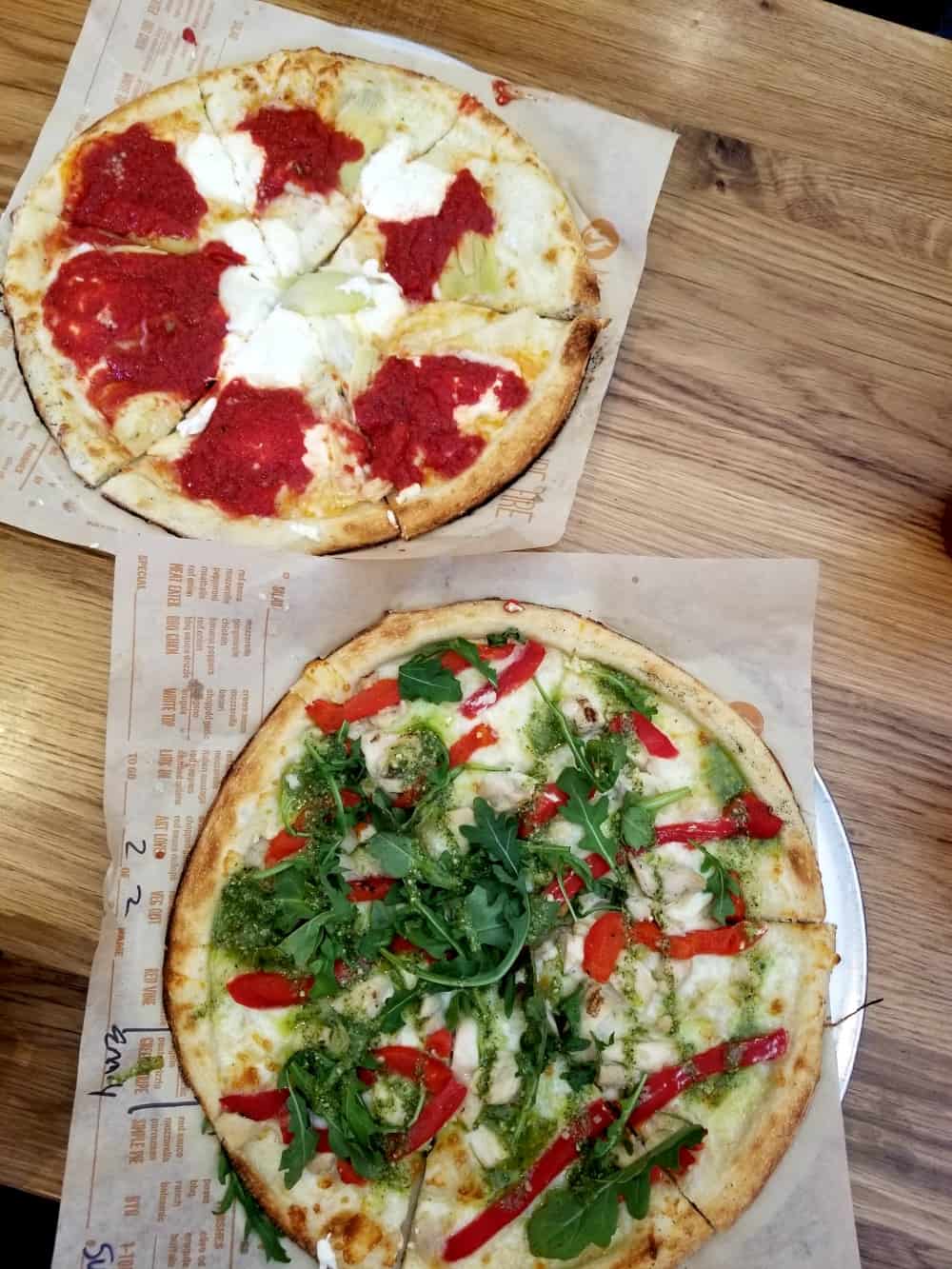 The thin crusts mean you can enjoy amazing pizza without that feeling after of "I ate too much." I actually only ate half and saved the rest for later.
Blaze Pizza is definitely moving to the top of my list as a go-to pizza place. I can't wait to try the rest of the menu and explore my palette.
Looking for more Albuquerque restaurants? Try these: