4th of July Push Pops are a fun and entertaining dessert that adults and kids alike will love. Pound cake is layered with whipped cream, blueberries and strawberries in this red white and blue dessert.
These little individual desserts are so easy to make and are great for parties! If you don't like having a ton of leftovers after parties, then this 4th of July dessert recipe with fruit is just what you need. Adults and kids alike will love these unconventional and creative push pop desserts!
This recipe does require a little prep as the pound cake needs to thaw. If you need a last minute 4th of July dessert recipe, try these No Bake 4th of July Thumbprint Cookies.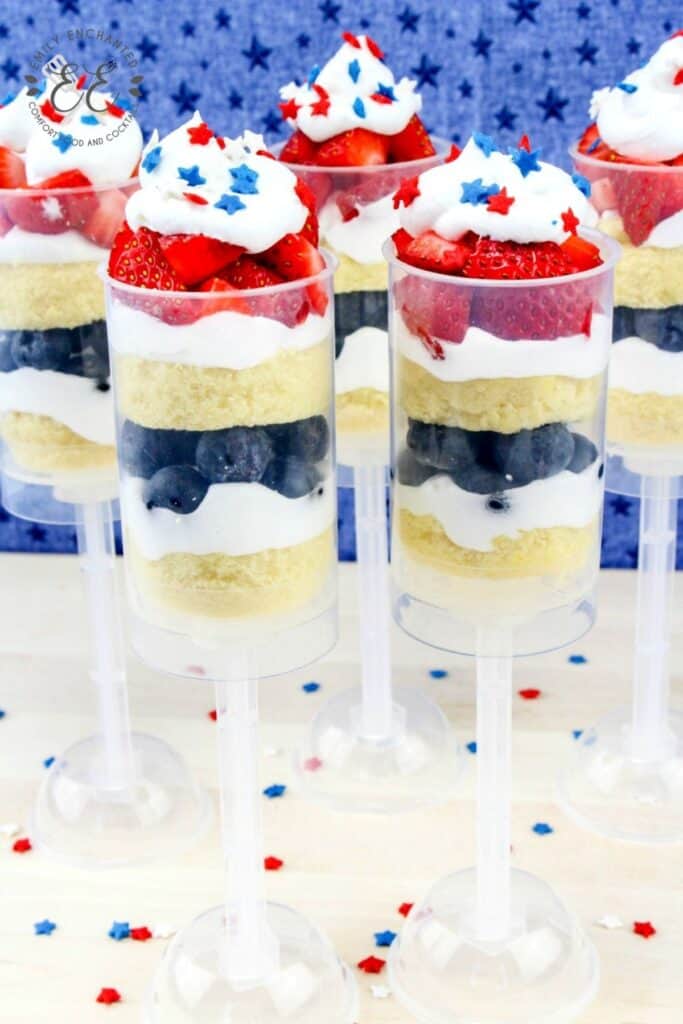 Cake Pops Ingredients
This post contains affiliate links for your shopping ease.
To make this patriotic dessert recipe, you will need the following ingredients (go to the recipe below for exact quantities and instructions):
Frozen Pound Cake
Whipped Topping
Fresh Blueberries
Fresh Strawberries
Plastic Push Pop Containers: Be sure to get the kind that have a lid that doubles as a stand, like these.
How to Make Cake Cups
Cut the pound cake in half lengthwise. Use the open end of a push pop container to cut 12 circles from the cake.
Insert one of the cake circles into each push pop container, making sure to press it down to the bottom. Put some of the whipped topping into a plastic baggie, cut the corner off, and pipe a layer over the cake. Next add a layer of blueberries to each container. Add another cake circle to each one and then another layer of whipped topping. Add a layer of strawberries to the top.
Add a little dollop of whipped topping and sprinkle the patriotic sprinkles over the top.
Serve right away or refrigerate for a few hours before serving. Enjoy!
Other 4th of July Recipes
4th of July is one of my favorite holidays and I just have to share my other recipes and crafts with you. Be sure to check these out!
4th of July Popcorn – The best combo of sweet and salty, I cannot resist chocolate on popcorn.
Firecracker Strawberry Pops – Who doesn't love chocolate covered strawberries? These are easy to make and easier to enjoy.
Patriotic Oreos – These chocolate covered Oreo cookies are red white and blue and so good!
Fourth of July Rice Krispie Treats – This classic dessert is given a patriotic twist with star shaped cookie cutters.