Does it get any cuter than these 4th of July Mini Pie Bites?? They are so easy to make and make a great impression at parties!
Making this patriotic dessert is a breeze with store bought pie crust and canned pie filling. Add whipped cream to mini blueberry pie and mini strawberry pie and you have the best red, white and blue dessert to celebrate the 4th of July.
Mini pies are great for serving at large barbecues or parties because you can save whatever you don't serve. They are also less messy than cutting into a full size pie.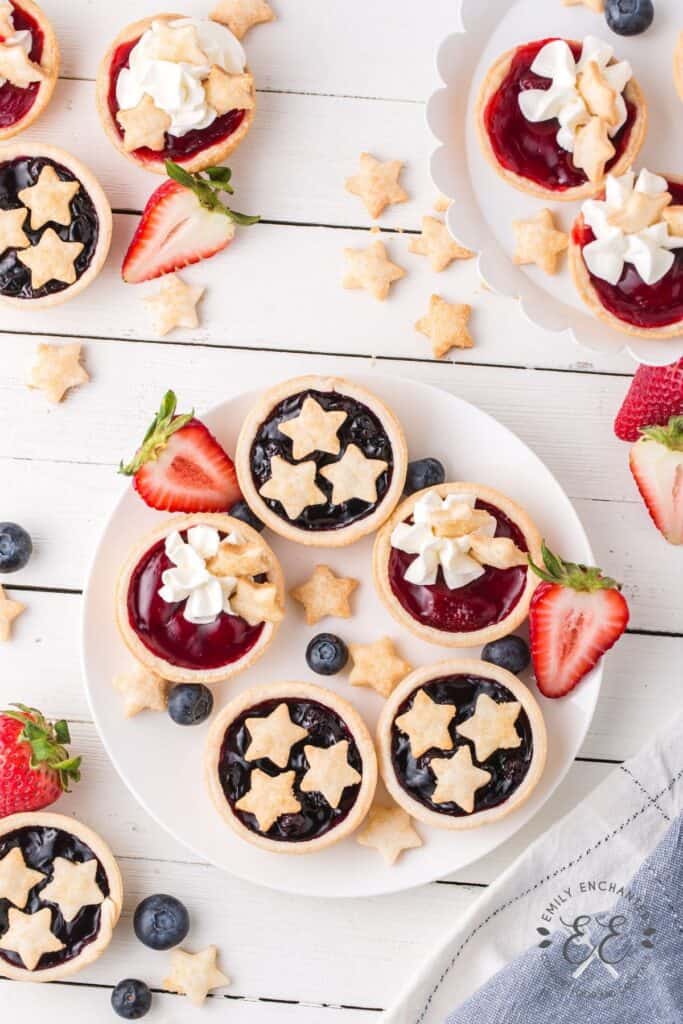 This post contains affiliate links.
If you LOVE 4th of July like me, try my patriotic cake pops, 4th of July monster cookies, or these red, white and blue cake cups.
Fourth of July Pie Bites Ingredients
To make this patriotic pie recipe, you will need the following ingredients (see the recipe card below for exact amounts):
Frozen pie crusts: You can also use your own homemade pie crust for these mini pies. You will only use 3 of the 4 frozen pie crusts. If you would like to create more mini pies, use the fourth pie crust for those. If not, save it for another recipe. *Note: I definitely recommend buying the Pillsbury pie crusts in a box that are rolled, and not the Marie Callender's pie crusts that are already shaped into a shell. The rolled pie crusts are much easier to use for this recipe.
Salted butter: The butter gives the stars more flavor, but if you are using a small cookie cutter, it can be tedious to brush the butter on each star. In that case, I recommend simply spraying a light coating a cooking spray on each star instead.
Turbinado or Granulated sugar
Blueberry pie filling
Strawberry pie filling: You can also use cherry pie filling to get the red pie color
Special Tools Needed to Make Mini Pies
Cookie sheet
12 cup muffin pans
3-inch cookie cutter: I used this set
Star-shaped cookie cutter: I used this star cutter from a fruit cutting set, but this will also work as well.
How to Make Mini Pies
Making mini pies is easier than you think! Just follow these simple instructions.
Step 1. Prepare the star shaped pie pieces
Thaw the pie crusts. Preheat the oven to 375 degrees F.
Roll out one crust on a lightly floured pastry sheet to a 14-inch circle. Cut out star shapes using a cookie or fruit star cutter. Place the stars on a cookie sheet.
Brush each star with melted butter or use cooking spray, making sure each star is coated.
Sprinkle each star with sugar. Bake for about 6 minutes, until the stars are light brown on the bottom.
Step 2. Prepare the mini pie crusts
Roll out the second crust to a 14-inch circle. Cut out 12 circles with a 3-inch cookie cutter. Repeat with the last crust, until you have 18 dough circles.
Fill 2 muffin pans with cupcake liners, then gently fit each dough circle into a cupcake liner. (Note: Even though you don't have to use a cupcake liner, it comes in real handy when you're removing the pie bites from the muffin pans.) The pie crust should reach about halfway up the pie tin.
Step 3. Add the pie filing
Using a 2 inch cookie scoop (about 2 Tablespoons of filling), fill half of the pies with blueberry filling and the other half with strawberry filling.
Step 4. Bake the pies
Bake the mini pies for 18-20 minutes, or until the edges of the dough cups are lightly browned.
Let rest in the pans for 5 minutes, then transfer to a wire rack to cool.
When ready to serve, top each mini pie with your stars and a dollop of whipped topping or a scoop of vanilla ice cream.
Storage Instructions
To store, completely cool the pies. Cover and put the mini pies (minus the whipped topping) either on the counter or in the refrigerator for up to 2 days.
Can I Freeze Pie?
To freeze, cool completely, put in a freezer bag, and freeze for 3 or 4 months. Thaw at room temperature, then bake at 425 degrees F for about 15 minutes, until warmed through.
What if I Don't Have Cookie Cutters?
For the larger circles, press down with the band of a wide-mouth Mason jar. To make the star shaped dough, you can make a star out of heavy paper and trace around it on the dough with a knife.