4th of July Cake in a Jar is a fun individual dessert. All you need to make Fourth of July Cakes is white cake mix and food coloring to create a festive treat.
This Fourth of July Dessert Recipe is fun for the whole family! 4th of July Cake in a Jar is easy to make. Everyone will love this patriotic dessert. I love making desserts in mason jars because you can make them ahead of any party and store them until you are ready to serve, and any leftovers are ready to put away and save for later.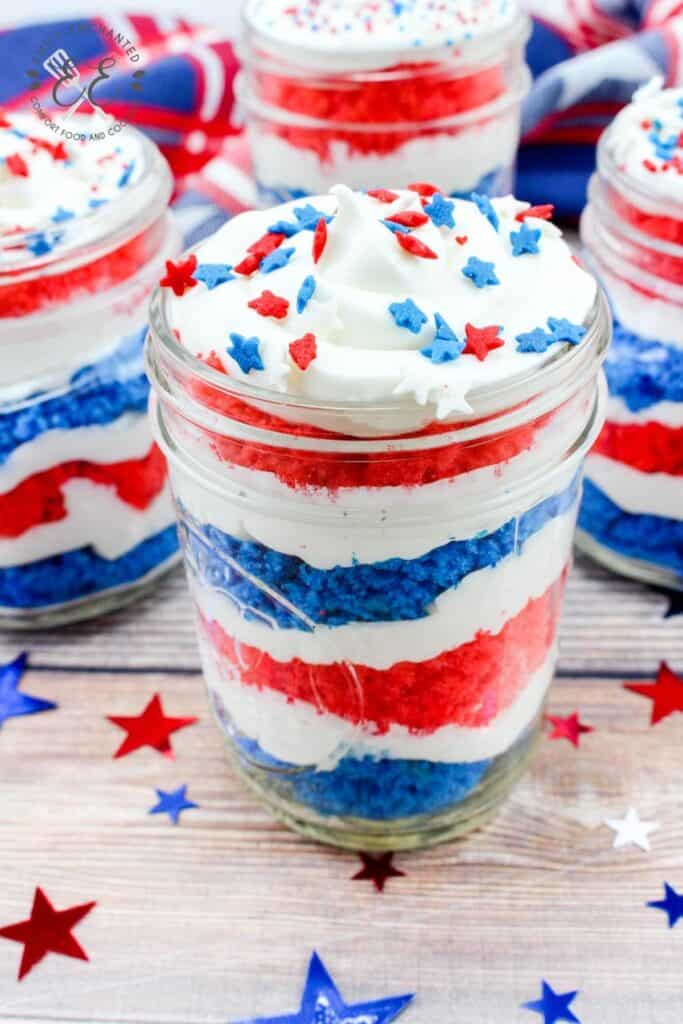 This post contains affiliate links.
Jar Cake Ingredients
To make this fun patriotic cake recipe, you will need the following ingredients (see the recipe card below for exact amounts):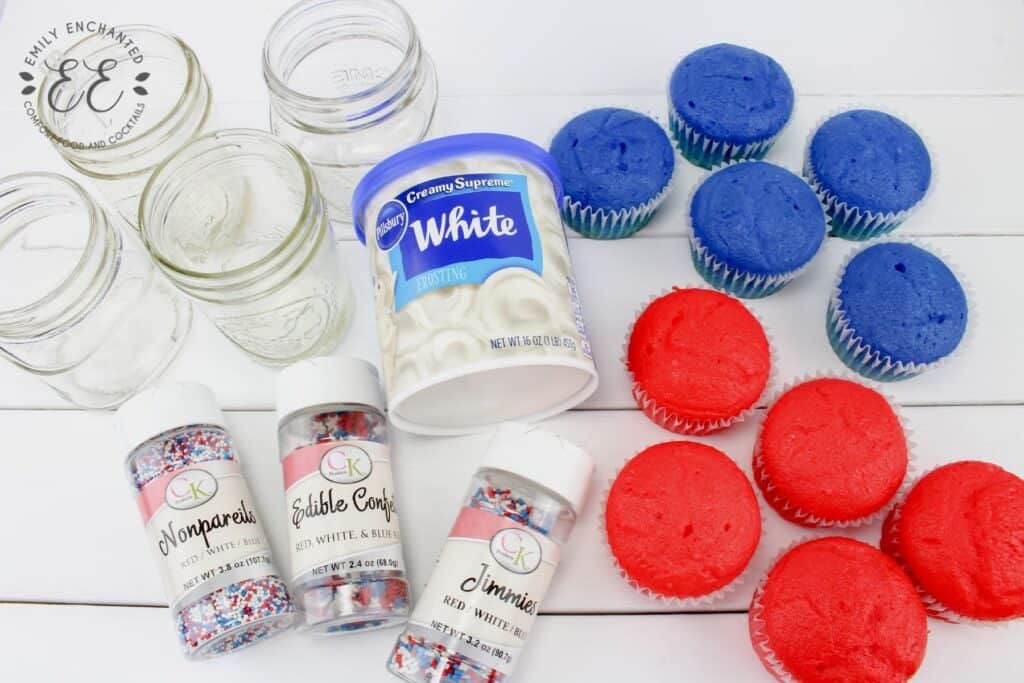 How to Make Cake in a Jar
First you are going to make 5 blue cupcakes and 5 red cupcakes. Divide the white cake mix batter equally into 2 bowls. Color half blue and half red to your liking. Bake 5 cupcakes of each color according to the package.
Crumble up the blue cupcakes into a bowl. Crumble up the red cupcakes in a separate bowl.
Put some of the white frosting into a small piping bag or a small plastic baggie with the corner cut off.
Take a mason jar and put an inch layer of blue cake crumbles in the bottom.
Take the frosting and pipe a thick line around the edges of the blue cake crumbles. Make sure you are pressing the frosting against the glass edge as you are going around. [Note: you are not putting a full layer of frosting over the cake. This creates too much frosting to cake ratio.]
Add a layer of the red cake crumbles next, about an inch thick.
Pipe another thick line of frosting around the edges of the red cake, again making sure you are touching the glass.
Add another layer of blue crumbles, then a frosting line, and another layer of red crumbles. You should have 2 blue cake layers an 2 red cake layers.
Now pipe a full layer of frosting over the top of the cake so it's completely covered. You should be right about at the top rim of the jar.
Sprinkle the patriotic sprinkles over the top.
Repeat steps for the remaining jars.
Serve with a spoon and dig in! These fun and pretty little dessert jars are great for your 4th of July celebration!
How Much Food Coloring Do I Need to Use?
Do not be afraid to be very liberal with food coloring, it may take 20 to 40 drops to get the color you want!
More Amazing 4th of July Desserts