This Spring Charcuterie Board with lemon poppy seed muffins and brownie bites is such a cute and fun snack idea! This grazing platter is perfect for kids after school snack or a baby shower.
This charcuterie board is filled with small bites, snacks and desserts.
You can even make this a fun activity for kids to make their own individual snack boards. Just make piles of all the ingredients and let them get creative!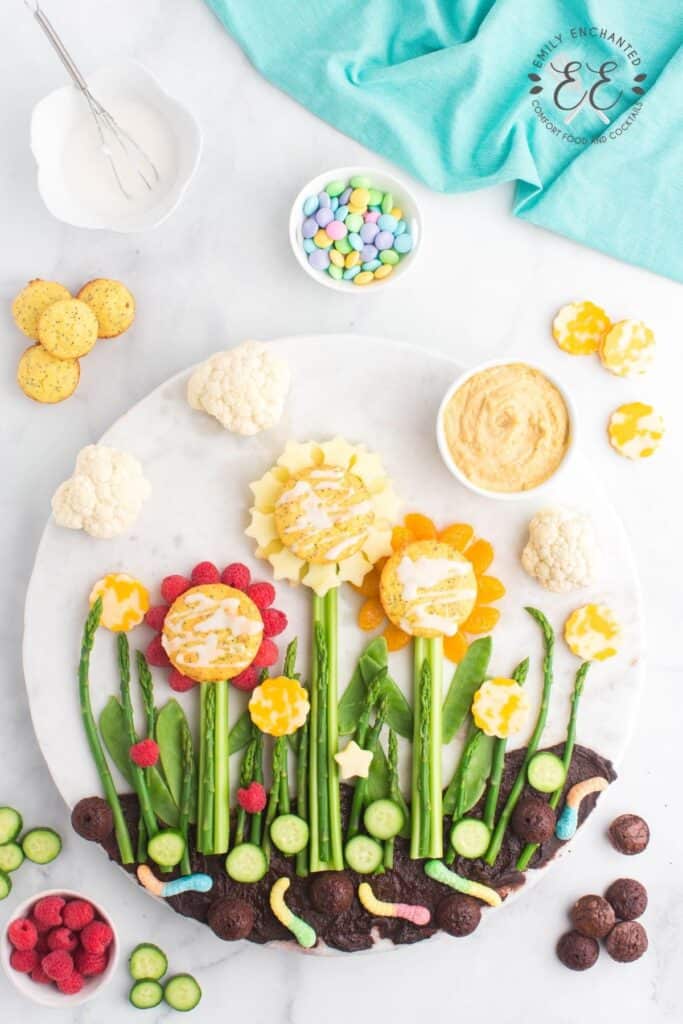 This post contains affiliate links.
Spring Grazing Board Ingredients
To make this cute snack platter, you will need the following ingredients (see the recipe card below for exact amounts):
Box lemon cake mix
Poppy seeds
Water
Plain Greek yogurt
Unsweetened applesauce
Confectioners sugar
Lemon extract
Brownie Mix: don't forget the box ingredients (usually vegetable oil, eggs and water)
Raspberries
Apples
Mandarian oranges
Celery
Asparagus
Snow Peas
Mini English Cucumbers
Dessert Hummus: you can find this at Target or Walmart
Classic Hummus
Cauliflower
Gummy Worms
Colby Cheese
Pastel M&Ms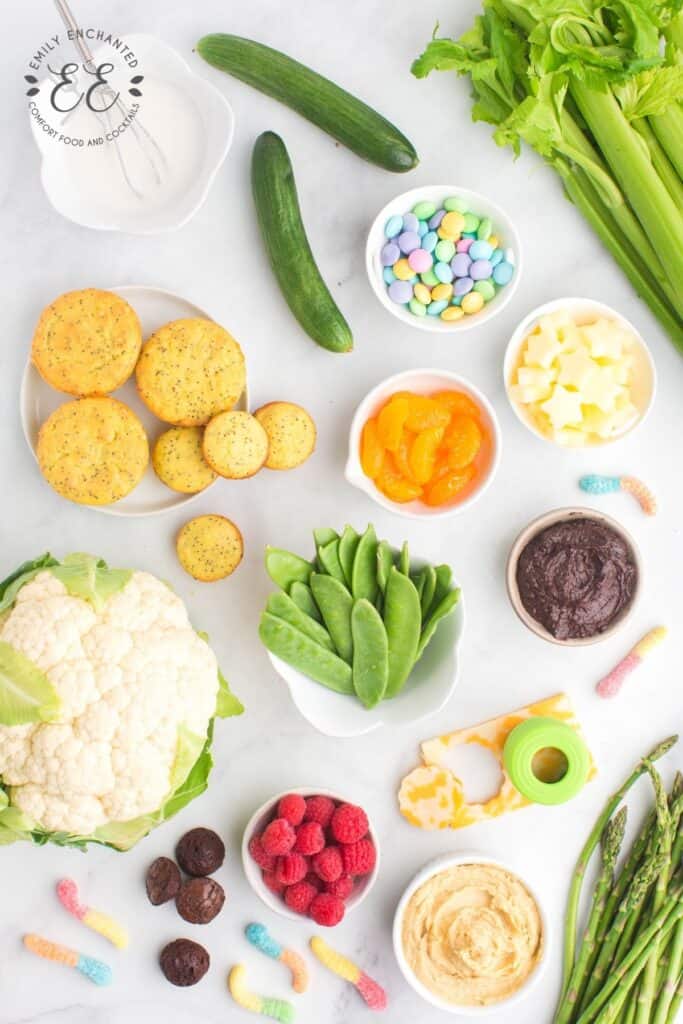 Special Tools Needed to Make this Recipe
Large Sphere Mold for the lemon poppy seed muffins. I like these because you can tuck the "petals" under the edge of the sphere. You could also use a regular muffin tin but I felt these gave a rounder look for the head of the flower.
Mini Sphere Mold for the brownie bites. These were just tasty mud balls to add to the board. You could also use a melon baller and just ball bits of brownies together.
Mini Muffin Tin to use up the remaining muffin batter and add a fun bite size muffin to serve with the board.
Veggie Cutters used for the apple leaves and cheese.
16 Inch Lazy Susan: I like the lazy susan because it makes it so easy for kids to eat from. You can also use a regular wood cutting board.
How to Make a Spring Snack Platter
There are many steps to this recipe, but it is so worth it. Not all of the food will fit on the board, but that's okay. Serve on additional plates and bowls along with the snack board.
Step 1. Make the Lemon Poppy Seed Muffins
Preheat the oven to 350.
Combine the cake mix, yogurt, applesauce and poppy seeds until combined.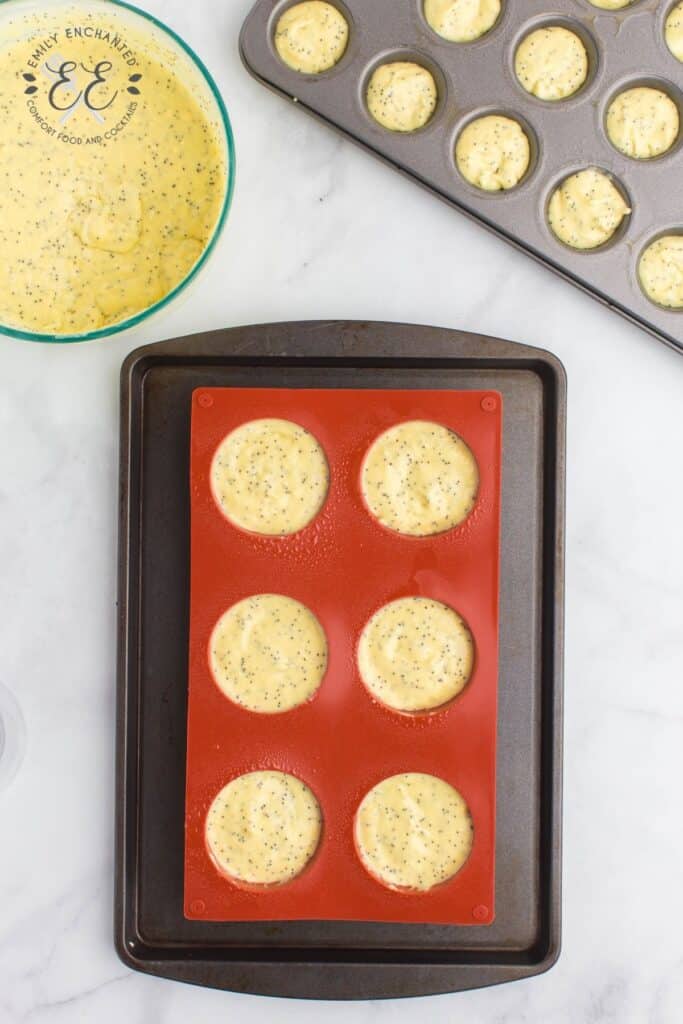 Spray the molds with nonstick spray. Fill them ⅔ full and bake the mini muffins for 15 minutes and the large spheres for 20-25 minutes, until a tooth pick comes out clean.
Allow to cool completely.
In a small bowl, whisk the glaze ingredients together. Add more water if you want a thinner glaze. Use less water if you want a thick glaze.
Note: I was able to make 6 large spheres, and an entire 24 count of mini muffins with this batter.
Step 2. Make the Brownie Bites
Make brownies according to the box instructions. I chose to make them more cake-like than fudgy.
Place the batter in a greased mini sphere mold to make little mud balls. Bake for 10 minutes or until a tooth pick comes out clean.
[Alternate method: You can also make a pan of brownies (cook according to the box directions) and use a melon baller to create mud balls.]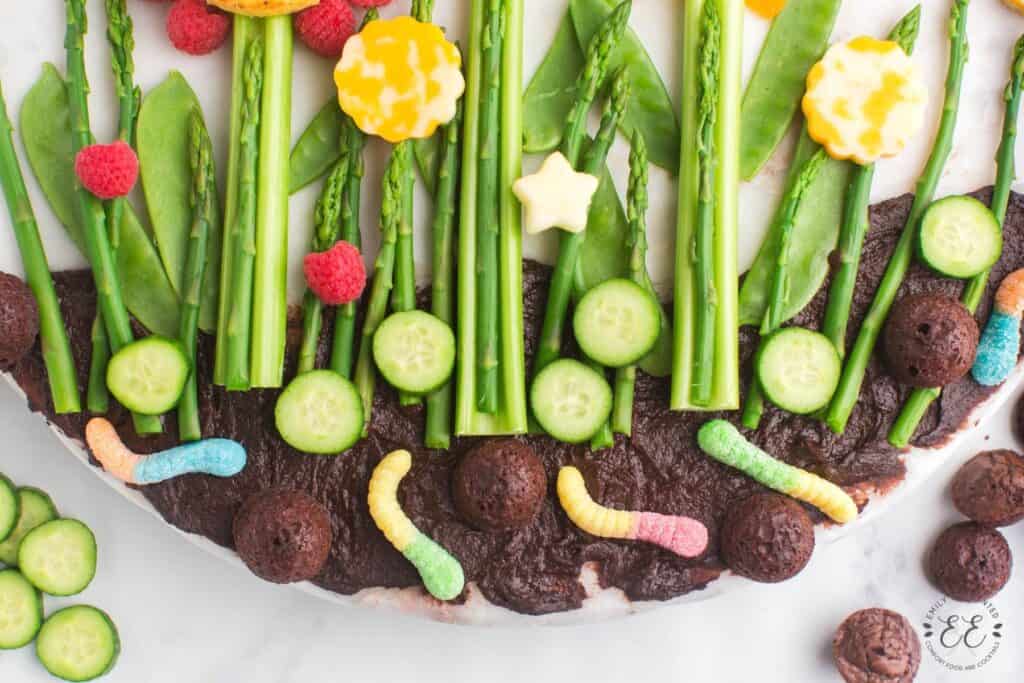 Step 3. Blanch the Asparagus
Blanching is where you quickly cook your vegetable in boiling water for a short amount of time and then place it in an ice bath to stop the cooking. This makes your vegetable a bright vibrant color and keeps it crisp without it being raw. This is ideal for serving asparagus on this tray so that you can easily eat it and it won't be hard and woody.
Bring water to a rapid boil. If your asparagus is thin then boil for 2 minutes. If it is thicker than boil for 3 minutes.
Quickly transfer it to an ice bath of cold water and ice cubes till completely cooled. Dry the stalks on a paper towel and cut them to desired length.
Step 4. Assemble the Charcuterie Board
First, lay the "dirt" using the dessert hummus. Spread it out on the bottom of the board.
Wash and cut the celery to the desired length and place them on the dirt as the stalk of the flower.
Next, add the lemon poppy seed muffin as the head of the flower.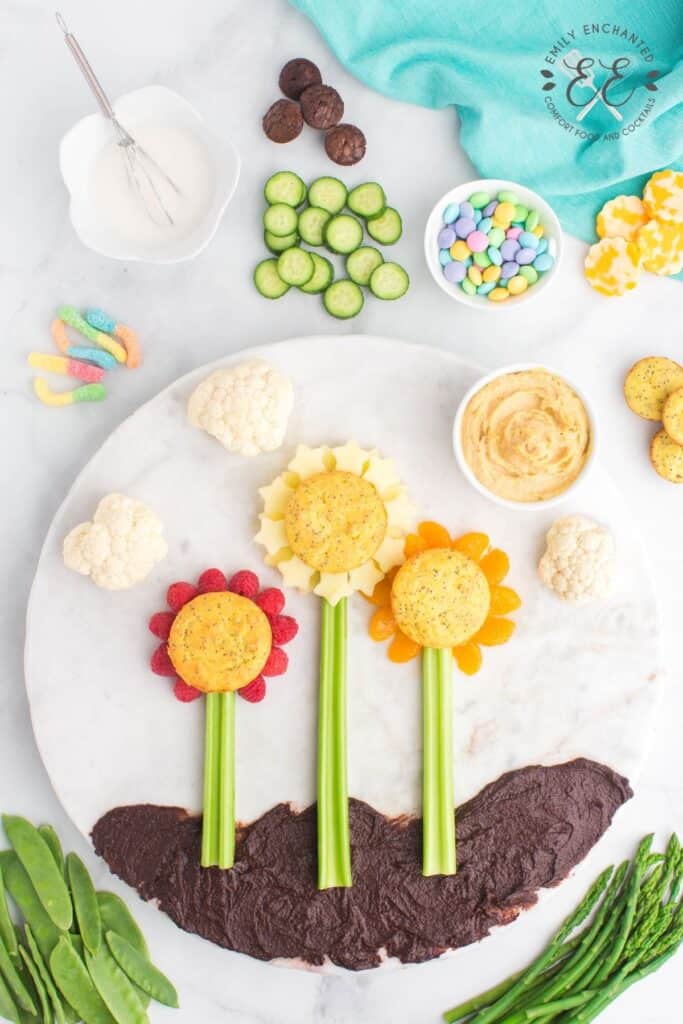 Prepare the flower "petals." Wash and dry some raspberries for the first flower. For the second flower, take an apple slice and cute out stars with a vegetable cutter. Soak the cut apple slices in lemon juice to keep them from browning. Pat them dry and place them on the board. For the third flower, use mandarin oranges and pat them dry on a paper towel. Place them around the muffins.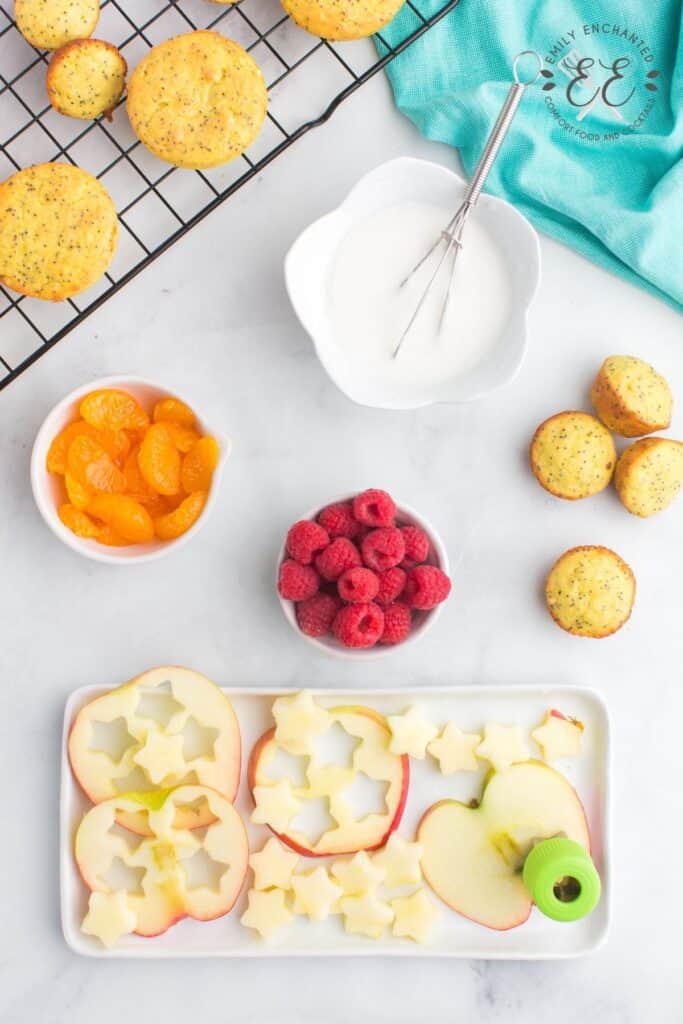 Arrange your snow peas as "leaves" on the flower stalks. Add asparagus as grass.
Using a flower shaped vegetable cutter, cut cheese into additional flowers.
Slice your cucumber and add them along the dirt line.
Add your gummy worms and brownie mud balls to the "dirt" dessert hummus.
Cut and wash florets of cauliflower and add them as clouds and place the classic hummus in a small bowl as the "sun".
Serve mini muffins, M&Ms, and any additional food items in other dishes with the board.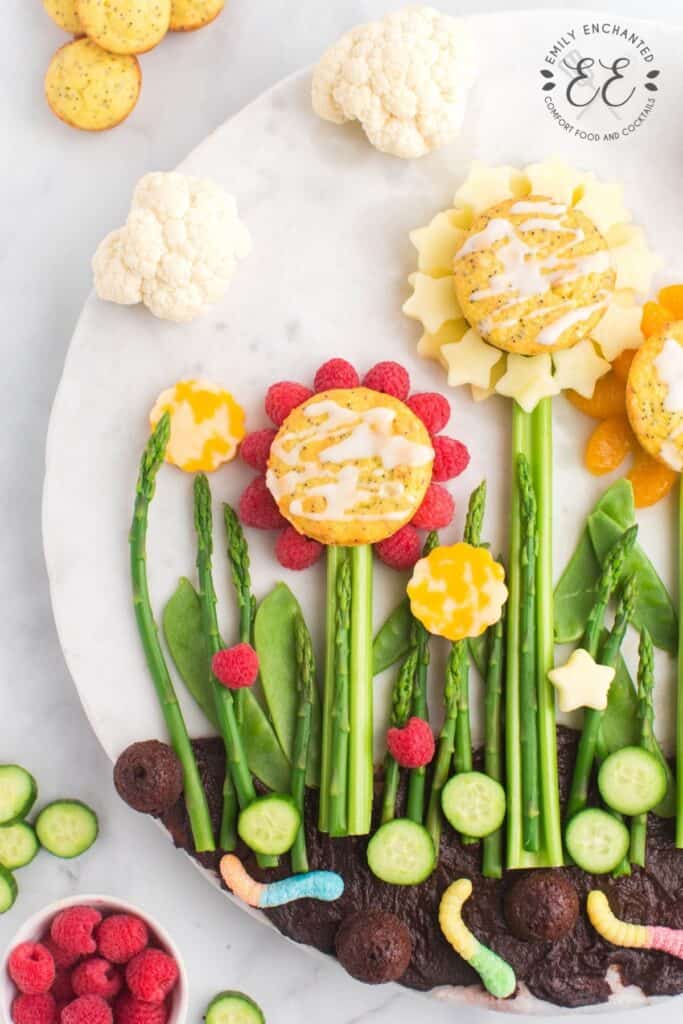 More Amazing Charcuterie Boards