Spiced Pear Gin Fizz is a delicious autumn cocktail with warm notes of pear and cinnamon. Club soda adds some refreshing bubbles.
Pear drinks are so light and refreshing. For another amazing pear cocktail, try my pear martini.
Spiced Pear Gin Fizz Ingredients
To make this fall cocktail recipe, you will need the following ingredients (see the recipe card below for exact amounts):
Gin: My preferred gin is Bombay Sapphire but use whatever you like. Try to stick to a London Dry gin as it pairs the best with pears.
Pear juice or nectar: Pear juice is most often found on the International aisle of the grocery store.
Cinnamon
Club soda: you can use seltzer water as well.
Sliced Pear and Cinnamon Stick
How to Make an Autumn Gin Fizz
Add the gin, pear juice, and cinnamon to a highball glass and stir gently to combine.
Fill the glass with ice and top with club soda.
Garnish with sliced pear and cinnamon stick.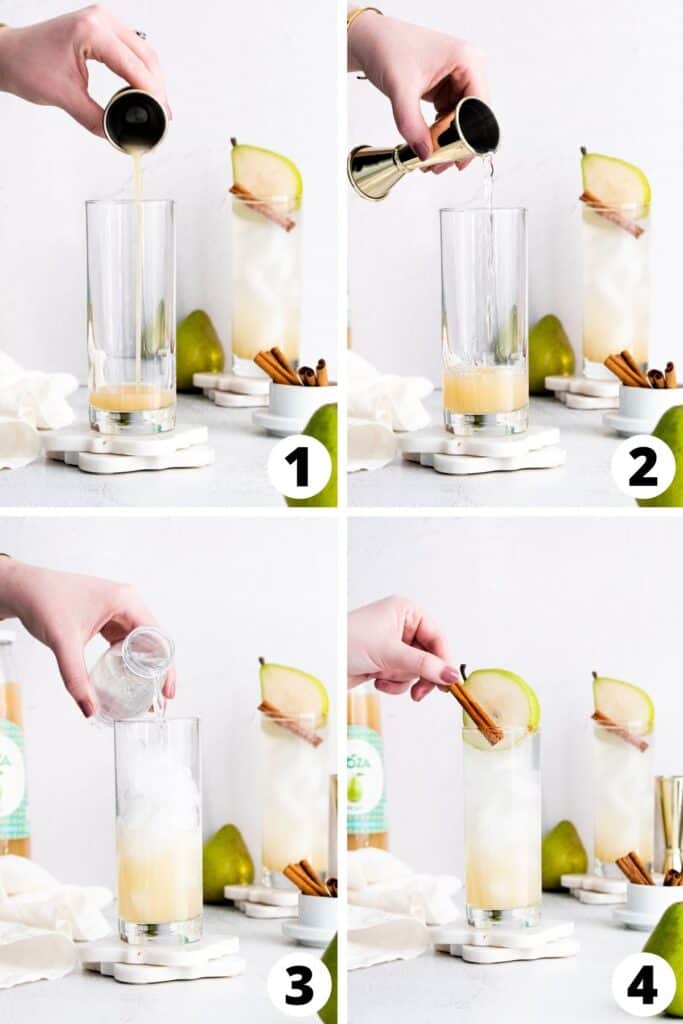 Do I Have to Use Cinnamon?
If you prefer not to use ground cinnamon in this recipe, you can also use a cinnamon simple syrup to taste (it will just make the drink slightly sweeter). Combine 1/2 cup sugar, 1/2 cup water, and 3 cinnamon sticks in a small saucepan over medium-high heat. Bring to a boil and dissolve the sugar. Allow to cool for 30 minutes. Transfer to an airtight container and store in the fridge until ready to use. Simple syrup is good for up to 7 days.