Here is a super easy skillet peach cobbler recipe that only takes 10 minutes to prep. This twist on traditional cobbler has a cake-like consistency with juicy peaches on top.
Making cobbler in a skillet is opposite from traditional peach cobbler. Most cobblers are fruit and sugar on the bottom with a crumbly topping. This skillet cobbler is batter on the bottom with the fruit on top.
This peach cobbler is more cakey than regular cobbler. It is so soft and delicious. If you can't get enough peach cobbler, try my Peach Cobbler Dump Cake.
This post contains affiliate links.
Skillet Peach Cobbler Ingredients
To make this easy dessert recipe, you will need the following ingredients (go to the recipe below for exact quantities and instructions):
milk
sugar
baking powder
flour
unsalted butter
peaches
What's the Best Cast Iron Skillet?
If you want a quality cast iron skillet, get a high end brand like Le Creuset or Staub. I use the Lodge 12″ skillet, which is a middle of the road brand. There are cheaper skillets on Amazon.
How to Make Peach Cobbler in a Skillet
Making peach cobbler in a skillet is so easy. What I love about cobbler is that the batter doesn't have to be perfect. Crumbly or doughy, cobbler tastes good either way.
Prepare oven and butter. Preheat oven to 350 degrees. Melt butter in skillet in oven for about 5 to 10 minutes. This will depend on your oven. I like to leave it in long enough just so it starts to brown, as this gives it great flavor. You definitely want it completely melted.
Mix the ingredients. While the butter melts, mix together dry ingredients. Once your dry ingredients are mixed together, make a well in the middle and add in the milk. Mix batter slowly until smooth.
Add to skillet. Take your cast iron pan out of the oven and carefully add in the batter. Add the peaches on top of the batter.
Bake the cobbler. Place your skillet into the oven and bake for 30 to 45 minutes, or until golden brown on the edges.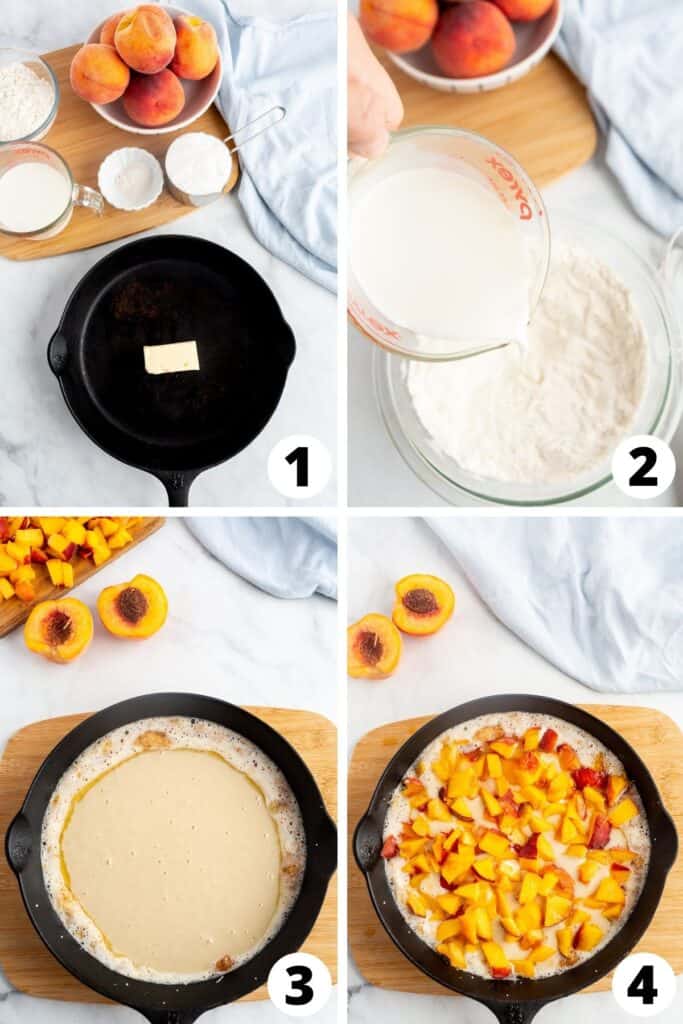 How to Serve Peach Cobbler
Peach cobbler is best served immediately. It can be eaten cold but it is best when eaten warm/hot. Serve with your favorite vanilla ice cream on top.
Storage Instructions
You can store peach cobbler in an airtight container for up to 3 days.