Reese's Cheesecake is a creamy, soft, perfect combination of cheesecake, chocolate and peanut butter. Fulfill your craving for Reese's with this easy, delicious recipe.
This no bake cheesecake requires no oven, but you do need to make this ahead of time so it can be chilled.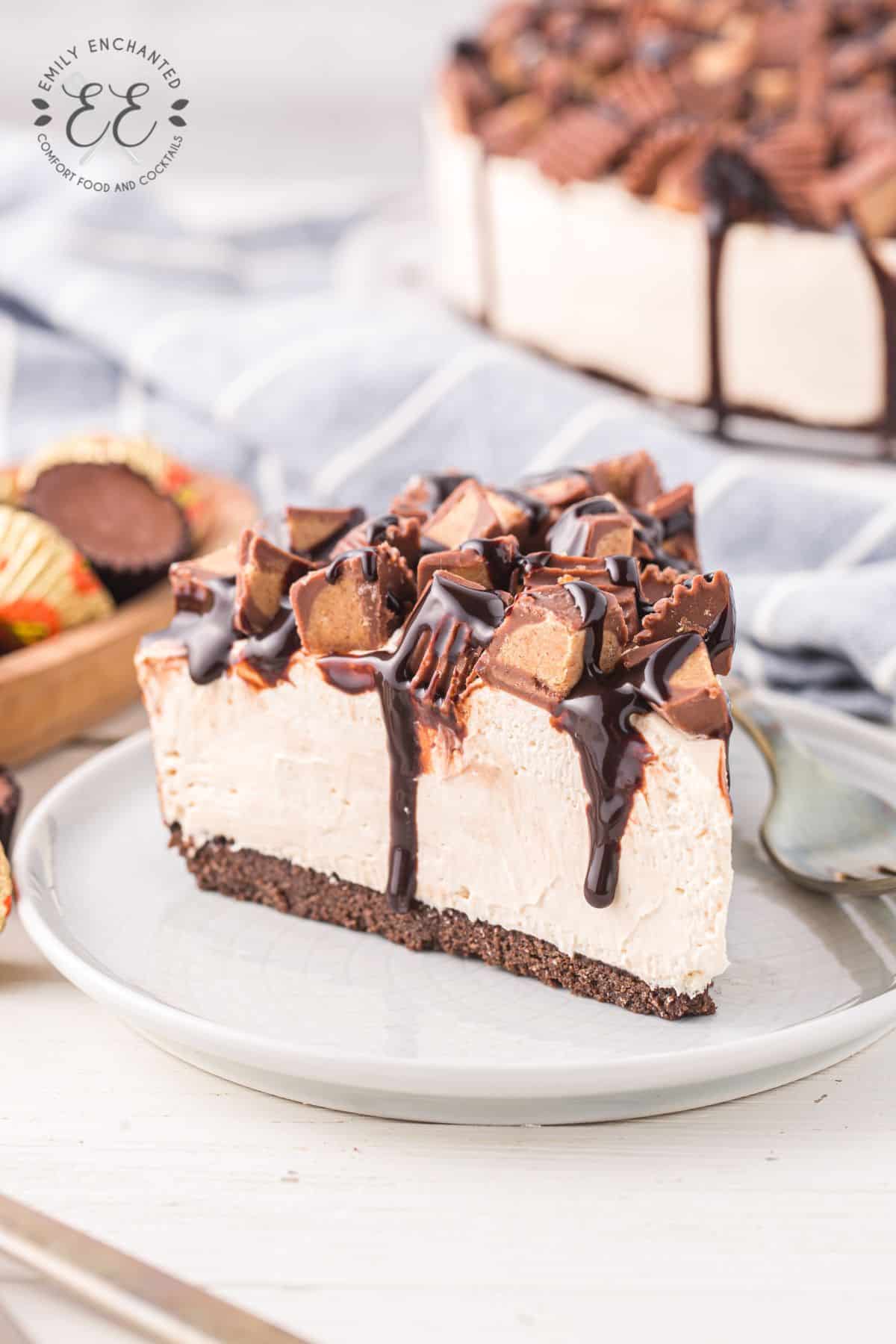 Reese's Cheesecake Ingredients
To make this peanut butter cheesecake, you will need the following ingredients (see the recipe card below for exact amounts):
Chocolate graham crackers: You can substitute chocolate animal crackers or chocolate Teddy Grahams if you prefer.
Granulated white sugar
Creamy peanut butter: You can substitute chunky peanut butter but it will be more difficult to get your smooth cheesecake. It can also be used in the crust, if necessary, but I recommend pulsing it into the crumbs in the food processor and you will likely need extra to make everything stick together.
Cream cheese
Sour cream: You can substitute plain, full-fat, Greek yogurt in a pinch.
Whipped topping: If you prefer to make your own whipped cream, you may do so. You will need about 6 cups prepared.
Assorted Miniature Reese's Peanut Butter Cups: I bought a 2 pound bag of assorted Miniature Reese's for this recipe. I like the variety of white, dark and milk chocolate. However, you can use any Reese's cup for this recipe. Be sure to roughly chop them if they are large or quarter them if they are the miniature size.
Hot fudge: The hot fudge can be omitted if you don't want the extra chocolate. I personally like the extra richness but the cheesecake also tastes delicious without it. If you really like the hot fudge, you can add a whole jar for a thicker ganache topping. You can also serve it on the side so that people can choose for themselves whether or not to add it to their slices.
How to Make Reese's Cheesecake
Place the chocolate graham crackers in a food processor and pulse until they turn to fine crumbs, about 2 minutes.
Add in the granulated sugar and pulse briefly until combined.
Remove the blade or transfer the crumb mixture to a bowl and mix in the creamy peanut butter until the mixture holds together when pressed.
Create a crust for the cheesecake by pressing the cookie crumbs and peanut butter mixture into the base of a 9-inch springform pan. Be sure to press the crust up the sides a little bit as well.
Cover with plastic wrap and freeze the crust for 20-30 minutes while preparing the cheesecake.
Prepare the cheesecake filling by beating the cream cheese and sugar together in a large mixing bowl with a hand or stand mixer until fully combined, about 1-2 minutes.
Beat in the peanut butter until light and fluffy, about 2-3 minutes.
Add in the sour cream and the whipped topping, beat everything together for about 2 minutes or until combined, light and creamy.
Remove the crust from the freezer and scoop in a layer of cheesecake. Use a spatula to spread it evenly in the bottom of the pan.
Scoop in more cheesecake filling and spread it again so that it fills all areas of the pan.
Repeat until you have used all of the cheesecake filling or you are about ¼ inch from the top of the pan. If you have extra filling, set it to the side.
Sprinkle the top of the cheesecake with the other cup of quartered Reese's miniatures and then cover the cheesecake with plastic wrap.
Refrigerate 6 hours to overnight and serve chilled.
Storage Instructions
This Reese's Cheesecake should be chilled until serving. Keep it covered with plastic wrap or in an airtight container and it will last 2-4 days before the texture begins to change. You can also store it in the freezer, if well wrapped, for 2-3 months. Allow it to thaw overnight in the refrigerator before serving.
Recipe Tips
This recipe is certainly easier than a New York style cheesecake, but there are still a few things to keep in mind when making it:
Plan ahead. This cheesecake needs plenty of chilling time to set up so I recommend making it early in the day or even the day before you plan to serve it. You want to be sure your cream cheese is at room temperature before you start. I like to set it out 1-2 hours before I make my filling but in a pinch you can microwave it, unwrapped, in 15 second intervals until softened. You'll also need to unwrap and chop quite a few Reese's cups for the cheesecake, which can be done ahead of time and stored in a plastic, sealable bag or container in the fridge until needed. A little preparation will make this recipe go much more smoothly.
This makes a large cheesecake. Depending on the size of your pan, you may end up with extra filling. I'm never sad when this happens because it just means I get some delicious cheesecake dip to snack on while my cheesecake sets. You can dip graham crackers, pretzels, cookies or fruit into the extra filling for a yummy treat. You can also make mini cheesecakes with it by piping it in on vanilla wafers in a mini muffin tin or make cheesecake sandwiches by spreading it between graham crackers and placing them in the refrigerator to chill. No matter how you eat this filling, it is delicious.
More Amazing Reese's Recipes