This Instant Pot Cauliflower Soup is full of purple vegetables, but you can make it with so many different colored vegetables. Try green soup with green cauliflower.
I recently discovered purple cauliflower and other colors when I made cauliflower rice. They all taste similar, but the color adds so much fun to cooking!
This post contains affiliate links.
Cauliflower Soup Ingredients
To make this Instant Pot soup recipe, you will need the following ingredients (go to the recipe card below for exact amounts and instructions):
purple cauliflower head
red onion
purple carrots
white carrots or parsnips
golden potatoes
watermelon radish
fresh thyme
salt & pepper to taste
stock or broth of choice
olive or avocado oil
How to Make Soup in an Instant Pot
Thoroughly wash all of your vegetables, peel and chop, and finely chop the onions.
Heat the Instant Pot using the sauté setting, add the oil & onions. Brown the onions. Taking the time to sauté the onions will give this a ton of flavor and is definitely worth the time!
Add in the liquid to deglaze the pot. The amount used determines how thick the soup will end up being. You only need 1 cup of liquid in the Instant Pot for cooking, so you can always add more after if you want to.
Place the vegetables into the pot and then twist on the locking lid. Cancel the sauté mode and select manual on high for 8 minutes.
When the Instant Pot has finished cooking and beeps, carefully cover the steam valve and quick release the pressure.
Transfer the veggies and liquid into a blender or use an immersion blender to whip everything to the consistency that you prefer.
I reserved a few of the cooked watermelon radishes to add on top of the soup once in the bowls.
Why Cook in an Instant Pot?
The Instant Pot is a pressure cooker and slow cooker all in one, designed to make dinner easier. This Instant Pot model is the #1 best seller with 4.7 out of 5 stars! I love the Instant Pot because it removes a lot of the steps in some recipes. Just combine all your ingredients and voilà!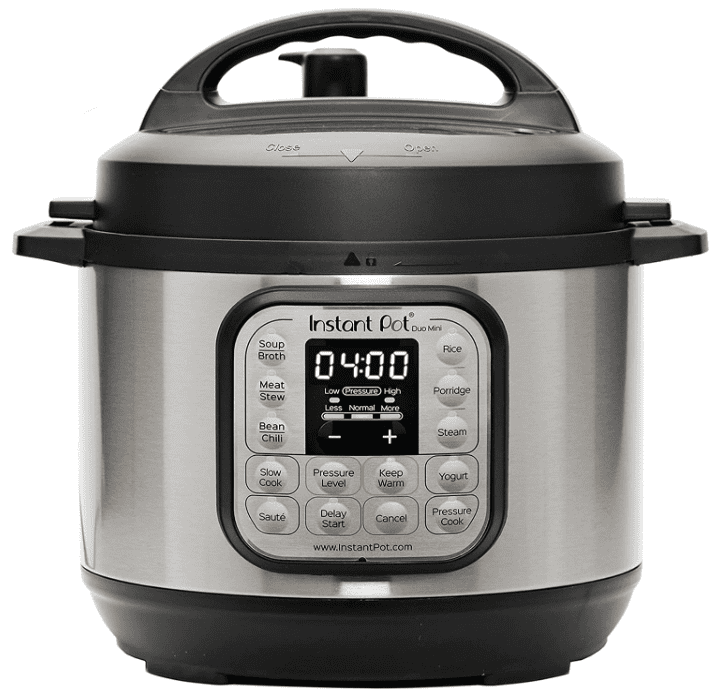 The Instant Pot Duo is simple and easy to use. This 7-in-1 appliance can pressure cook, slow cooker, steam, sauté & more.