Raspberry Lemon Drop is a pink cocktail with raspberry vodka, raspberry lemonade, and lemon juice. Super simple to make and so refreshing!
This is the perfect summer drink! Upgrade your lemonade into a fruity cocktail. Fresh squeezed lemon juice mixed with raspberry flavored lemonade and vodka makes me want to sit on the patio and take in the sun.
If you enjoy a good lemon drop martini, try this raspberry version! Have leftover raspberries? Try my Raspberry Peach Whiskey Lemonade.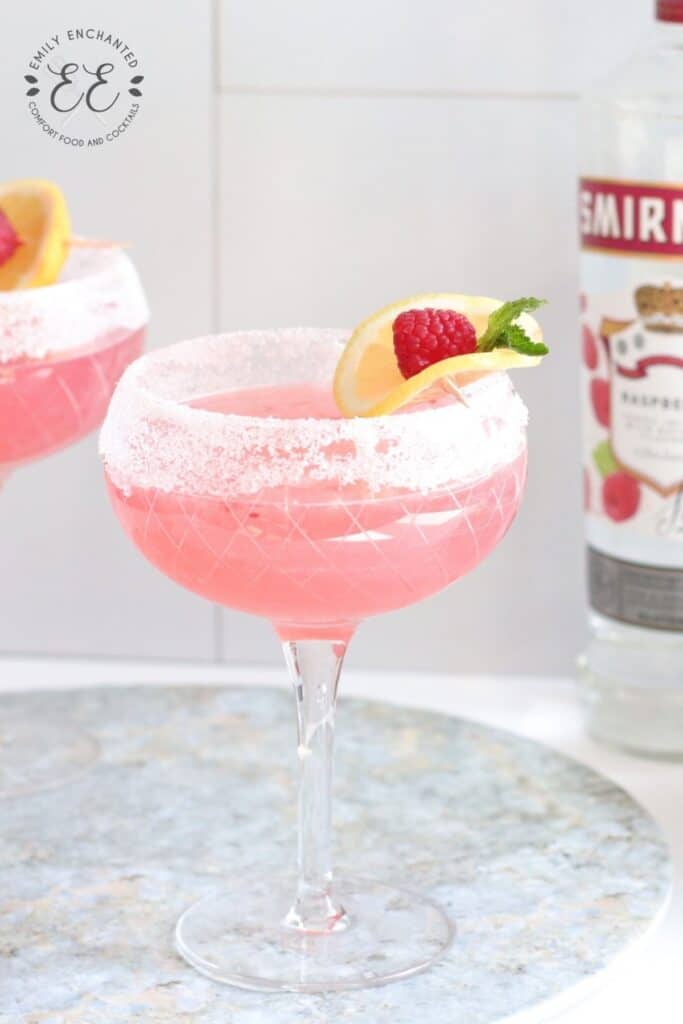 This post contains affiliate links.
Raspberry Lemon Drop Ingredients
To make this raspberry lemon drop martini, make sure you have the following ingredients on hand (see the recipe below for exact amounts and instructions):
Raspberry lemonade: I used Simply Lemonade Raspberry Lemonade, but you can use any brand.
Raspberries: Fresh raspberries are best. I would not use frozen.
Lemon: You can use bottled lemon juice but I prefer to use fresh squeezed lemons.
Raspberry vodka: I used Smirnoff, but you can use any brand.
Mint
Sugar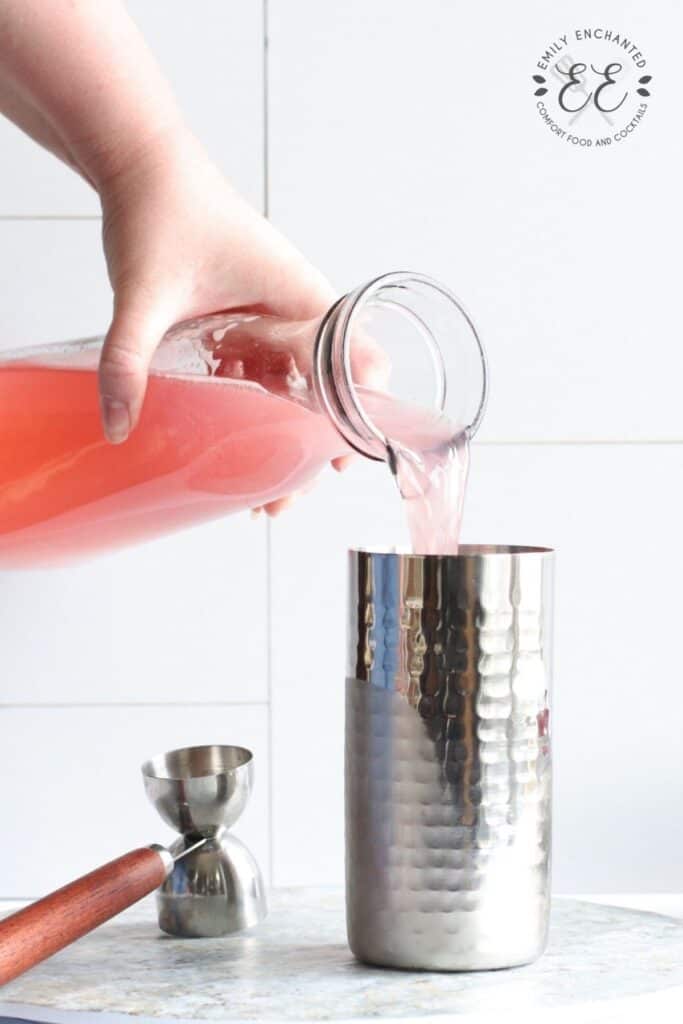 How to Make Raspberry Lemon Drop
Rim your glass with sugar and make your garnish. Set aside.
In a cocktail shaker, add ice about halfway full. Pour in the vodka. Add 3-4 raspberries. Squeeze the rest of the lemon half in to the shaker. Finally, add the lemonade.
Place the lid on the cocktail shaker and seal. Shake it well to evenly distribute all of the ingredients. You know you are done shaking when the entire shaker is frosted.
Slowly pour the cocktail into the rimmed glass.
Garnish with a raspberry, lemon wheel, and mint leaf.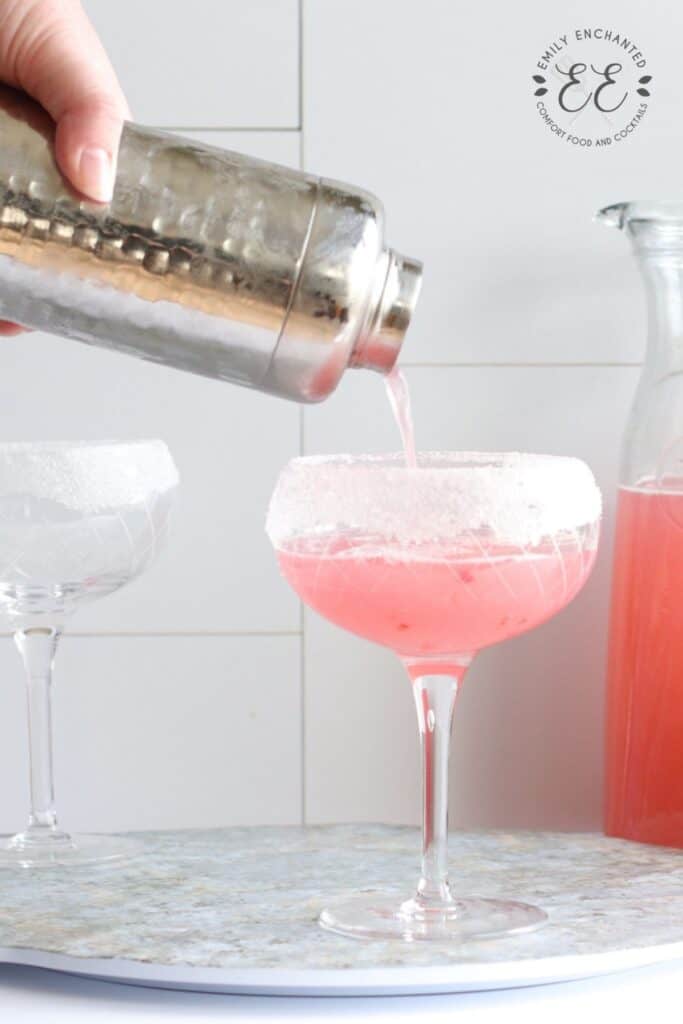 How to Rim a Cocktail Glass
Place a few tablespoons of granulated sugar on a plate. Use a lemon wedge with a slit cut in the middle. Run it along the edge of the cocktail glass until the entire top is wet with lemon juice. Then dip the cocktail glass gently in to the sugar, rotating it as you go. So the whole rim is covered in sugar.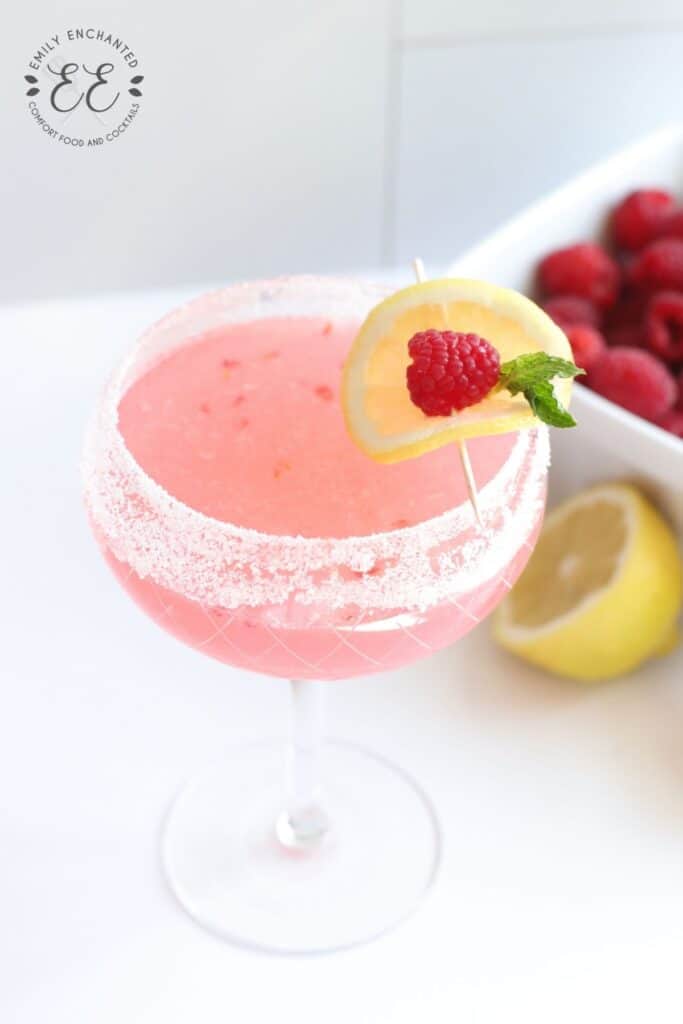 For a fun touch you can also use colored sugar (pink or red for this) – if you can't find colored sugar, sprinkles (sanding sugar) work just fine.
Can I Make this Cocktail without a Shaker?
Shaken not stirred – By shaking the cocktail it helps evenly distribute the ingredients, breaks down the citrus a little, completely chills the cocktail, and even breaks up the raspberries for the perfect flavor!!
Having a cocktail shaker on hand is essential to mixing cocktail drinks. Check out my favorite barware to see what I keep in my home.
FAQs
What kind of glass should I serve a raspberry lemon drop martini in?
This would typically be served in a chilled martini glass. Truth is, I hate martini glasses. They are so easy to spill. So, serve these in any style glass you like!
How do I make the garnish for this cocktail?
To make this garnish you'll need one lemon wheel, one raspberry, and a mint leave. Lay the lemon wheel flat. Then take a toothpick and place it through one side of the lemon wheel. Put a raspberry in the middle. Stick the toothpick through the raspberry, and through the other side of the lemon wheel. Add a mint leave and voila!