Biscoff Rice Krispie Treats is your favorite childhood dessert with a creamy spin. Cookie butter takes these crispy treats to the next level.
These are not your grandma's rice crispy treats. Crushed bits of cookies are mixed with cookie butter, maple syrup, vanilla extract and lemon juice to create a super flavorful dessert bar. You will never be able to make plain rice krispie treats again!
Biscoff Rice Krispie Treats Ingredients
To make this cookie butter dessert, make sure you have the following ingredients on hand (see the recipe below for exact amounts and instructions):
Salted butter: You can use unsalted butter or margarine if you prefer. If you use unsalted butter, add in an additional ¼ teaspoon salt to the mix.
Cookie butter: You can use the typical Biscoff brand, but any other brand that qualifies as "cookie butter" also works.
Lemon juice: Substitute with lime juice if you don't have any lemons. You can use juice that is fresh or from concentrate.
Vanilla extract
Maple syrup: You could substitute this for honey for a slightly different taste.
Mini marshmallows
Rice Krispies cereal: Any type of "puffed rice" cereal can be used.
Biscoff cookies
How to Make Cookie Butter Rice Krispie Treats
Prepare a 9×13 inch baking pan by lightly spraying it with cooking spray or lining it with parchment paper. Set aside.
In a large pot over medium heat, melt 3/4 cup cookie butter and salted butter together. Pour in the lemon juice, maple syrup, and vanilla extract and mix well.
Measure out 1 cup mini marshmallows and set aside for later. Add in the rest of the bag of mini marshmallows and stir until thoroughly combined and melted.
Take pan off heat and add in the set aside marshmallows, rice krispies cereal and biscoff cookies and stir until well combined.
Press into the bottom of the baking pan.
Melt the remaining 1/4 cup of cookie butter in the microwave for 30 seconds. Drizzle the cookie butter over top.
Set aside for 30 minutes in the refrigerator to cool and set.
Cut, plate, serve, and enjoy!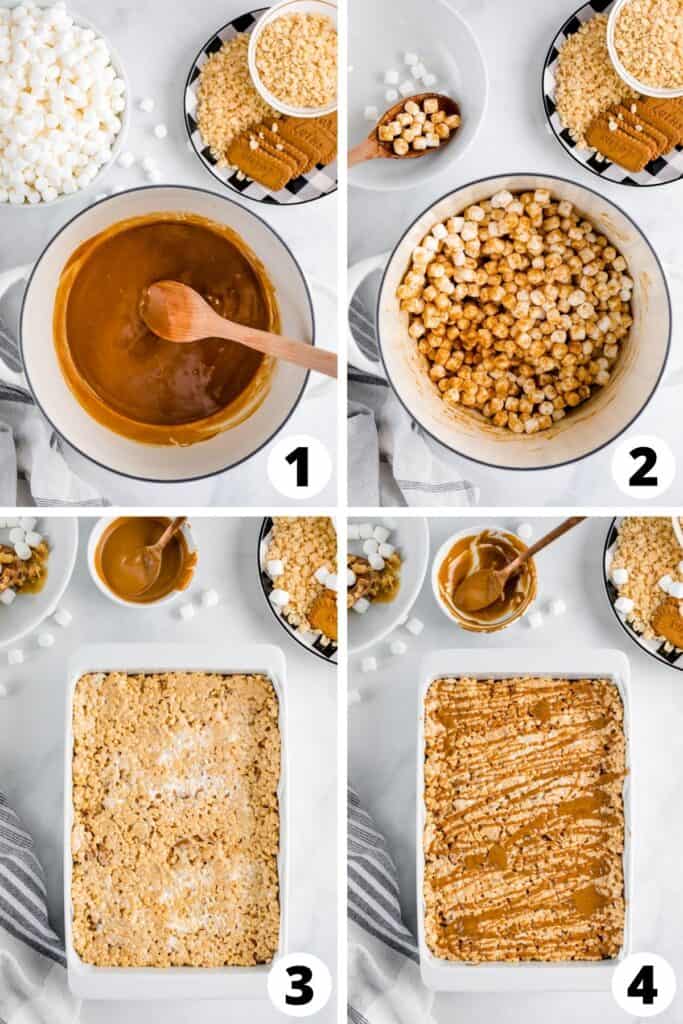 Tips for Biscoff Crispy Treats
Make sure to transfer the treats to the baking pan while everything is still very warm, otherwise the marshmallows will start sticking to everything and won't be malleable enough to shape into the bottom of the pan.
I like to roughly chop the biscoff cookies (to about the size-or bigger- than the mini marshmallows) for more of a crunchy texture.
You don't want to fully melt the 1 cup of marshmallows added at the end.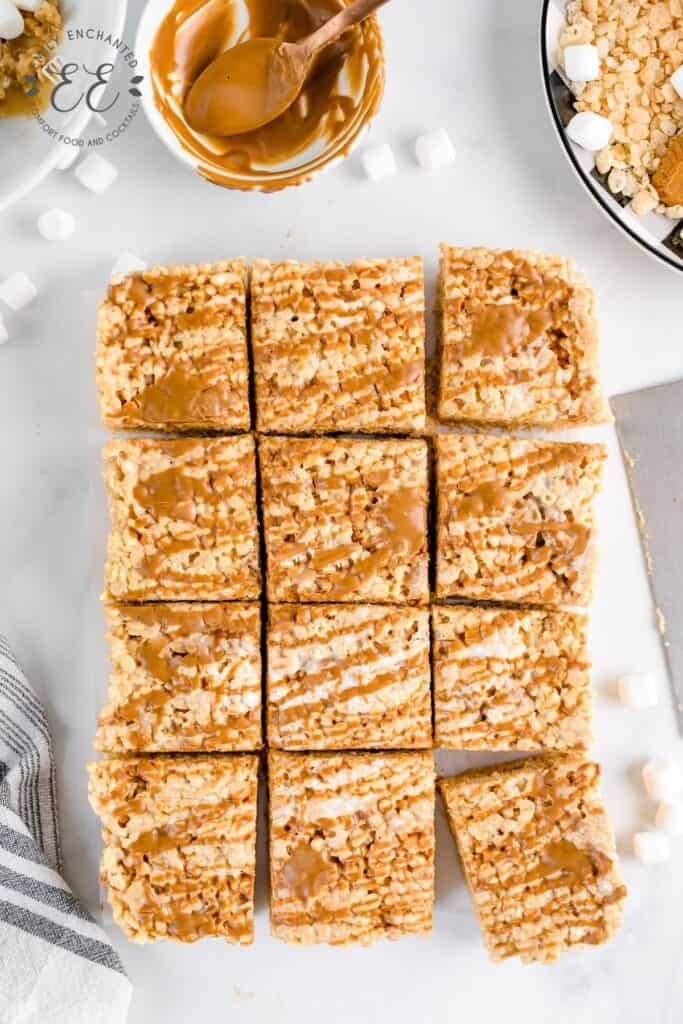 Storage Instructions
Store these rice krispie treats at room temperature for up to 5 days. Make sure they are in a sealed container.
Recipe Notes
You can make these bigger or smaller. If you want to use a smaller baking pan, you can do that and make much thicker rice krispie treats. You can also make thinner treats by using a bigger baking pan.
FAQs
What is cookie butter?
Cookie butter is made from a type of spice cookie called Speculoos (aka Biscoff) that is mixed with fat, sugar, and flour. Cookie butter has been popular in Europe for a long time, and is just gaining momentum in the United States. It tastes similar to peanut butter but doesn't contain nuts.
More Biscoff Recipes