Marinated Mozzarella Balls are a delicious Italian appetizer of seasoned cheese marinated in olive oil. Enjoy alone or incorporated into a meal!
You can't deny the delicious flavors of garlic, basil, oregano and red pepper flakes. This is not your average cheese!
This quick and easy appetizer looks fancy but does not require much prep. Olive oil marinated mozzarella balls have so much flavor and I love to just pop them in my mouth. This is the perfect appetizer for cocktail parties and holidays.
Olive Oil Mozzarella Balls Ingredients
To make olive oil marinated mozzarella balls, you will need the following ingredients (see the recipe card below for exact amounts):
Mozzarella Pearls: fresh mozzarella balls can be found in the deli section of your grocery store or at your local Italian market. Get the regular, not the mini size.
Extra Virgin Olive Oil
Fresh Garlic
Fresh Basil: You can also use dried herbs. If you use dried herbs, make sure to decrease the amount you use. Fresh herbs shrink when they are dried, so they cannot be measured 1 to 1.
Oregano
Crushed Red Pepper Flakes
Salt: You can use regular salt or Kosher salt
HOW TO MARINATE MOZZARELLA
This perfect appetizer is quick and easy, and you only need a bowl, measuring cups and spoons, and a storage container. Follow these steps to make this easy appetizer:
Make the marinade. In a small bowl combine the oil, garlic, finely chopped basil, oregano, red pepper flakes, and salt.
Add the mozzarella pearls and turn to fully coat.
Marinate the mozzarella. Transfer to an airtight container and marinate the mozzarella in the fridge for at least an hour before serving.
Serve and enjoy! Allow a few minutes for the mozzarella to come to room temperature before serving.
STORAGE INSTRUCTIONS
The olive oil marinated mozzarella needs to be kept in an airtight container in the fridge. I like to use mason jars. They will keep for up to 2 weeks. Use the leftover oil for cooking or as salad dressing!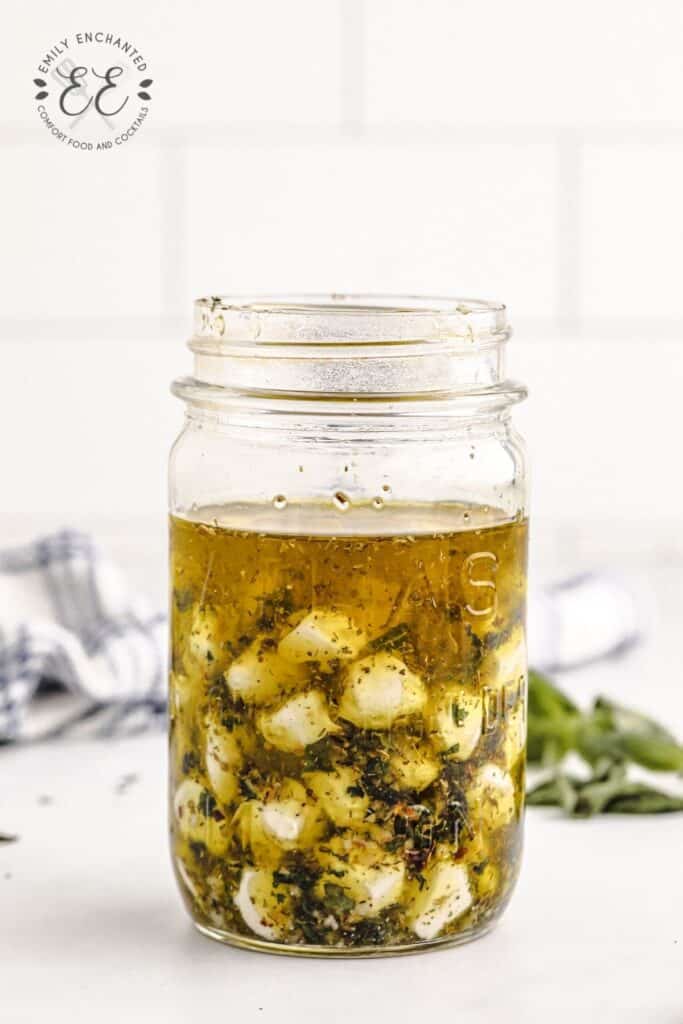 VARIATIONS
Add fresh thyme to your collection of herbs.
Use flavored olive oils if you are low on herbs.
FAQs
Can I Eat These Warm or Cold?
I recommend allowing them to come to room temperature before serving. I feel like more of the flavors come through when cheese is room temp or warm. The cold seems to dull the aromas.
Where Do I Find Mozzarella Pearls?
Mozzarella Pearls can be found at most grocery stores. They are normally in the deli, by the special cheeses. You can also try your local Italian market for the best and freshest cheese.
What is the Best Olive Oil to Use?
For this recipe, cold pressed olive oils or extra virgin olive oil are best. But not all EVOO is the same. Use your favorite. I look for oils that are organic. You could also use a flavored oil, such as a Tuscan herb infused oil, or rosemary oil. I have a local store that is dedicated to all types of oils and vinegars. Get creative!
My marinade solidified in the fridge. What should I do?
Most oils will solidify in cold temperatures. Just take it out about an hour before you plan on serving and let it come to room temperature. Shake it up and it should be good to go!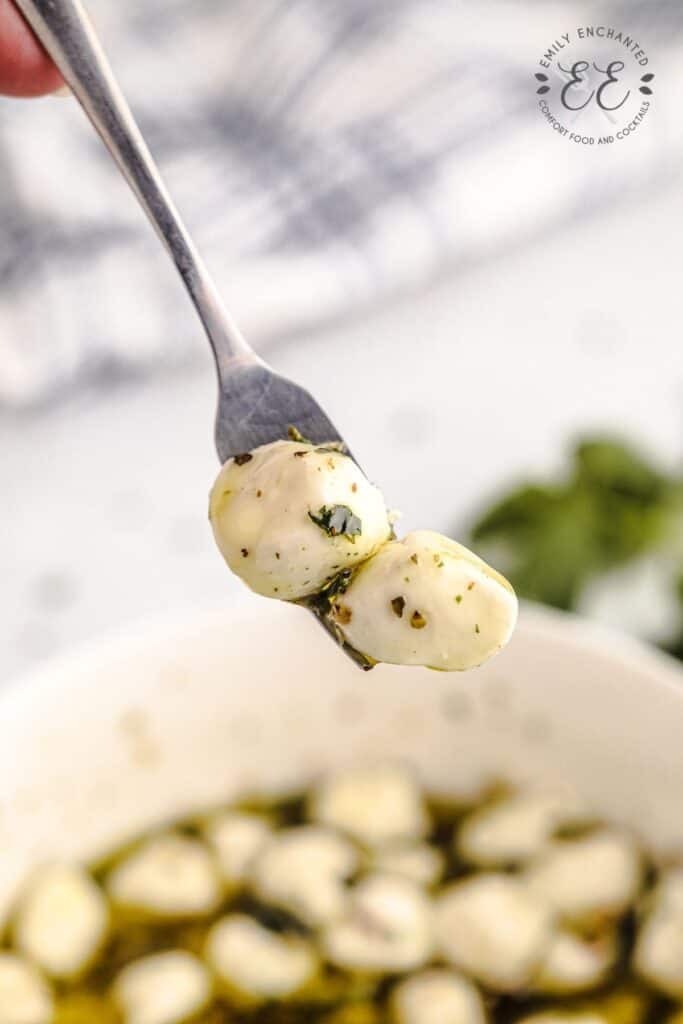 HOW TO SERVE
Serve olive oil marinated mozzarella pearls on their own for a quick and easy appetizer, with crusty bread, or with an antipasto platter. Here are some of my favorite ways to eat seasoned mozzarella balls.
This also makes a great Christmas gift for family, friends and teachers! Just double or triple the recipe, divide into mason jars and wrap with a ribbon and gift tag. Make sure to keep them refrigerated until you are ready to deliver.
More Italian Recipes
Want to make a full Italian meal? Here are some more recipes to round out your menu: