I like to start my mornings with a delicious coffee drink to wake up and get me pumped up for the day. This Keto Bulletproof Iced Salted Caramel Latte with Torani Sugar Free Salted Caramel Syrup is my go-to coffee beverage. It gives me the energy I need and satisfies my sweet tooth.
This post is sponsored by Torani. All opinions expressed herein are mine, and mine alone. #ToraniBulletproofCoffee
I love adding Torani Sugar Free Syrup to my bulletproof latte to hide the coffee flavor. Yes, I'm one of those people who doesn't like the taste of coffee but drinks it anyway. (Would you like some coffee with that cream?) I also have an adverse reaction to too much sugar, so these syrups are perfect for someone like me.
My favorite flavor is Torani Sugar Free Salted Caramel Syrup. I not only put it in my latte, but in my hot chocolate too. You can put it in your hot coffee or even pour some on vanilla ice cream. Hellooo, affogato! The possibilities are endless.
There is something about creating a delicious beverage that is so rewarding. You can find Torani Sugar Free Salted Caramel Syrup in the coffee aisle at your local grocery store.
What is Bulletproof Coffee and Why is it Keto?
Bulletproof coffee is made of brewed coffee, grass-fed unsalted butter and MCT oil. It has become increasingly popular with people following a high-fat, low-carbohydrate diet, also known as the keto diet.
It is a high-fat, high-calorie drink that can replace breakfast and can increase energy. It also tastes AMAZING, which is why so many people drink it. You can taste the difference.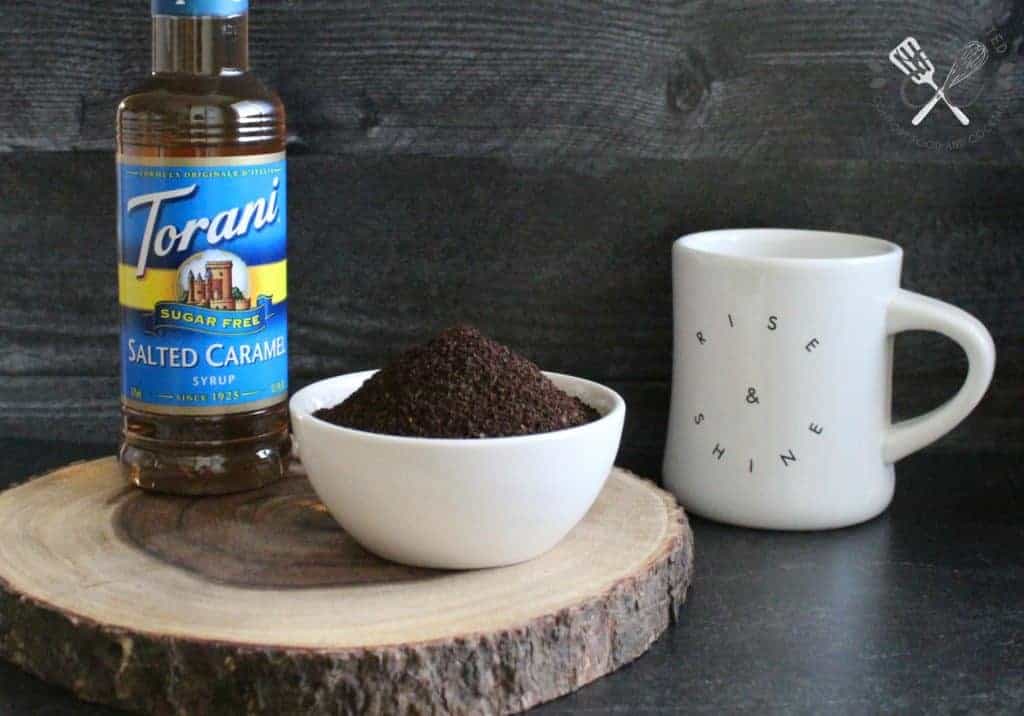 Special Ingredients in Bulletproof Coffee
Because bulletproof coffee follows the ketogenic diet, you are not just adding milk and sugar to your coffee. Keto coffee drinks require special ingredients that can be found at your local grocery store.
Ghee
MCT Oil
Cold Brew Coffee
Unsweetened Coconut Milk
Unsweetened Almond Milk
Stevia
What is Ghee?
Ghee (pronounce gē with a hard g sound) in the simple sense is butter. Specifically, it is clarified butter with the milk solids removed. You know when you melt butter and it kind of separates? That is how ghee is made.
When you remove the milk solids, you are left with liquid fat, and that is ghee. Ghee has less lactose than butter and is generally used as a cooking oil.
What is MCT Oil?
MCT stands for medium-chain triglycerides. MCTs are essential, healthy fats that fit in perfectly with a keto diet. MCTs can be found in ghee and coconut oil, but you can also get it directly from MCT oil.
MCT oil is a fat supplement that is easy to digest and also comes in powder form. You can add it to coffee, shakes, water and milk.
How to Make Cold Brew
Making cold brew is quite a long process, but it results in some of the best coffee! If you don't have time to make cold brew, you can always purchase your favorite cold brew and use that for this recipe.
To make cold brew coffee, you first grind 8 ounces of coffee beans and add to a pitcher with 8 cups water. Cover and refrigerate for 18 to 24 hours. Strain the coffee with a mesh strainer and a cheesecloth into large mason jars for storage. The cold brew will last up to 2 weeks in the fridge.
Ingredients Needed
To make this delicious latte recipe, you will need the following ingredients (scroll down to the recipe card below for the full recipe):
cold brew coffee
unsweetened coconut milk
unsweetened vanilla almond milk
Torani Sugar Free Salted Caramel Syrup
Stevia
ghee
MCT Oil
sea salt
How to Make a Bulletproof Iced Salted Caramel Latte
Fill 2 cups with ice. Add 1 1/4 cup cold brew coffee to each cup.
To make the creamer, add the coconut milk, almond milk, Torani Sugar Free Salted Caramel Syrup, Stevia, ghee, MCT oil, and sea salt to a blender. Blend on high until combined and creamy.
Add 2 oz of creamer to each cup and stir. Add more creamer to taste.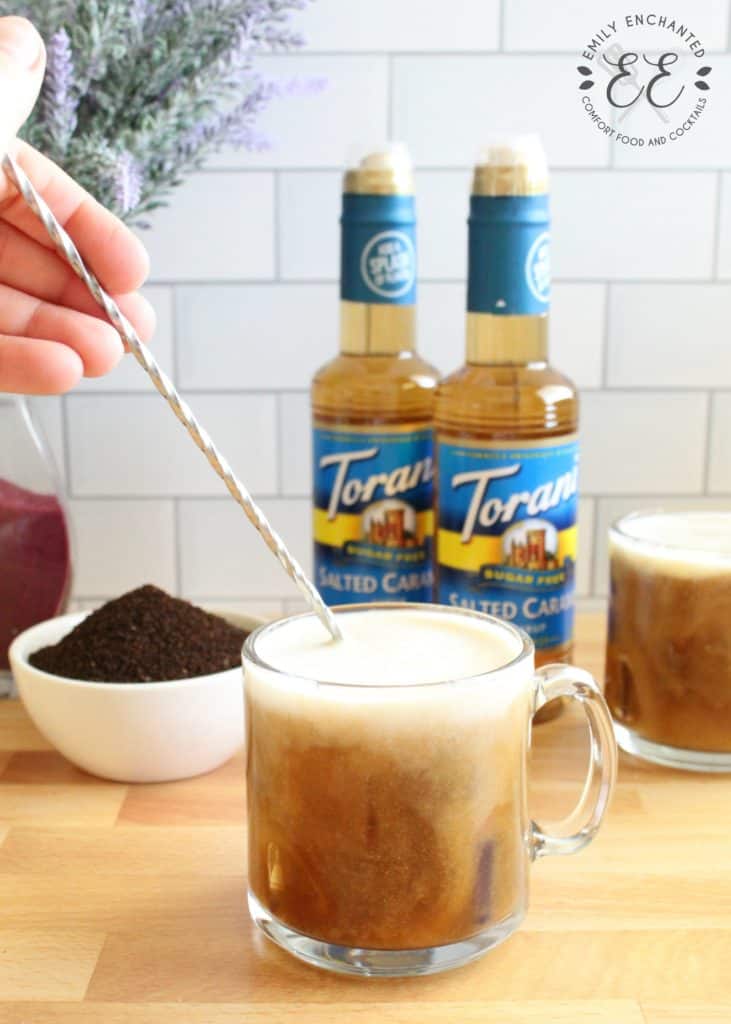 More Latte Recipes