This hearty Irish Beef Stew is perfect for those cool evenings to warm you up. Loaded with meat and potatoes in a lightly flavored beer broth and a hint of thyme, you are sure to love this dish.
INGREDIENTS
To make this Guinness Beef Stew, you will need the following ingredients (go to the recipe below for exact quantities and instructions):
Olive Oil
Stewing Beef
Sea Salt
Garlic
Low Sodium Beef Broth
Guinness Beer: or any dark stout beer
Water
Tomato Paste
Granulated Sugar
Worcestershire Sauce
Dried Thyme
Unsalted Butter
Carrots
Onion
Russet Potatoes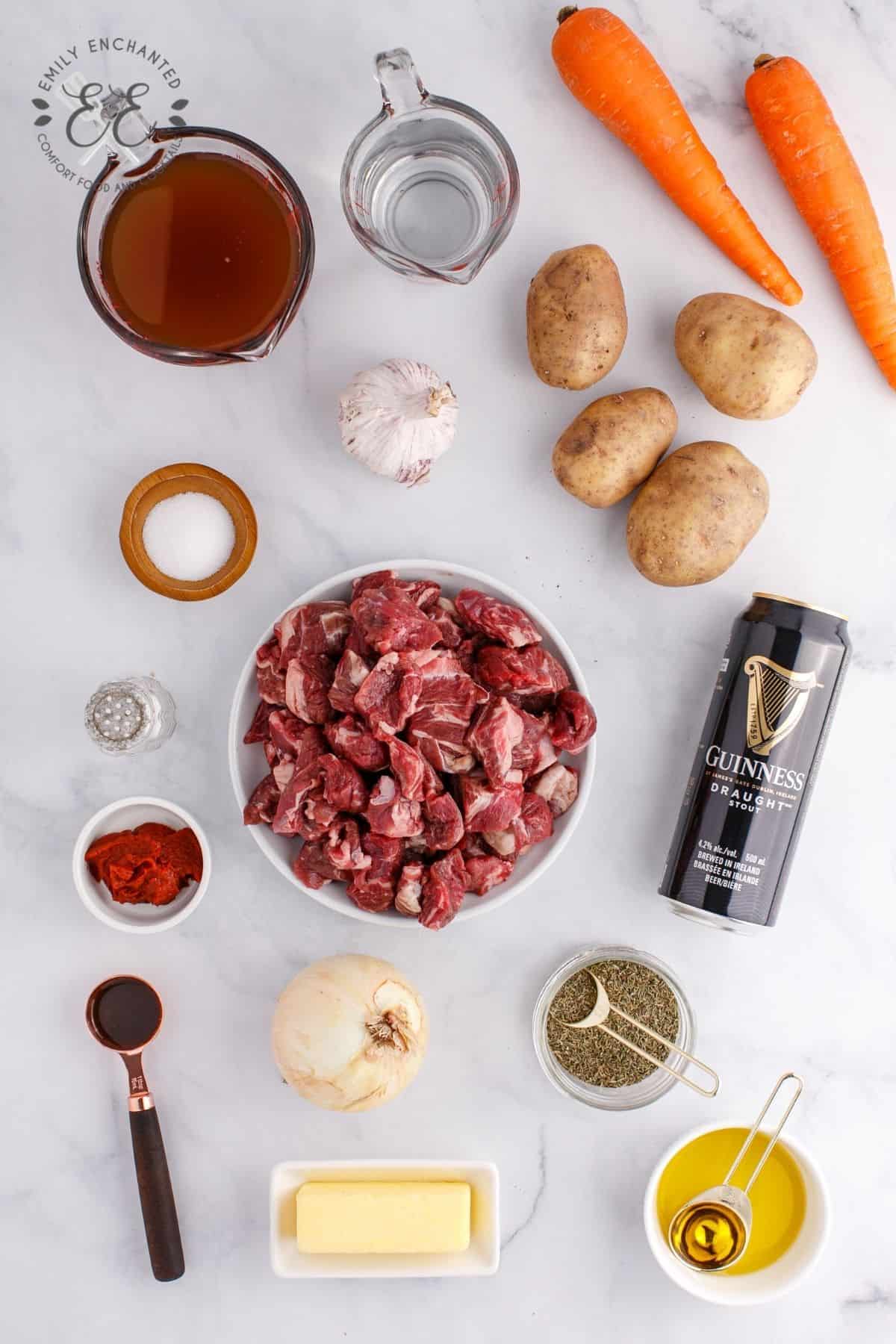 HOW TO MAKE BEEF STEW WITH GUINNESS
Using a large soup pot (with a lid) or Dutch oven (6-8 quart) add 2 tablespoons oil on medium heat.
Once the oil is hot place half of the beef into the pot and brown each side, lightly salting 1 teaspoon at a time. Transfer the beef to a bowl and repeat with the remaining beef and salt. Once the second batch is done add it to the bowl and set aside.
Add garlic to the pot and cook until fragrant (about a minute). Then add beef and any juices to back to the pot.
Add in beef broth, beer, water, tomato paste, sugar, Worcestershire sauce, and dried thyme.
Bring to a boil, reduce to low and cook for an hour, covered.
Heat butter in a medium saucepan on medium and add in carrots and onion and cook for 5-10 minutes. Set aside in a bowl until the soup is done.
After the soup has simmered for an hour, add cooked carrots and onions, as well as potatoes to the pot and cook for 45-60 minutes, uncovered. Once the potatoes are easily poked with a fork your stew is done.
Serve, and garnish with freshly chopped thyme or parsley.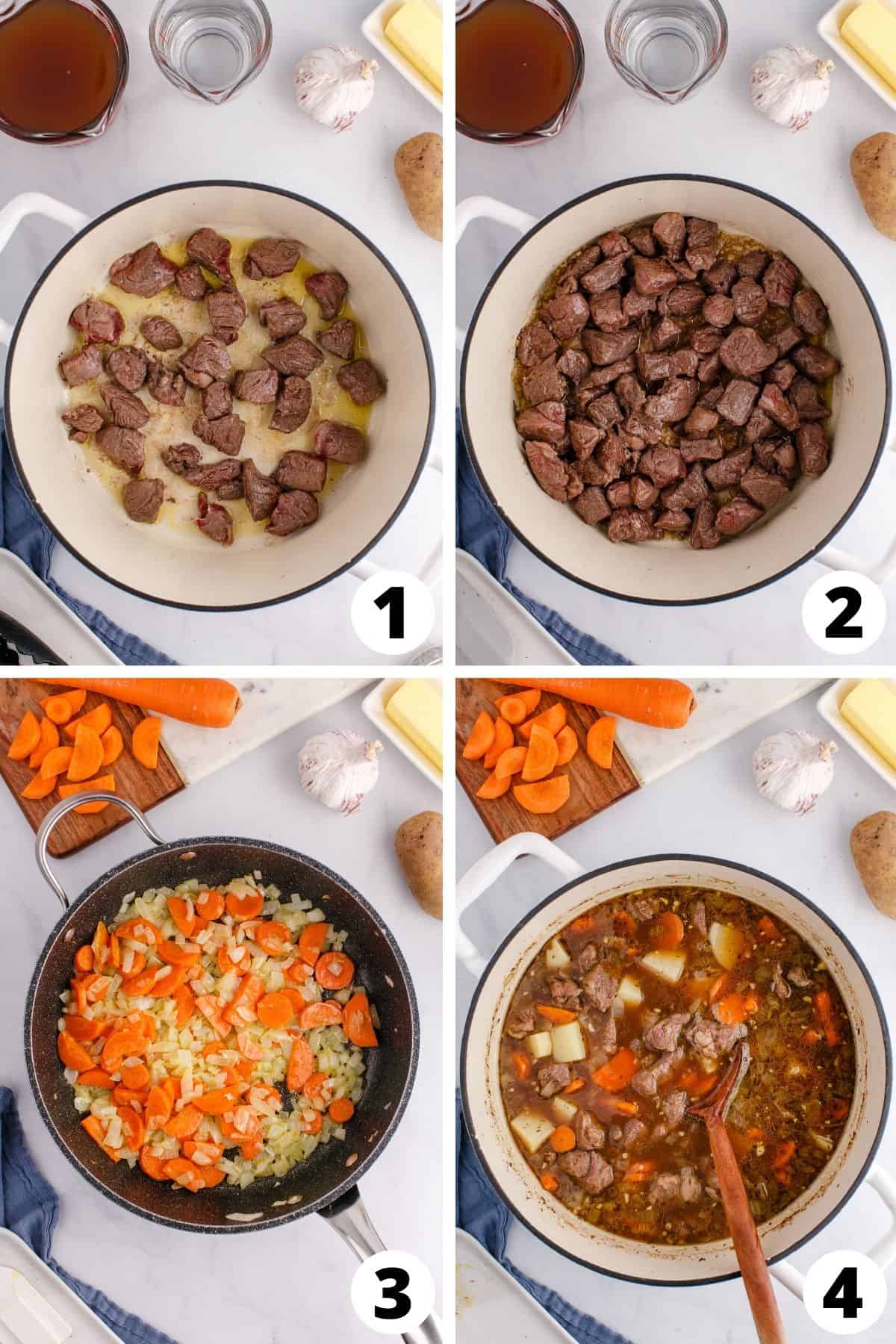 FAQs
Can I make this stew spicy?
If you find you like a bit of spice added to your stew, feel free to add chili flakes to your taste for some heat.
What can I use instead of dark beer in my stew?
are some recommendations: mushroom stock, apple juice, apple cider, root beer or even Coke! Make sure to keep the measurements the same as if you were using beer. This way your stew won't become too liquidly.
SERVING SUGGESTIONS
Irish Beef Stew helps you create the perfect Irish dinner for St. Patrick's Day or any day! This meat and potatoes recipe is great to eat on its own or as a main dish. Serve with these recipes for a delightful sit-down meal.
Irish Soda Bread – easy to make and perfect for dipping in stew, soaking up all the liquid gold in the bottom of your bowl.
Green Beans – it's always a good idea to serve multiple veggies with your meal. Add a pop of color, too, with this yummy green bean recipe.
Guinness Float – end the dinner (if you aren't stuffed) with an ice cream float fit for an Irishman.