Cauliflower Rice can be made ahead of time and reheated for your favorite dishes. You can add seasonings or other vegetables to it – it's totally customizable!
I recently made Cauliflower Rice for the first time and I cannot believe how good it is! It is so filling and better for you than traditional white rice.
To make Cauliflower Rice even more fun and visually appealing, you can use different colors like green cauliflower or orange cauliflower or purple flower. These are actual color variations and not made with food dyes.
Learn how to make cauliflower rice with this easy tutorial. It only takes 15 minutes to make about 4 cups of rice, so it is a great resource for meal prep.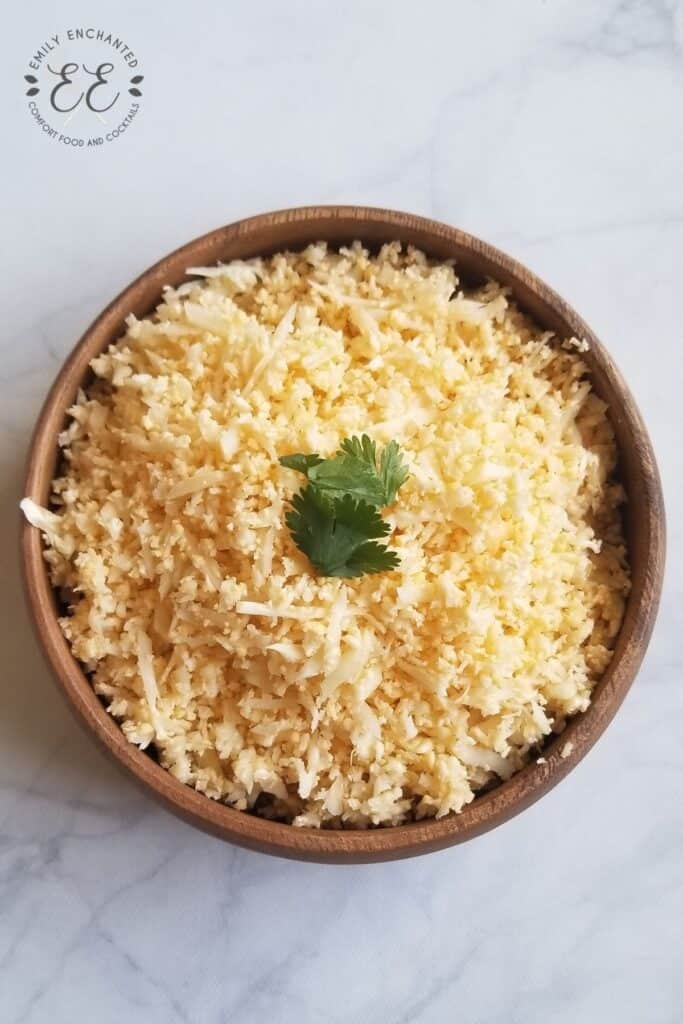 This post contains affiliate links.
Cauliflower Rice Ingredients
To make this rice alternative, you will need the following ingredients (see the recipe card below for exact amounts):
cauliflower
extra virgin olive oil
salt and pepper, or other seasonings
You will also need a food processor (I use this one and it gets the job done. If you want something more heavy duty, check out this one).
How to Make Riced Cauliflower in a Food Processor
Wash and thoroughly dry cauliflower, then remove all greens. Cut into smaller pieces.
Using the grater attachment on the food processor, grate the cauliflower into rice-size pieces.
Use the food pusher to push all the cauliflower down.
If your cauliflower is wet or moist, transfer to a paper towel and press to remove any excess moisture.
How to Cook Cauliflower Rice
To cook the cauliflower rice, saute the rice in a large skillet over medium heat in 1 tablespoon of extra virgin olive oil. Cover with a lid to steam the cauliflower. Cook for a total of 5-8 minutes, depending on how tender you want your rice.
Storage Instructions
Store cooked cauliflower rice in the refrigerator up to 5 days. Raw cauliflower can be stored in the freezer up to 1 month.
What to Make with Riced Cauliflower