This Homemade Creamed Corn with Bacon is full of flavor and so creamy. You can't go wrong with this amazing corn side dish recipe!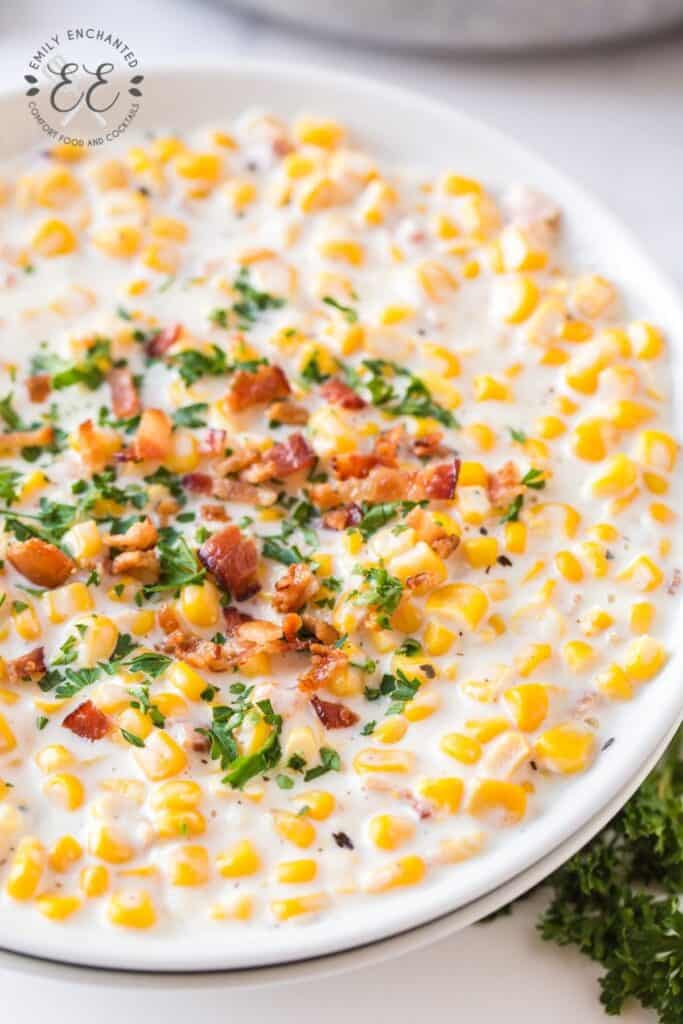 Creamed Corn Ingredients
To make this creamed corn recipe, you will need the following ingredients (see the recipe card below for exact amounts):
Salted butter: You can also use unsalted butter.
Sugar
Half and half
Whole milk: Use unsweetened almond milk or coconut milk instead.
Sweet corn
Garlic powder
Dried basil
Bacon: You can also use bacon bits if you prefer the flavor of bacon bits.
Parsley
Cornstarch
How to Make Creamed Corn
Mix the liquids. In a large skillet over medium high heat, melt the butter. Once the butter has melted, add in the half and half, whole milk, cornstarch, and sugar. Stir to combine and cook until mixture starts to thicken. Do not boil.
Cook with rest of ingredients. Add in the sweet corn, garlic powder, dried basil, and chopped bacon. Let cook on the heat for 5-7 minutes or until the sauce starts to thicken. If needed, add in some cornstarch to help it thicken faster.
Garnish and serve. Once the sauce has thickened, remove from heat and plate. Garnish with some optional fresh chopped parsley and chopped bacon and enjoy!
Storage Instructions
Store this creamed corn in the refrigerator in an airtight container for up to 5 days. This is how long the bacon is good for.
Can I Use this Creamed Corn in Another Recipe?
There are plenty of other recipes that use creamed corn, and instead of using some out of a can, you can use this homemade creamed corn instead. Try it in this creamed corn casserole.
Can I Use Fresh Ingredients?
If you would like to use fresh corn, cut from the cob, that's absolutely acceptable. Use about ¾ cup of fresh corn.
I would also recommend using fresh bacon in this recipe. An easy way to cook bacon is on a baking sheet in the oven. Lay down parchment paper, preheat the oven to 400 degrees, and cook for 15-18 minutes. Once finished, let the bacon cool, then cut into small pieces and use ½ cup for your creamed corn. This will require anywhere from 2-4 bacon pieces. But I also like extra, since bacon is so delicious.
More Corn Side Dish Recipes