Valentine's Day Chocolate Popcorn is delicious homemade treat perfect for celebrating the day of love. Your family or significant other will love this sweet snack. Popcorn is layered with pink, red and white chocolate and fun sprinkles.
You can make the act of gift-giving a little more personal by including homemade items like cards or food. This Valentine's Day Chocolate Popcorn Snack is perfect for this occasion and it is so easy to make. You can put the popcorn in little buckets or in baggies with a cute tag. Chocolate covered popcorn is a great gift idea for teachers, friends, parents, and grandparents!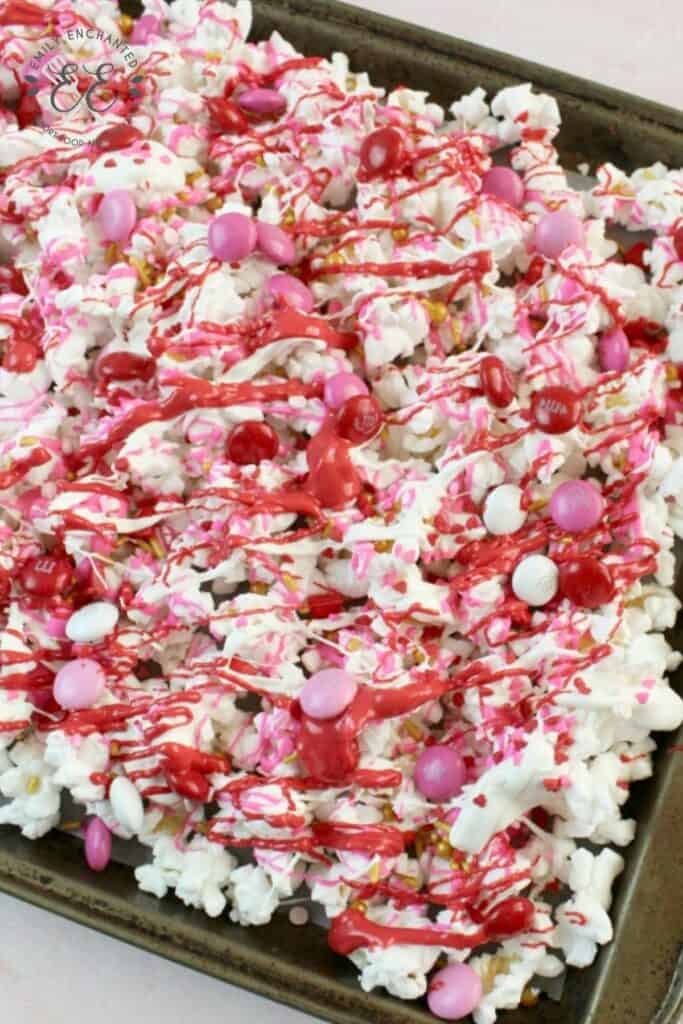 Valentine's Day Popcorn Ingredients
To make this Valentine's Day snack recipe, you will need the following ingredients (see the recipe card below for exact amounts):
Plain popcorn kernels
Wilton pink candy melts
Wilton bright white candy melts
Wilton red candy melts
Valentine's Day M & M candies
Valentine's Day nonpareils (these are tiny sugar balls)
Valentine's Day sprinkles
How To Make Valentine's Day Chocolate Popcorn
For this Valentine's Day Chocolate Popcorn Snack, you will end up with 3 layers of chocolate and sprinkles on top of the popcorn.
First, line a cookie sheet with wax or parchment paper. (This is not going in the oven, so you can use either.) Pop your popcorn in the microwave according to the instructions on the bag. Here's a trick: when you start counting 3 seconds in between pops, that means the popcorn is done. You can also use pre-packaged plain popcorn or you can pop the popcorn in an Intsant Pot. Kettle corn would also taste really good in this recipe.
Spread 8 cups of the popped popcorn in a single layer on the lined cookie sheet. You will use almost the whole bag.
In a microwave safe bowl, microwave the pink candy melts for 45 seconds. Remove from the microwave and stir until completely melted and smooth. Microwave in 10 second intervals if still not melted. The candy melts will keep their shape until you start to mix them. Using a spoon, drizzle on top of the popcorn. Do this step with small amounts. If you take a heaping spoonful, it will fall on the popcorn in big clumps. Immediately sprinkle the Valentine's Day nonpareils on top of the melted pink chocolate.
Add the white candy melts to a separate microwave safe bowl and microwave on high for 45 seconds. Stir until melted and smooth. Drizzle on top of the popcorn. Before the white chocolate hardens, sprinkle Valentine's Day sprinkles on top of the melted white chocolate.
In a third microwave safe bowl, microwave the red candy melts and drizzle all over the popcorn. Immediately place the Valentine's Day M&M candies on top of the melted red chocolate.
Place the cookie sheet in the refrigerator and chill for 1 hour to allow the chocolate to completely harden. Once hardened, break the popcorn into bite-size pieces.
Tips for Chocolate Covered Popcorn
Candy melts are found in the baking aisle. You can choose from a variety of colors. Try this for other holidays like the 4th of July and Halloween.
Be generous with the sprinkles, as many fall through the popcorn to the cookie sheet.
If you want the popcorn to stick together even more, try layering half of the popcorn and then chocolate, and then the rest of the popcorn and chocolate again.
Note: This post was formerly a sponsored post containing this disclaimer: "This post is sponsored by Incomm." It has been modified to better serve my readers.