Creamy White Chicken Chili is a delicious cross between a classic chili and a chicken soup. This hearty dish will warm you right up.
Greek yogurt makes this chili so creamy and delicious. Use shredded chicken or store-bought rotisserie chicken for this recipe to make it super easy.
Creamy White Chicken Chili Ingredients
To make this white chili recipe, you will need the following ingredients (see the recipe card below for exact amounts):
olive oil
onion
garlic cloves
cannellini beans
chicken stock
chicken
diced green chile
cumin
salt
chili powder
black pepper
plain Greek yogurt
How to Make Creamy White Chicken Chili
In a large dutch oven or pot, heat the oil over medium heat. Add in the onions and saute them until the onions are softened.
Add the garlic into the pot and cook for an additional minute.
Stir in the beans, chicken stock, chicken, chillis, cumin, salt, and pepper. Turn the heat to high and allow the soup to come up to a boil. Once it comes to a boil, bring the heat down to low and cover. Allow it to simmer for 15 minutes.
Stir the Greek yogurt into the soup.
Serving Suggestions
Serve with your favorite toppings like avocados, tortilla chips, sour cream, sliced jalapenos, cheese, lime wedges.
You can even dip bread in it, such as this cheesy quick bread or jalapeno cornbread.
FAQs
Can I Substitute Greek Yogurt?
Yes, you can change out the Greek yogurt for sour cream.
Can I Make this Chili Even Creamier?
Yes! Try adding heavy whipping cream to make this chili even creamier.
How do I cook the chicken?
Boil chicken in water until the chicken reaches an internal temperature of 165°F, about 12 minutes.
Can I Cook the Raw Chicken in the Chili?
While you can, I don't recommend it because it will make the soup cloudy.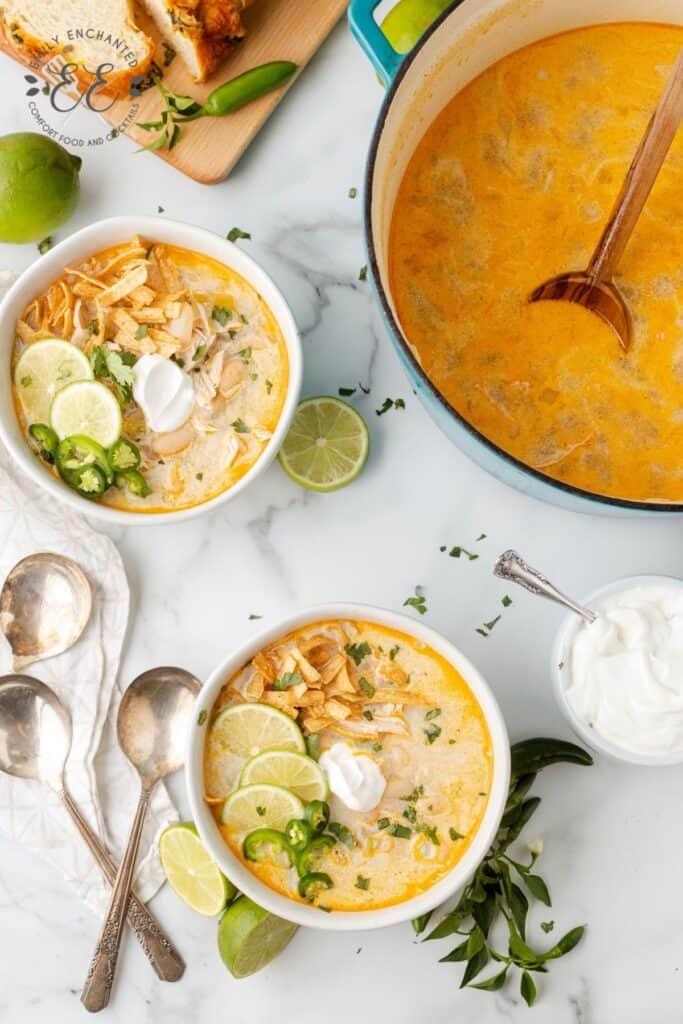 Storage Instructions
You can store it in a air tight container in the fridge for up to 4 days.