This post contains affiliate links. As an Amazon Associate I earn from qualifying purchases. View our Privacy Policy.
Christmas Tree Meringues are peppermint flavored treats that will bring your dessert table to life. These festive Christmas trees are worth the long process!
These cute Christmas meringues can be enjoyed by themselves, used as Christmas cake topper, Christmas cupcake topper, or as scenery for your gingerbread house!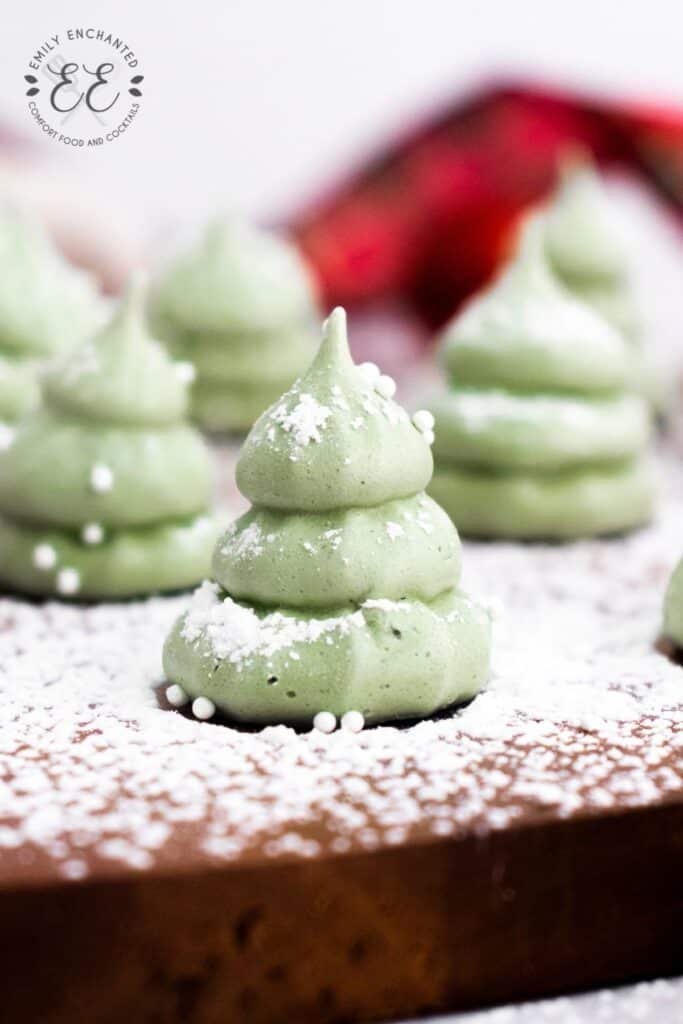 This post contains affiliate links.
Christmas Tree Meringue Ingredients
To make this Christmas Tree meringue recipe, you will need the following (go to the recipe below for exact amounts and instructions):
Egg whites
Cream of tartar: I recommend using cream of tartar if you're new to making meringues as it helps stabilize the egg whites. If you don't have it, or don't want to use it, this recipe is just as delicious without it.
Sugar: caster or superfine
Peppermint extract
Green gel food coloring: It's very important that you always use gel food coloring (not liquid) when working with meringues. Liquid food coloring can change the consistency of meringues and you want to avoid that.
Sprinkles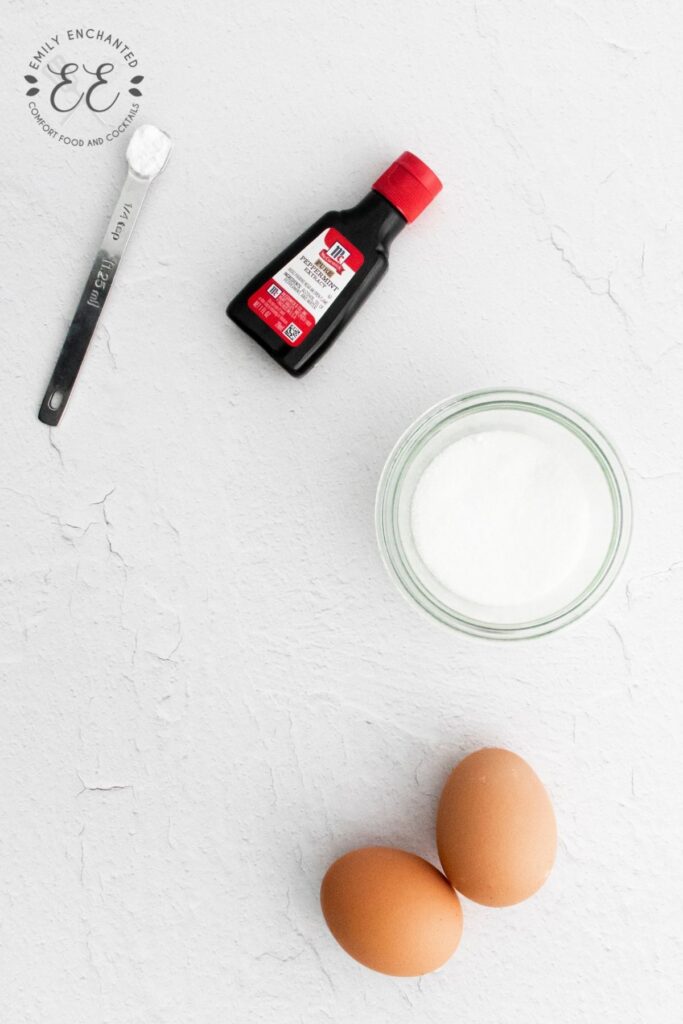 Tools Needed to Make Meringue
Stand Mixer – You can use a hand mixer, but a stand mixer is so much easier for this process. Your arms will thank you! Make sure you have a whisk attachment.
Piping bag and star tip
Gel Food Coloring – Walmart carries the Betty Crocker Christmas colors.
Sheet Pan
Parchment Paper
How to Make Christmas Tree Meringues
Preheat your oven to 225F. Line a large sheet pan with parchment paper.
Add the egg whites to the bowl of a stand mixer fitted with the whisk attachment. Beat on medium-high speed until the meringues become frothy.
Add the cream of tartar, if using, and continue to whip on medium-high speed. Now add the sugar very slowly, about 1 tablespoon at a time, and allow the first addition of sugar to fully dissolve before adding the second. Adding the sugar should take about 2 minutes total.
Once all of the sugar has been added, keep beating until the meringue becomes a soft peak.
Now add in the peppermint extract and green gel food coloring. I start with about ½ teaspoon of Christmas Green but how much you use is totally up to you!
Next, continue beating the meringue until it forms a stiff peak. Transfer the mixture to a piping bag fitted with a star tip.
Pipe the mixture into trees by applying heavy pressure followed by a gentle swoop upward. Make sure to pipe the trees with the piping bag at a 90 degree angle to the parchment. If you pipe the trees lopsided, the meringues may tip to the side during baking. Continue that process for three layers, making each layer slightly smaller as you go up. They should be about 2 inches tall. Decorate with sprinkles, if desired.
Once all the meringues have been piped and decorated, place the sheet pan in the oven for one hour.
Once the meringues have finished cooking, turn off the oven and open the door slightly but leave the meringues in the oven. Allow them to cool to room temperature for 1-2 hours.
Storage Instructions
Store the meringues in an airtight container at room temperature for up to one week.
FAQs
What Type of Sugar Should I Use in Meringue?
I always recommend using caster or superfine sugar in meringues as it helps ensure the meringues will be light and airy and won't crack. Using white granulated sugar will result in meringues that look slightly grainy but still taste delicious.
How do I keep meringue from cracking?
First, make sure to beat the meringue just until it reaches a stiff peak, over-beaten meringue will result in cracked cookies. Second, allowing the cookies to cool in the oven helps prevent them cracking as well.