Caramel Stuffed Pumpkin Cookies are a caramel filled cookie with pumpkin spice. These delicious cookies with a chewy center are easy to make and perfect for Fall.
These soft cookies with an ooey gooey middle are just what you need to satisfy your pumpkin spice craving.
Caramel Stuffed Pumpkin Cookies Ingredients
To make this pumpkin cookie recipe, you will need the following ingredients (go to the recipe below for exact quantities and instructions):
Unsalted Butter
Brown sugar
Granulated sugar
Pumpkin puree
Egg
Vanilla extract
All-purpose flour
Pumpkin spice
Baking powder
Baking soda
Salt
Caramel pieces: I found the caramel pieces to be too large to melt properly, but cutting them in half did the trick and allowed the caramel to melt completely during the baking process.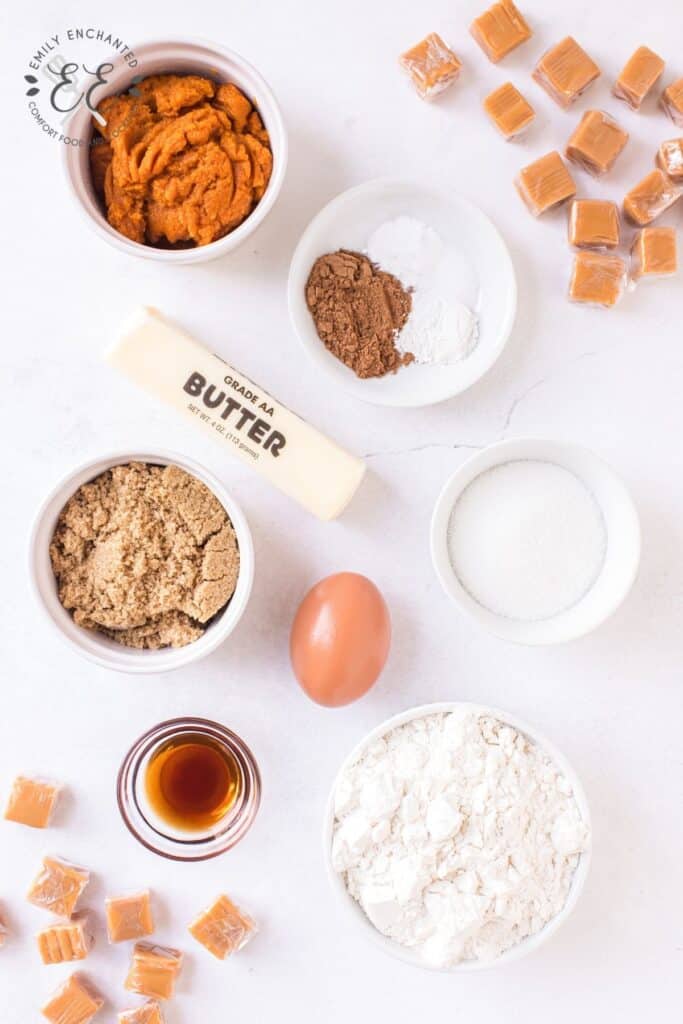 How to Make Pumpkin Cookies with Caramel in the Middle
It is really easy to make stuffed cookies. Just follow these simple instructions.
Preheat oven to 350 degrees F.
Make cookie batter. Cream butter, brown sugar, and granulated sugar together until light and fluffy Mix in pumpkin puree, egg, and vanilla until incorporated. Stir in flour, pumpkin spice, baking powder, baking soda, and salt. Don't overmix.
Stick caramel in the cookie dough. Cut caramels in half. Measure a 2" ball of dough (I used a 2" cookie scoop because the dough is pretty thin and sticky) and place ½ of a caramel in the center. Cover the caramel with dough and place on a parchment lined baking sheet.
Bake the cookies. Bake in oven for 12-14 minutes or until golden brown around the edges. Let cookies sit on baking sheet for 5 minutes before transferring to a wire rack to finish cooling.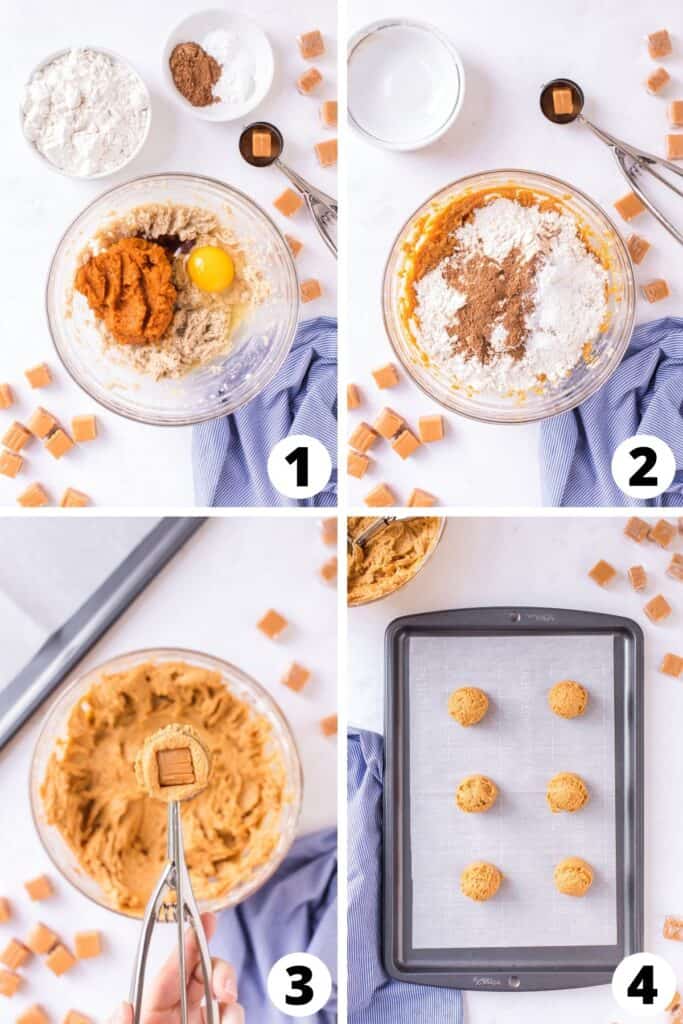 Do I Need to Chill the Dough?
The pumpkin cookie dough is relatively thin for a cookie dough, similar to a snickerdoodle cookie consistency. That consistency is completely normal, but it is difficult to roll the ball of dough in your hands.
In order to skip any chilling time in the refrigerator, I simply used a 2 inch cookie scoop, placed the caramel inside of the cookie scoop, and covered the caramel before placing the dough onto a baking sheet.
If you don't have a cookie scoop available to you, feel free to chill your dough in the refrigerator for 30 minutes to one hour or until it's easier to handle. I don't recommend adding more flour to your dough to make it thicker because it will affect the overall outcome of the cookie.
Storage Instructions
Room Temperature: Your caramel stuffed pumpkin cookies can be stored at room temperature for up to 1 week as long as it is stored in an airtight container. I recommend heating your cookie in the microwave for 10-15 seconds before eating in order to warm the caramel.
Freezer: You can freeze your cookies for up to 3-6 months for best quality.