These Mexican Zucchini Boats are low carb and so satisfying! Zucchini is scooped out and filled with a vegetable and rice mixture that is so tasty.
This is one of the best stuffed zucchini recipes. This meatless recipe will fill you up. Minimal prep is needed. You only have to cook the rice ahead of time. Mix all the ingredients together and fill the zucchini boats.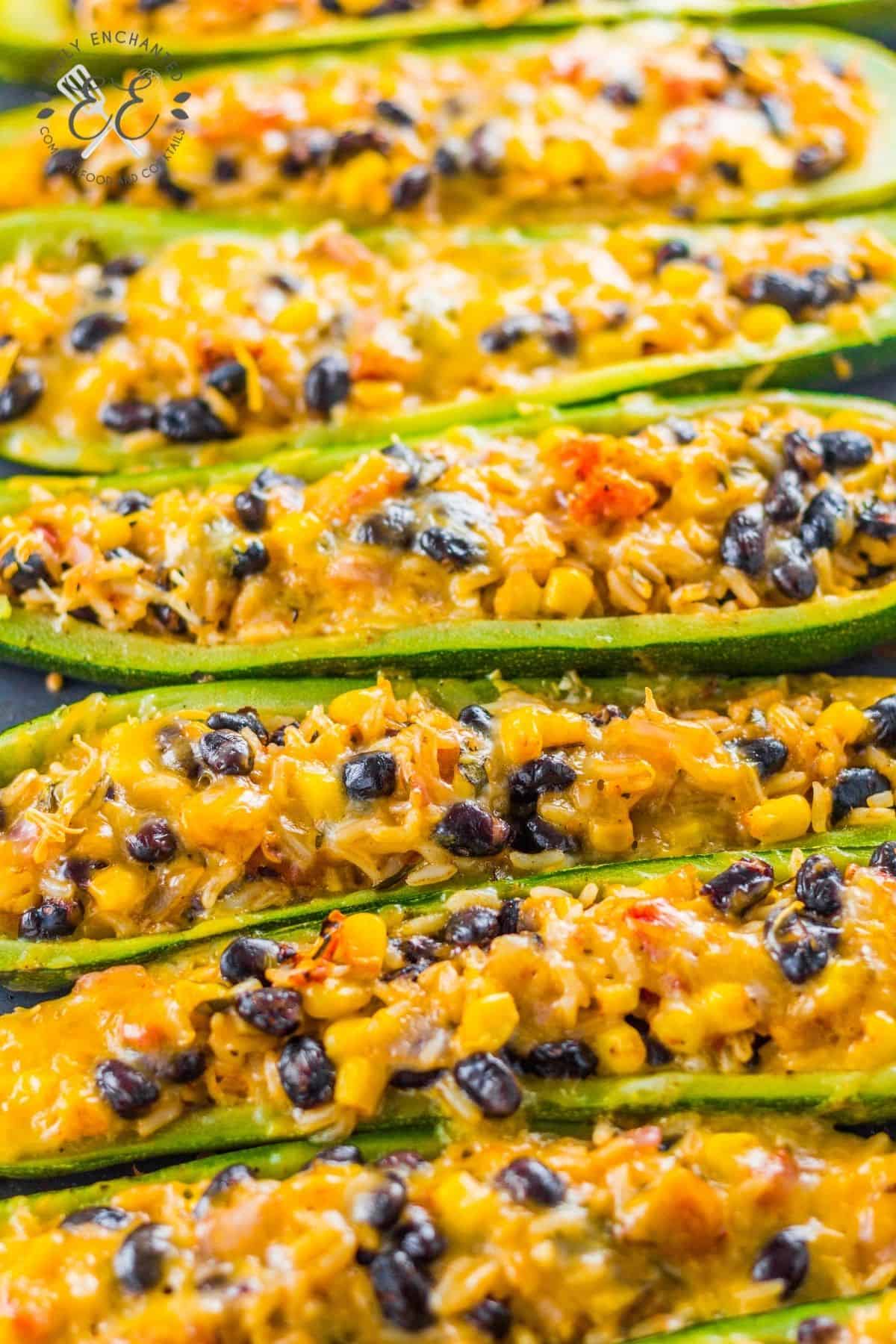 This post contains affiliate links.
Mexican Zucchini Boats Ingredients
To make this zucchini boat recipe, you will need the following ingredients (scroll down to the recipe below for precise amounts):
Red Onion
Lime Juice
Cilantro
Salt and Pepper
Shredded Mexican Cheese
Zucchini
Avocado and Sour Cream: optional toppings
How to Make Stuffed Zucchini
Preheat the oven to 425F. Grease a large baking pan with olive oil, set aside.
Cook the rice according to package instructions and prepare the other ingredients.
Mix the ingredients. In a large bowl, mix black beans, corn, red onion, diced tomatoes, Italian seasoning, taco seasoning, lime juice, 2 T cilantro, and salt and pepper. Mix well. Add in cooked rice and mix until all ingredients are well incorporated. Set aside.
Prepare zucchini. Cut zucchini in half lengthwise, then use a spoon or melon baller to scoop out the center of the zucchini halves to create a hollow zucchini boat. Discard the filling. Place the scooped out zucchini in a row on baking sheet or in a baking dish. Lightly season the insides of the scooped out zucchini with salt and pepper.
Bake the zucchini boats. Firmly pack rice mixture into the zucchini halves. Sprinkle 1/2 of the bag of cheese over top. Cover with foil. Bake for 35 minutes. Remove from oven, let cool slightly and garnish with remaining cilantro. You can add avocado and drizzle with sour cream over top if desired.
Optional Add-Ins
Try adding protein, like ground beef or turkey.
You can substitute kidney beans or use a blend.
Bell pepper, try red for a pop of color.
Jalapeno, for added spice.
Tips for Zucchini Boats
Use medium sized zucchini for this recipe. Small zucchini will not be able to hold the filling.
The zucchini can be tough to scoop out. Using a melon baller might make it easier. I like to take a knife and cut around the part I am scooping out to make an outline.