A Wine Journey Along the Turquoise Trail with JaM Cellars
Thank you JaM Cellars for sponsoring this post. Looking for JaM Cabernet and Butter Chardonnay near you? Check out their easy-to-use Store Locator! Just pop in your zip code and the wines will be waiting!
The end of summer is nearing and the days quickly turn to nights, so I have been extra mindful of my time and am making sure I check off some fun outings on my #SummerBucketList. Before the snow hits the mountains when Summer transitions to Fall, I wanted to drive the Turquoise Trail from Albuquerque to Santa Fe and discover all the treasures it has to offer, from hiking the parks to exploring the old towns along the way. I took my friends, JaM Cabernet and Butter Chardonnay, with me for a little picnic to top off this little adventure.
Tijeras – "Gateway to the Turquoise Trail"
Nestled at the foot of the mountain just outside Albuquerque is a little village called Tijeras. You may have heard of Tijeras because of its "musical road" – a two-lane stretch of Route 66 with grooves in the roadway which "play" America the Beautiful when vehicles drive on it at 45 mph. Tijeras is also known as the Gateway to the Turquoise Trail, which is the span of Highway 14 between Albuquerque and Santa Fe.
My boyfriend and I packed our picnic backpack with all the essentionals – sandwiches, cheese, grapes, crackers, and Butter and JaM Cab – grabbed some water bottles, and headed to the Tijeras Pueblo Archaeological Site for a sunrise hike.
The museum was closed this early in the morning, but the trail has plenty of markers for you to learn all about the pueblo and the people who lived there over 700 years ago. The pueblo was partially excavated for archaeological research and is now covered by a large mound of soil and foliage in order to protect it from the elements and looters.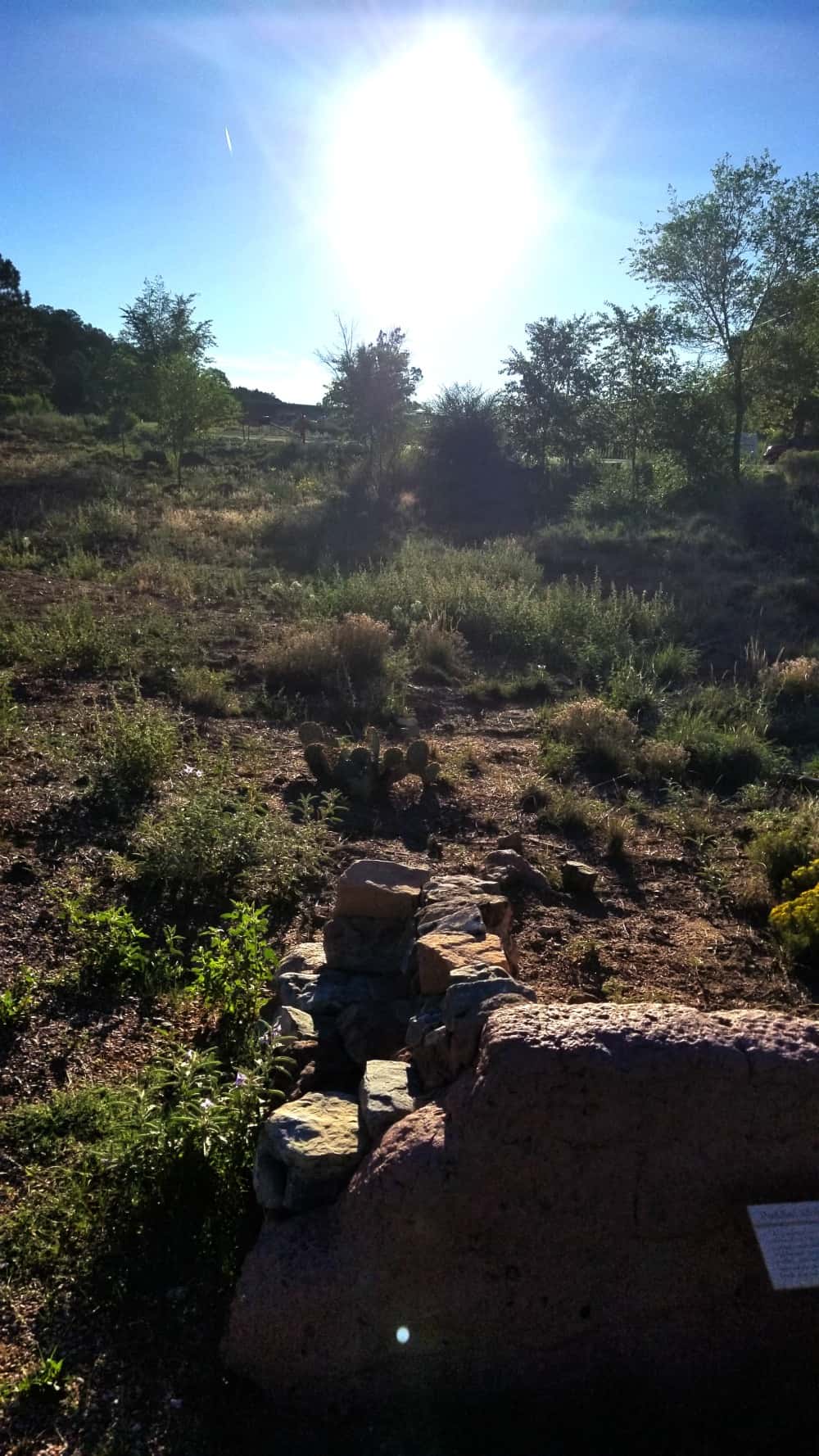 After the short and educational hike, we stopped at a quaint little restaurant called Roots Farm Cafe for breakfast. They use fresh produce grown right on their farm to make delicious food.
I had the fancy toast with goat cheese, pesto and roasted red peppers, and I washed it down with a lavender lemonade. My boyfriend had the breakfast sandwich with scrambled eggs, sausage, green chile, cheddar cheese and zesty sauce on ciabatta. The food was amazing!!
If it wasn't so early, I'd pour myself a glass of JaM Cab to go with my fancy toast! With fuel in our tummies, we were ready to continue on our adventure along the Turquoise Trail.
Madrid
Between Tijeras and Madrid are miles of gorgeous highway with twists and turns and scenery everywhere you look. There are plenty of places to pull off and grab a few snapshots of the beautiful land.
You will know once you have arrived at Madrid (pronounced MAD-rid) because of all the artwork and sculptures that are everywhere. Houses on both sides of the highway have been turned into businesses in this little tourist attraction.
There are plenty of places to park so you can get out and walk around this cute town. Stop in all of the local shops, as they each have something unique to offer. You might even recognize Maggie's Diner from the movie "Wild Hogs" with Tim Allen and John Travolta! There is live music often at the Mine Shaft Tavern along with the best Wagyu beef burger you've ever had.
The only thing this little town is lacking is free wine tasting, which is why I was so glad I brought Butter and JaM Cab with me! Is it lunch time yet?
Cerrillos
After you have bought some souvenirs in Madrid, head north on Highway 14 for about 3.5 miles until you reach Cerrillos. Cerrillos is home to a state park that offers over 5 miles in trails and more beautiful views. You can enjoy hiking and horseback riding.
One thing you have to check out is the Cerrillos Turquoise Mining Museum. You walk into the shop where you can by gifts but also various turquoises and other stones. Once you pay the $2 fee to walk the museum, you quickly realize this is the owner's private collection and he has put so much work into making his own displays and exhibits. The sign at the door says "This museum is self-explanatory." I laughed out loud at reading this.
End of the Turquoise Trail
Learning is fun, but I couldn't stop thinking about the JaM Cab and Butter in my backpack! Once you have reached Santa Fe, you have come to the finale of the Turquoise Trail. We found a grassy area and picnic table to end our excursion with a late lunch.
After setting up our packaged sandwiches and laying out a cheese board, we finally got to open the Butter and JaM Cab. The twist off caps make it so easy to take them with you wherever you go! Forget a corkscrew? You don't need one!
The black grapes went so well with the notes of black plums and blackberries of the JaM Cab. I could eat fruit all day long so this is easy to love. The Butter is like a vanilla dessert. It is so rich and luscious. Just like real butter, Butter melts in your mouth!
What will you knock off your #SummerBucketList with the help of JaM Cellars? Cheers!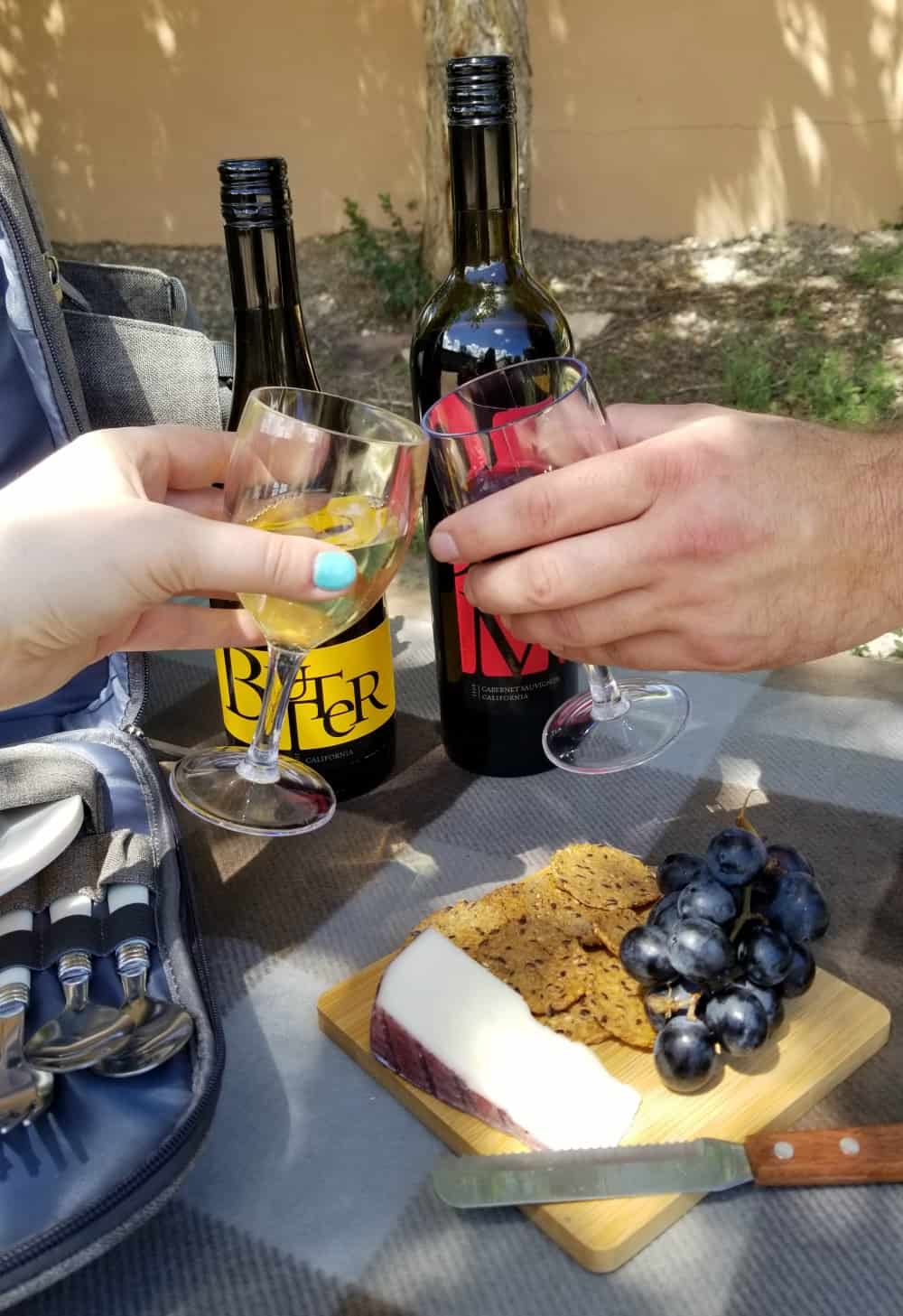 I was selected for this opportunity as a member of CLEVER and the content and opinions expressed here are all my own.