Pineapple Coconut Mojito is a tropical cocktail perfect for summer. Coconut rum and pineapple juice are mixed with mint leaves and topped with club soda.
Pineapple Coconut Mojito Ingredients
To make this pineapple cocktail recipe, you will need the following ingredients (see the recipe card below for exact amounts):
Ice
Mint Leaves (Chopped)
Pineapple Juice
Coconut Rum
Club Soda
Lime
Pineapple Slices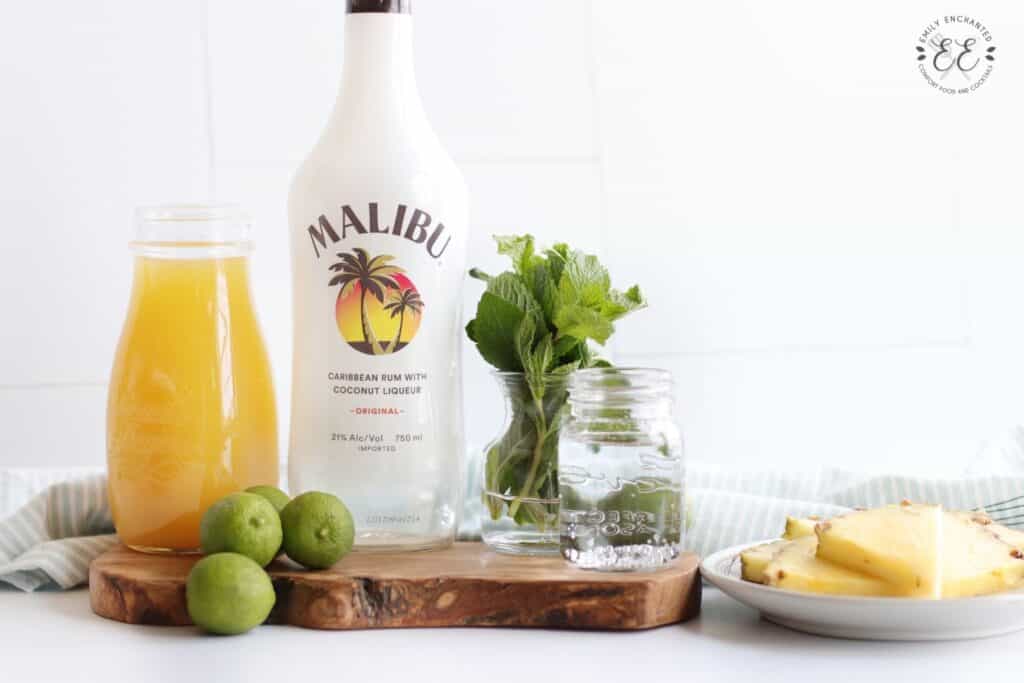 How to Make a Tropical Mojito
Cut the Lime in half. Set one half aside for making the drink. From the other half, cut two "wheels" or slices and set aside for garnish.
Add about a ½ cup of ice to a cocktail shaker. Next, pour in the rum and pineapple juice. Add the chopped mint. Squeeze the half a lime you set aside into the shaker as well. Secure lid and shake vigorously!
Fill two glasses with ice. Pour Mojito over ice, leaving about an inch to an inch and a half from the top. Top cocktail with club soda. Garnish with a pineapple slice and a lime wheel.
Tips for Making this Mojito Recipe
If the mint gets stuck in cocktail shaker at all, remove lid and use a spoon to add some to each drink!
If you don't have a cocktail shaker you can muddle the mint in a glass, add the other ingredients and stir it well before straining the cocktail into the glass.
Mojito Variations
You could use flavored sparkling water at the end instead of the club soda. A coconut sparkling water or pineapple would compliment this cocktail nicely.
For another twist on this refreshing cocktail try basil instead of mint. It is a tad more subtle but still works perfectly.