These Chocolate Chip Eggnog Bars with Nutmeg are so creamy and yummy. Chocolate chips and nutmeg top off this delicious treat, making you want to come back for more.
There are so many flavors of Christmas that I love, one of them being eggnog. These bars are made with an Oreo and butter crust, which is to die for. I make most of my bars with this base because it is just so dang good. I could it just by itself! These Christmas bars will not last long at any holiday party.
If you are wondering what my all-time favorite Christmas flavor is, it is peppermint. Try my Chocolate Peppermint Cookies.
Eggnog Bar Ingredients
Eggnog bars have pretty simple ingredients, and a lot of these can be found in your fridge and pantry.
Oreo cookies
unsalted butter
cream cheese
granulated sugar
all purpose flour
eggnog
egg
semi sweet chocolate chips
nutmeg
How to Make Eggnog Bars with Chocolate Chips
Preheat oven to 300 degrees. Line an 8×8 pan with foil and spray with a non-stick spray. Make sure the foil folds over the sides of the pan.
First, you are going to make the crust for the eggnog bars. In a food processor, pulse the Oreos until finely crushed. Add in the butter and pulse again until well combined.
Spread the mixture onto the bottom of your prepared pan and set aside. (Note: I find it easiest to spread the mixture with my hands.)
Wipe out the food processor and add the cream cheese and sugar. Pulse until nice and creamy, leaving no lumps behind.
Add in the flour, eggnog and egg, pulsing until well combined.
Fold in the chocolate chips and pour the mixture onto the crust layer in your pan. Sprinkle a few chocolate chips on top for appearance.
Bake for 35-40 minutes, just until edges are set. Cool completely on the counter. Then move to the fridge for a few hours to chill.
When ready to serve, remove the bars from the pan by lifting the foil. Sprinkle the nutmeg on top.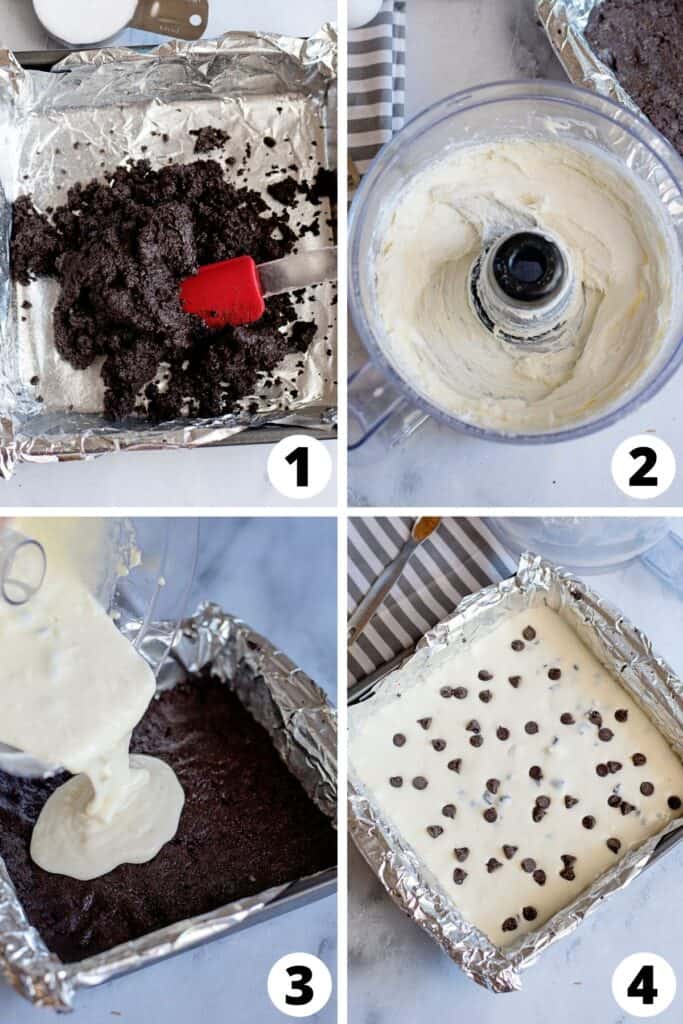 What is Eggnog?
Drinking eggs sounds gross, but somehow this works. Eggnog is made with milk, cream, eggs, and sugar. The eggs are whipped, which gives eggnog its frothy texture.
Of course, adding rum and nutmeg to it makes a great punch for Christmas parties!
Eggnog usually makes its way into grocery stores right after Halloween. But you can do so much more with it than drink it. It is great for baking too!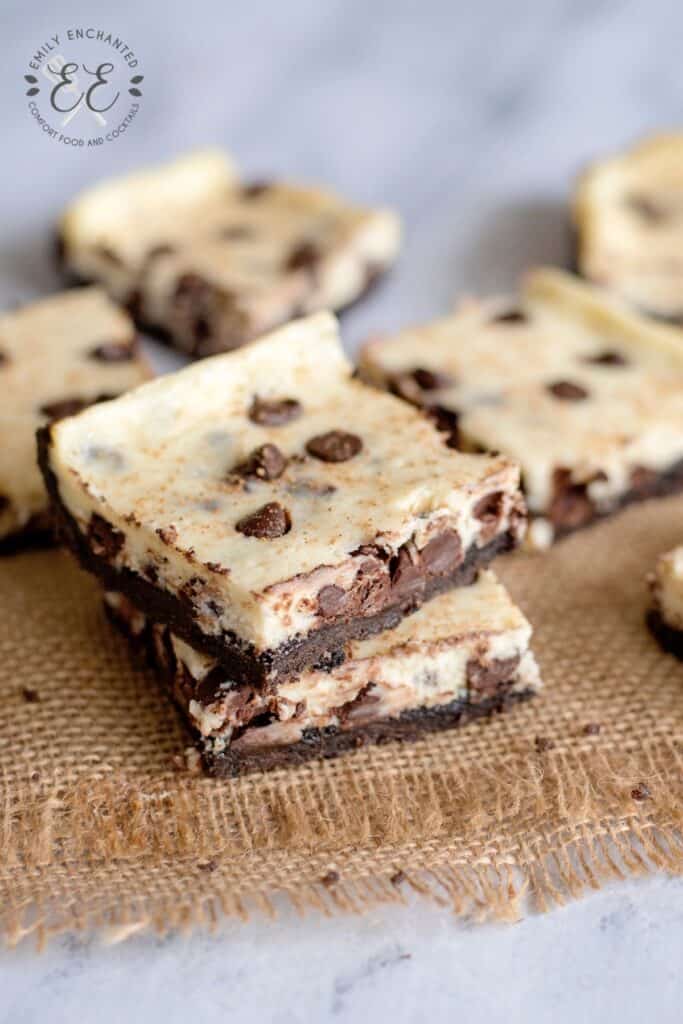 Storage Instructions
You can store eggnog dessert bars in the refrigerator.