This Easy Chili Cheese Dogs recipe is great for large family gatherings and barbecues. Adults and kids alike will love crafting their own chili dog.
This post is sponsored by Ricos.
This easy chili cheese dog recipe has only a few ingredients that you can find at Walmart, including Ricos Cheese Sauce. Ricos Cheddar Cheese Sauces are perfect for hosting big events like backyard barbecues, family reunions, birthday parties, game day tailgates, and more!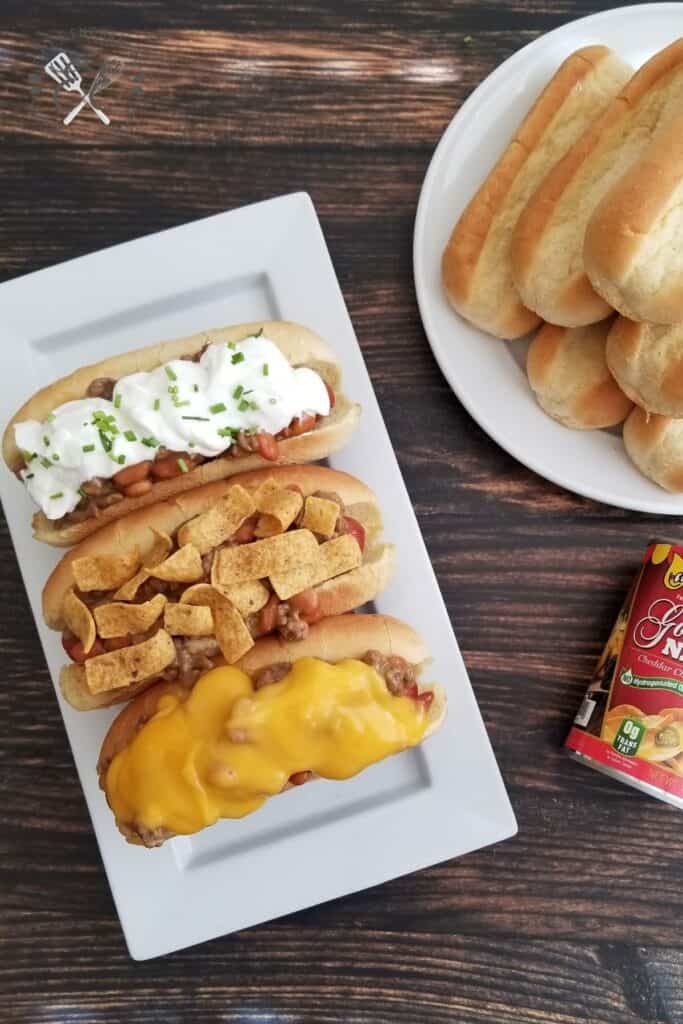 Ricos Condensed Cheddar Cheese, also available in 6 lb. 10 oz. size, has 50% more product once mixed, feeding more people and stretching your dollar. Ricos products are free of trans fat and hydrogenated oils. The sauces can be used for so much, just heat and eat!
Chili Dogs Ingredients
To make this chili cheese dog recipe, you will need the following ingredients (see the recipe card below for exact amounts):
Ground beef
Ricos Gourmet Nacho Cheddar Cheese Sauce
Pinto beans, canned
Hot dogs
Hot dog buns
Optional toppings: sour cream, chives, Fritos
How to Make Cheese Dogs
Heat the pinto beans in a small pot on medium low heat.
Heat the Ricos Gourmet Nacho Cheddar Cheese Sauce in a medium pot on medium heat for 10-15 minutes. When done heating, set aside about 1 1/2 cups of cheese for topping.
Brown the ground beef in a pan.
At the same time, grill the hot dogs in a separate pan on medium heat for 5-7 minutes . [Time saving tip: Poke holes in the hot dogs with a fork and microwave them.]
Drain the beef and beans. Add to medium pot with cheese sauce. Stir to combine.
Place a hot dog in a bun and scoop beef mixture on top. [Tip: Use a taco holder to keep your hot dog buns upright.]
Add more cheese and desired toppings.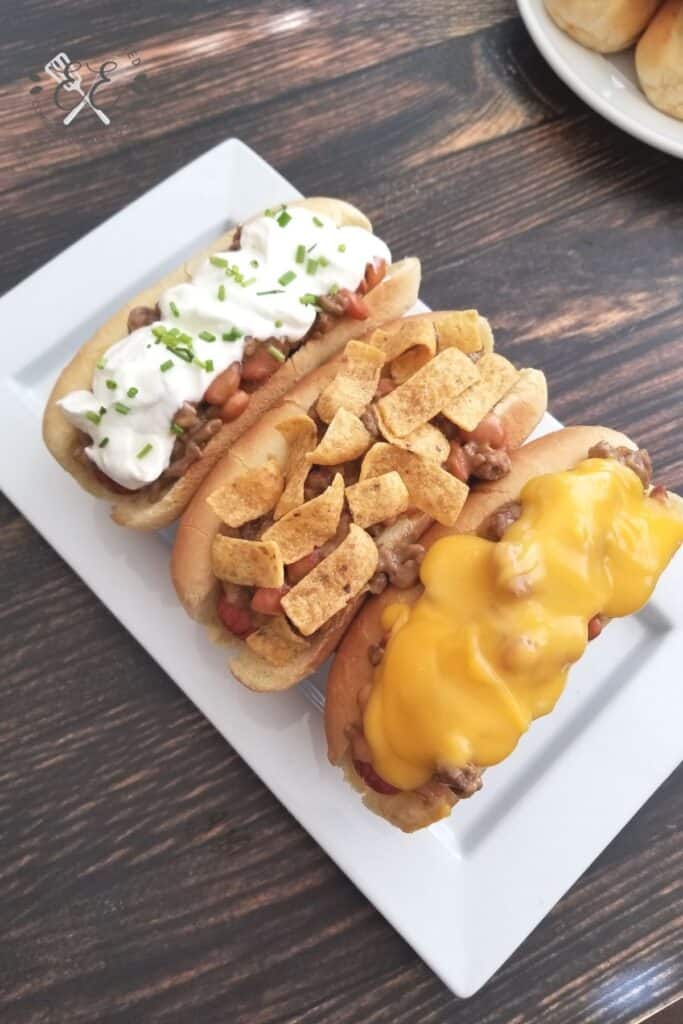 What if I Don't Have Enough Hot Dog Buns?
It's a tale as old as time. The hot dog buns package doesn't have the same number of hot dogs in the hot dog package. No worries, you can make this delicious chili dog casserole instead!