Chestnuts Roasting On An Open Fire is a delicious holiday cocktail drink with Torani Marron Syrup, brandy and eggnog. This exciting holiday drink is finished off with a whimsical flame.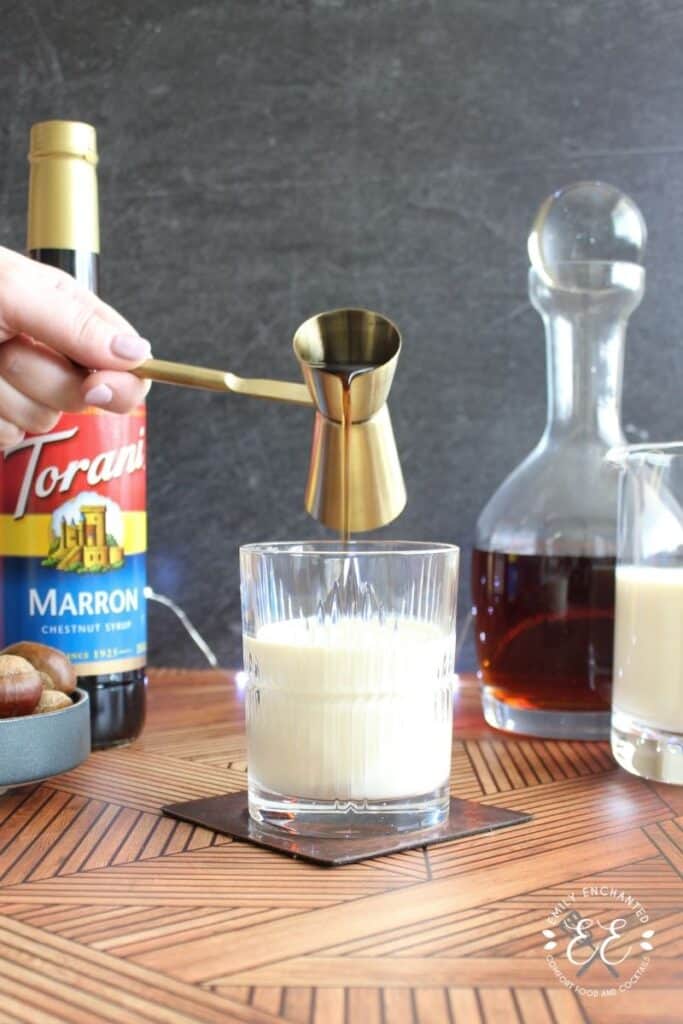 This post is sponsored by Torani. All opinions expressed herein are mine, and mine alone. #atoraniholiday
Take Your Holiday Celebration to the Next Level with Torani
The best way to decorate for the holidays is with a fire roaring in the fireplace, music in the background, a Santa hat on your head, cookies fresh from the oven, and a special holiday drink in your hand.
I am taking my holiday drinks to the next level by adding Torani flavored syrups. Creating amazing holiday cocktail recipes has never been so effortless. Take one of your favorite drinks, coffees, hot cocoas or lattes and just add a spoonful of Torani syrup to transform your beverage and make it your own.
With all the special flavors that Torani offers, you do not want to miss out on the endless possibilities. Get your favorite flavors online at torani.com today!
Chestnuts Roasting On An Open Fire Cocktail Ingredients
To make this holiday drink recipe, you will need the following ingredients (see the recipe below for exact amounts):
Torani Marron Syrup: This syrup has a sweet chestnut flavor. It is made with real, simple ingredients like pure cane sugar and natural flavors.
Brandy: I prefer brandy for my spiked eggnog, but you can also use bourbon or rum.
Eggnog: I usually splurge and get the good stuff. Price point definitely makes a difference in the eggnog world.
High proof grain alcohol: This is needed if you want to light your drink on fire (totally optional!). Grain alcohol is preferable because it doesn't have a distinct taste and will not overtake any of the flavors of the drink. I used a 151 proof neutral spirit (aka moonshine), which you can get at your local liquor store.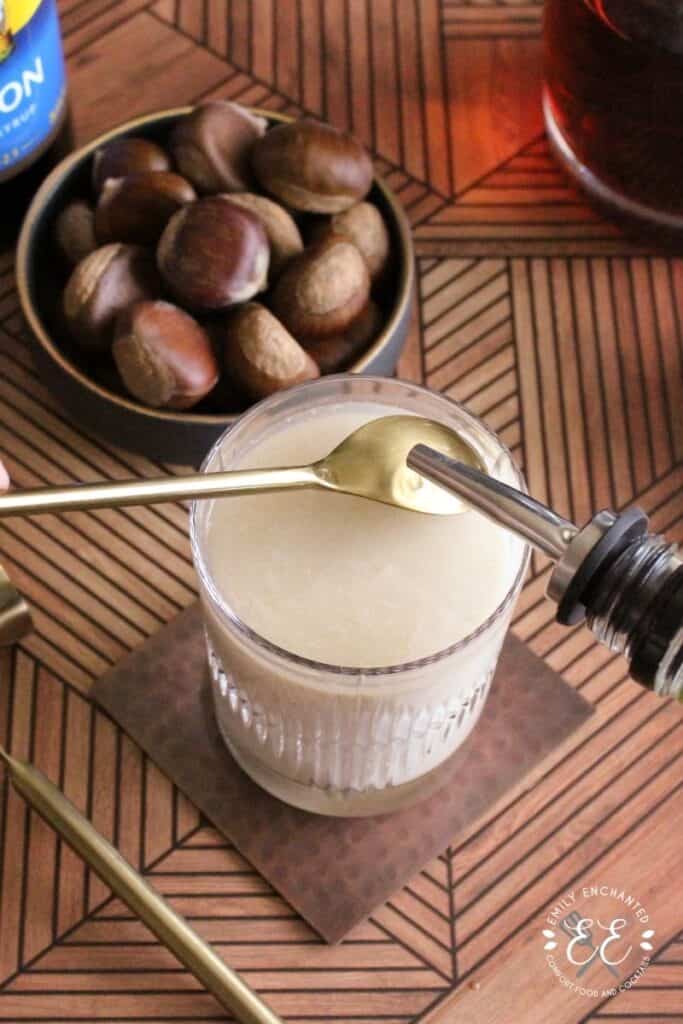 How to Make this Flaming Holiday Cocktail
Mix the drink. Add the eggnog, brandy, and Torani syrup to a rocks glass and stir.
Add high proof alcohol to top of drink. Using a bar spoon, slowly add the high proof alcohol over the back of the bar spoon against the side of the glass. You should be able to see the alcohol coating the top of the drink. About half an ounce to an ounce is all you need, but more is okay.
Light a cocktail on fire! Maintaining some distance for safety, take a long lighter and light the drink!
Turn out the lights, take a picture or video as proof of how awesome you are, and put out the flame before you enjoy your libation.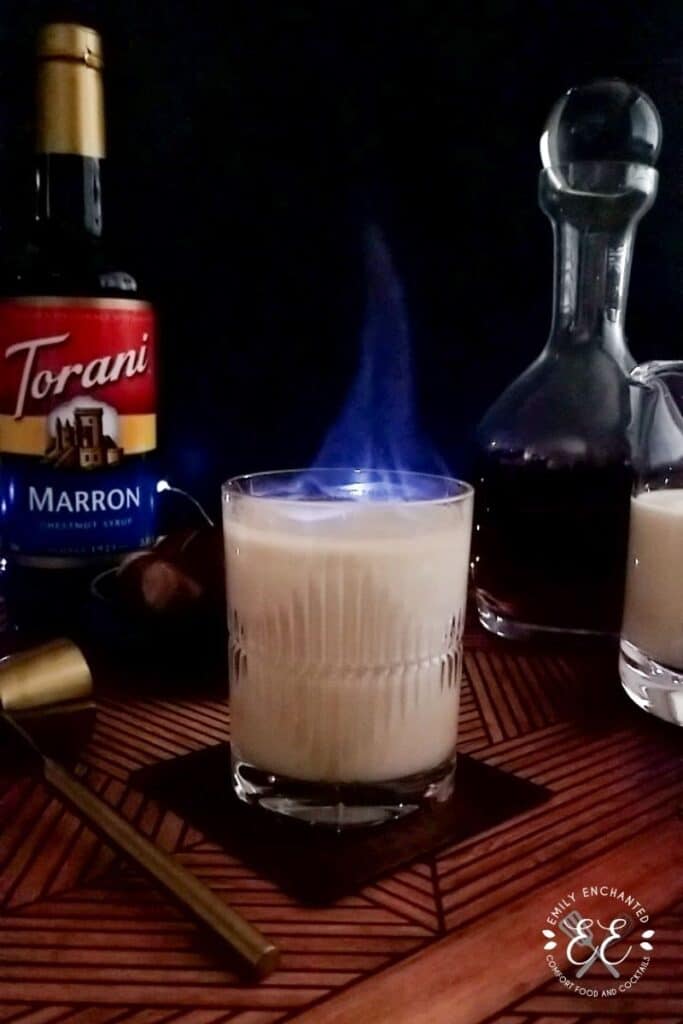 Note: If you plan on garnishing your drink and lighting the drink on fire, use metal cocktail picks instead of wood (because, you know, wood burns).
Can I Make This Drink Without Fire?
Absolutely! No need to show off your pyro skills to enjoy this delicious drink. Try a sugar rimmed glass instead. You need 2 shallow plates or bowls, one with water and one with sugar crystals. Dip the glass in the water until the rim is wet. Then dip and turn the glass in the sugar until the glass is fully coated. Pour your drink and enjoy!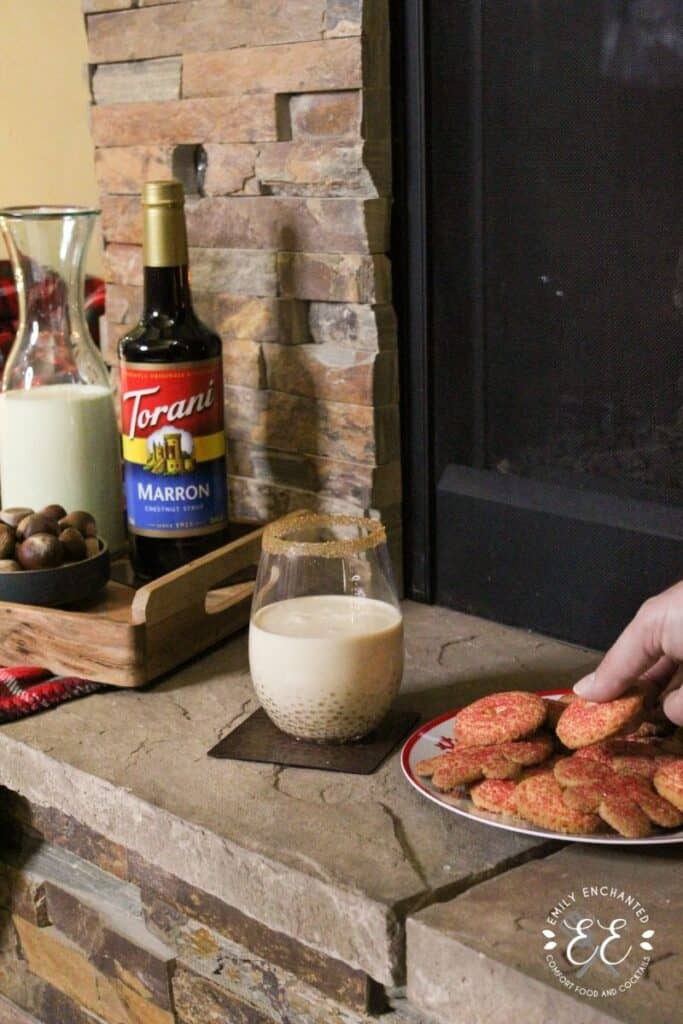 Lighting a Cocktail On Fire is Exciting!
But also potentially dangerous. Always extinguish the flame before drinking the cocktail. Usually a quick blow will make the flame go out. If you are having trouble extinguishing the flame, do not blow harder. An easy way to make the flame go out is to cover the glass with a shaker tin. Blowing too hard could potentially blow the flaming alcohol out of the glass.
Also, do not let the fire burn for too long. You do not want your glass to get too hot. Once you light the alcohol on fire, ooh and aah for a second, snap a quick pic, and extinguish the flame.
What Holiday Cocktail Will You Make with Torani?
This recipe will have you singing "Chestnuts roasting on an open fire. Jack Frost nipping at your nose" all night long! Maybe you want to try a Peppermint Hot Chocolate with peppermint syrup, or a Toasted Almond Martini with almond roca syrup. Let me know in the comments what amazing drink you have come up with!