4th of July Fruit Pizza is a dessert pizza on a large sugar cookie decorated red, white and blue with strawberries, blueberries, and a cream cheese frosting.
Make your 4th of July that much better with a dessert everyone will love, cause everyone loves Pizza! This is one of my favorite 4th of July desserts, along with these cake pops.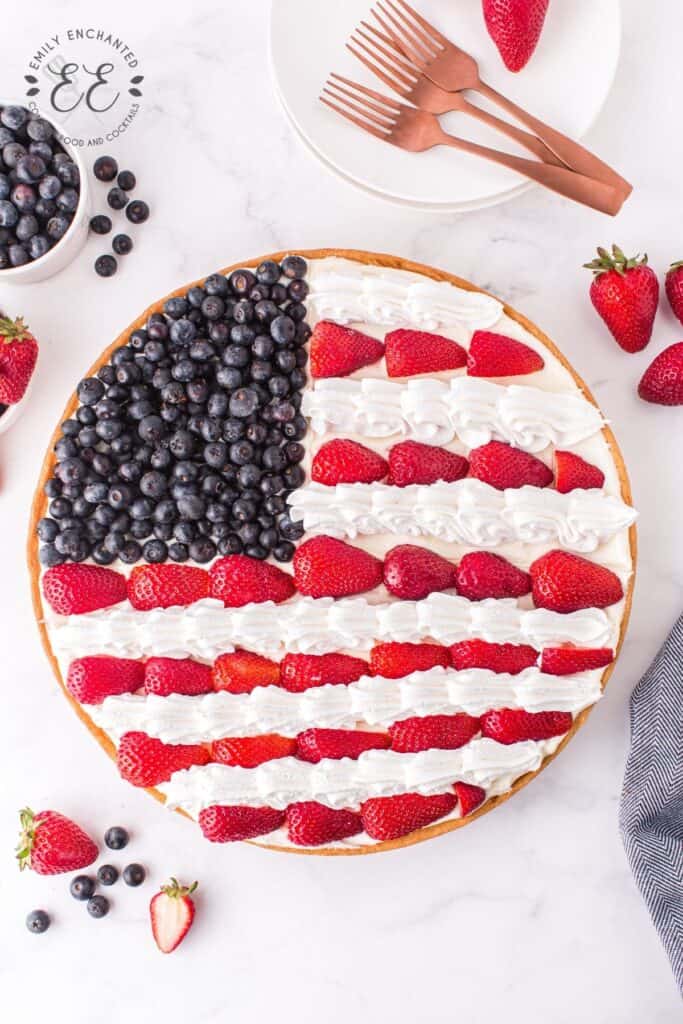 This post contains affiliate links.
Patriotic Dessert Pizza Ingredients
To make this Fourth of July dessert recipe, you will need the following ingredients (see the recipe card below for exact amounts):
Cream cheese
Salted butter: Feel free to use unsalted butter, but I would add ½ teaspoon of salt. It helps cut through the sweetness.
Powdered sugar
Heavy cream
Lemon juice: Lime juice is a good replacement here. You can use fresh juice, or from concentrate.
Vanilla extract
Sugar cookie dough: I used refrigerated sugar cookie dough. You could probably also use the dry sugar cookie mix, but I am not sure how it will fit on a pizza pan.
Blueberries: There isn't really another good blue fruit, but blackberries can be used and they are very similar in color.
Strawberries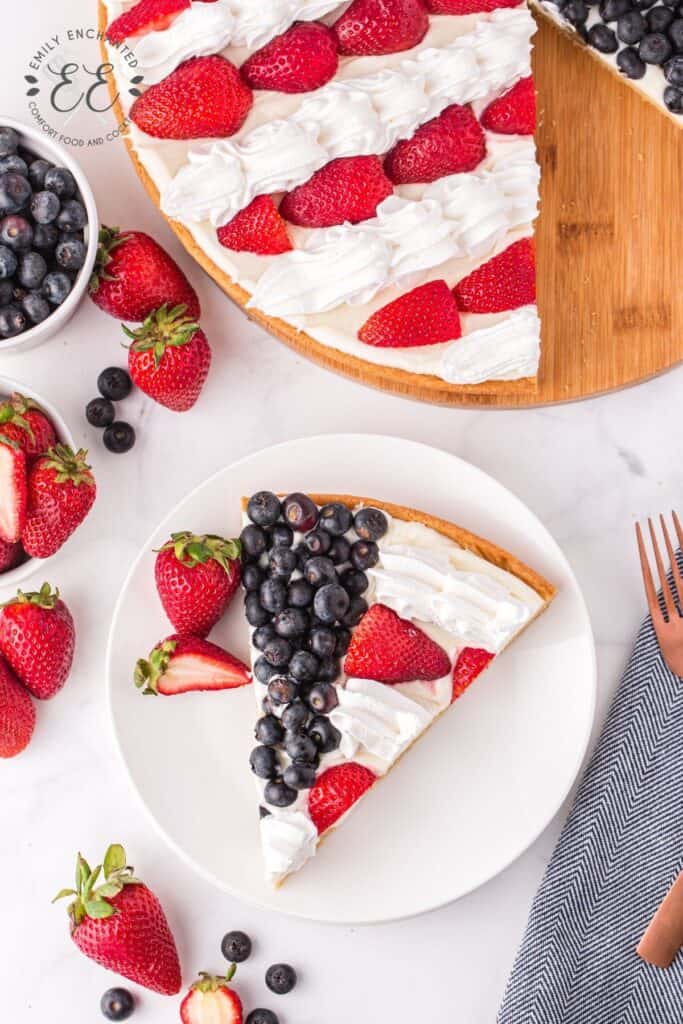 How to Make A Red, White and Blue Fruit Pizza
Preheat the oven to 375 degrees F and prepare a 12-inch pizza pan (preferably with a lip) by spraying it with cooking spray.
Take sugar cookie dough and tear into 8-10 pieces. Spread pieces onto pizza pan and then press them into the pan to create one even layer of cookie dough crust. Leave a 1 inch gap from the edges for spreading.
Bake in the oven for 13-15 minutes or until it's lightly golden and doesn't have any more shine to the dough. Remove and set aside to let cool completely.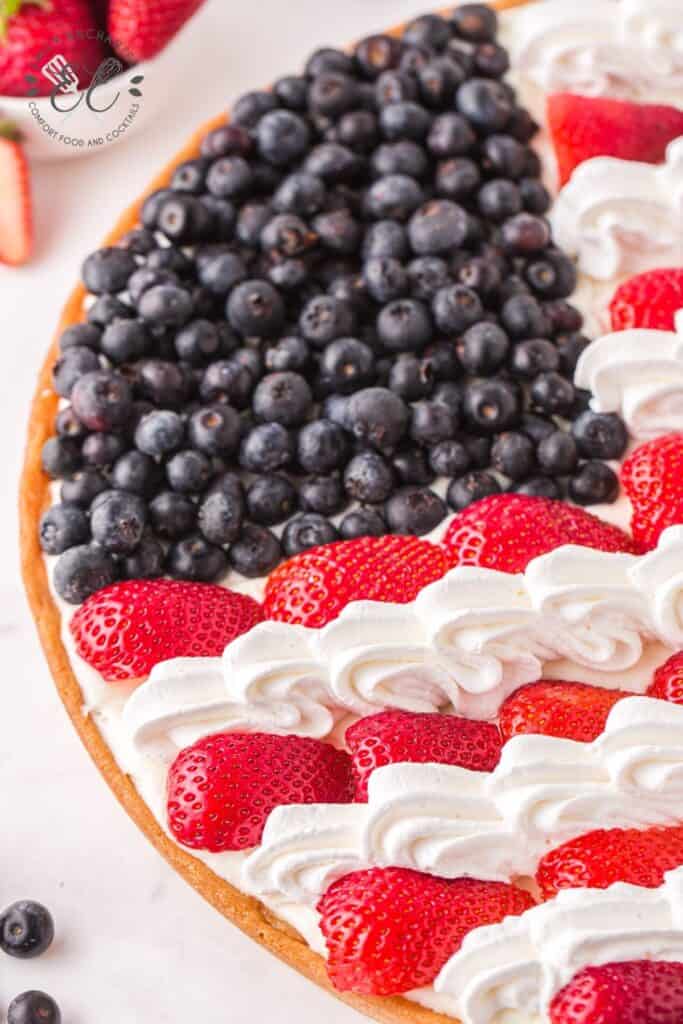 Step 2. Make the cream cheese frosting "sauce"
Beat the cream cheese and salted butter together until smooth and combined, about 1-2 minutes.
Mix in the powdered sugar, heavy cream, lemon juice, and vanilla extract. Beat for three minutes on high, or until frosting is light and fluffy.
Frost the cooled cookie with cream cheese frosting.
Step 3. Decorate the pizza
Top with blueberries, strawberries, and whipped cream. The best part about this pizza is the fruit, so whatever way you decide to decorate it, make sure there is tons of fruit! You can also add some other decorations, like sprinkles, or colored frosting, or flowers. A popular way to decorate this pizza is by using the fruit to imitate an American flag. But whatever you do, have fun with it!
Cut into 8 equal slices (like a pizza) and serve.
How to Decorate a Patriotic Dessert Pizza
To make your pizza look like an American flag, lightly score the cream cheese frosting and make a triangle for the blueberries, and straight lines for the strawberries and whipped cream. You may need to play around with the shapes a little bit until you get the look that you want. Fill the triangle with your blueberries. Alternate placing the strawberries and piping whipped cream onto each line until you fill up your pizza.
You can use a Wilton 1M piping tip for the whipped cream and used a large shell piping technique. Feel free to get creative with the types of piping you do. A can of Reddi Wip is a super easy way to get a pretty pattern.
Do I Need to Use a Pizza Pan?
A deep dish pizza pan is the easiest way to bake the crust. The sugar cookie will expand as it cooks, which is why I recommend using a pan with a lip. It acts as a stopper for the sugar cookie. If you do not have a pizza pan with a lip, such as a deep dish pan, I highly recommend placing a larger baking sheet on a lower rack under the the pizza pan as the cookie bakes. This will prevent any dough that spills over from burning in the oven.
Can I Use a Larger Pan?
You can use a 16-inch pizza pan, but you will need to 1 ½ times the recipe (1 ½ packages of sugar cookie dough, 1 ½ packages of cream cheese) for everything to fit on the pan.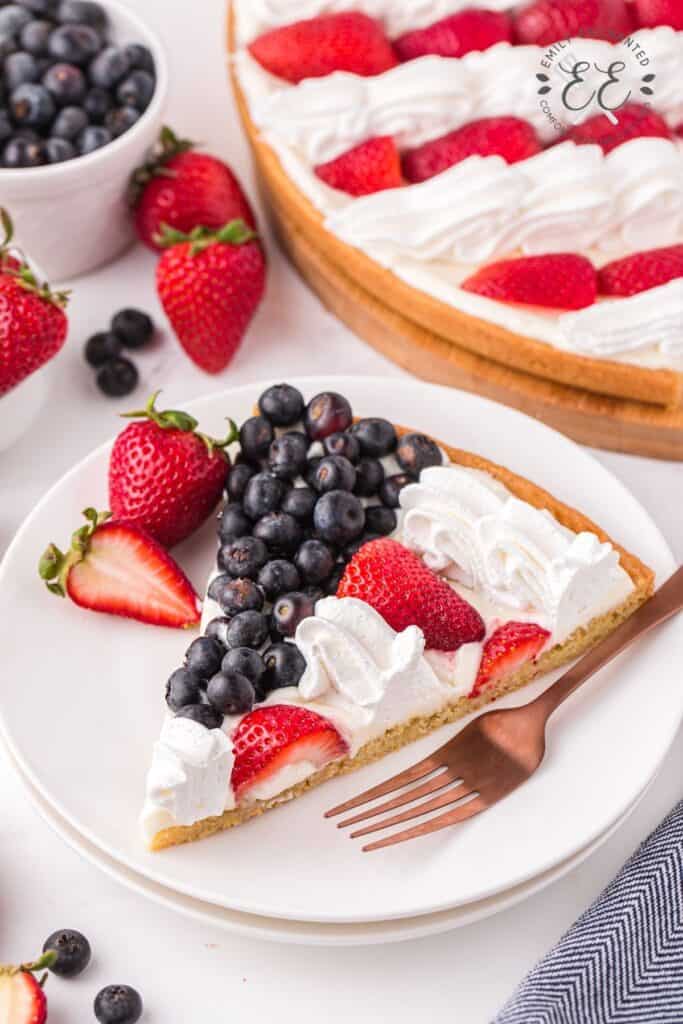 Storage Instructions
Store this in the refrigerator to preserve the cream cheese frosting. Cover or place in an airtight container for up to 3 days. You can freeze this, but set the frosting first by freezing it without a wrapping for 1-2 hours. Then wrap and store for up to 3 months. It may not have the same consistency when thawed.