Ever since my boyfriend introduced me to the Balloon Fiesta, it is something I have looked forward to every year. I grew up in a rural part of Wisconsin and I have fond childhood memories of watching the occasional balloon land in the field next to our house. I was so small and they were so big. It was fascinating! We heard them before we saw them, and as soon as the pilot fired that burner, we were racing outside. We saw only one or two each summer, but it was enough to give me dreams of one day taking a balloon ride.
2017 Albuquerque Balloon Fiesta – Trial and Error
I moved to Albuquerque in 2017 and it was my first year blogging in the Land of Enchantment. I got media passes to the Albuquerque International Balloon Fiesta and did all kinds of research on the events that took place and how to get to the field. My boyfriend tried to tell me that I wouldn't be able to drive there. I woke up on a Saturday morning to see the Mass Ascension, when all the hot air balloons launch at the same time, and thought I had given myself enough time to get there. It was 5:45 a.m. As I got closer I realized there was a line of cars on the interstate. I sat there for about 30 minutes before I saw – they were directing cars on the exit ramp back onto the highway. The parking lots were full. Having no knowledge of where else I could park nearby and how far it was to walk, I drove home feeling defeated. My sweet boyfriend took me later that day for the evening events, and guided me through the park and ride system. It was infinitely easier to get into the park this way. I made some rookie errors, but I learned many lessons and was now prepared for the 2018 Albuquerque Balloon Fiesta.
2018 Albuquerque Balloon Fiesta
The Albuquerque International Balloon Fiesta is the largest balloon gathering in the world. Over 500 balloons are featured from different countries.
This year, Columbus Day fell during the week of Balloon Fiesta and I was off work that Monday. Knowing that I had to get up really early if I wanted to park at the Balloon Fiesta Park, but also counting on it not being a weekend, I took the chance and drove to the park at 4:45 a.m. It was the perfect plan – we got in! And there was no wait to get into the parking lots. We went straight to the media tent to enjoy a complimentary breakfast and coffee, and then went to the field to enjoy the Dawn Patrol and Morning Glow. When the sun came up, we walked around the field and watching balloons take off. It was the most magnificent thing I've ever seen. It's hard to put it into words, so I will just share pictures.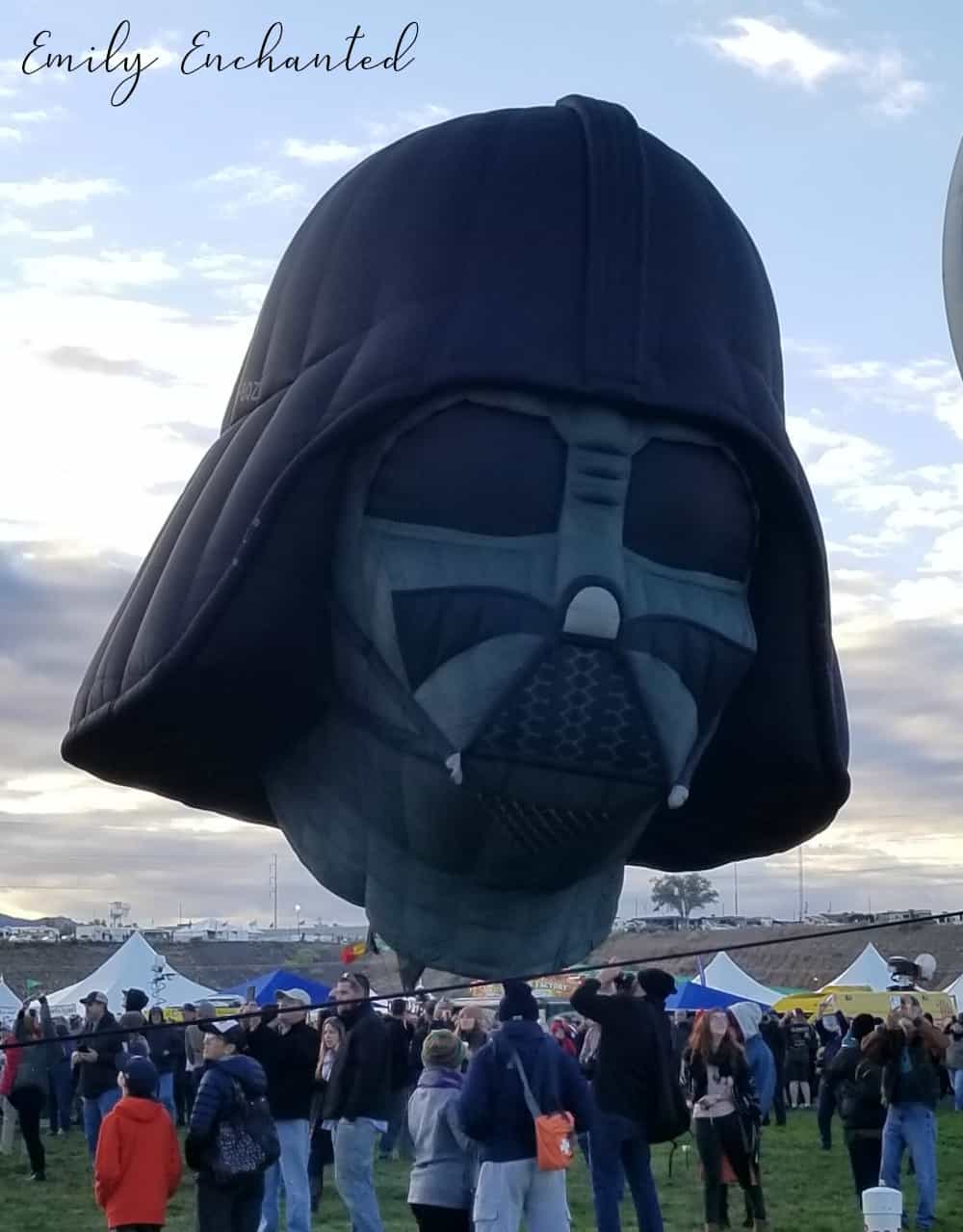 Balloon Fiesta Events
All events are subject to change due to weather. Get the full schedule here.
Dawn Patrol – A few balloons take off in the dark and fly until it is light enough to see landing sites. They light up the sky and look like little fireflies in the distance.
Morning Glow – Balloons anchored to the ground are inflated and pilots fire the burners to make the balloons glow. It is quite the sight to see in the dark.
Mass Ascension – balloons launch in two waves creating a sky full of colorful balloons. Considering there are around 500 featured balloons this year, this is a must-watch event! It's also great to view from far away.
Laser Light Show
Fireworks and Sky Divers
Competition Balloon Flying – These highly skilled pilots compete in events to see who is the best balloonist. The field is cleared and they come in one by one, aiming for target.
Special Shapes Rodeo and Glowdeo – These events are just for the special shapes balloons. It is so fun to spot Yoda, Darth Vader, different animals, and the stagecoach. My favorite was Van Gogh.
How to Get to the Balloon Fiesta
If you plan on driving to the park on a weekend, you must arrive early, before 5:00 a.m. I highly recommend using the Park and Ride system. During the week there are not as many people, but it still gets crowded and the Park & Ride does not run. The key is to plan, plan, plan.