This Instant Pot Chicken Cacciatore Recipe is the perfect meal for a family dinner. I love making chicken recipes in the Instant Pot. The chicken comes out tender and moist and full of flavor.
This post contains affiliate links.
Chicken Cacciatore Ingredients
To make this chicken dinner recipe, you will need the following ingredients (go to the recipe below for exact quantities and instructions):
chicken thighs
salt and pepper
garlic
chicken broth
tomato paste
can diced tomatoes
whole tomatoes
garlic powder
green pepper
onion
olive oil
How to Make Chicken Cacciatore in an Instant Pot
Place 1 tablespoon oil in Instant Pot. Set timer to saute.
Salt and pepper the chicken thighs. Brown the chicken on both sides in the Instant Pot.
Place 3 cloves of garlic in the Instant Pot with the chicken thighs and add the chicken broth.
Add the rest of the ingredients. Set the timer for 15 minutes.
When the time is up, allow the Instant Pot to naturally depressurize.
FAQs
What is Chicken Cacciatore?
Cacciatore word means hunter, and food prepared alla cacciatora refers to a "hunter-style" dish with onions, herbs, tomatoes, and bell peppers.
Benefits of Cooking in an Instant Pot
Pressure cooking allows the boiling point of the liquid to be higher, and the food in turn cooks faster at a higher temperature. It also retains the flavors and nutrients of the food while also keeping the food moist.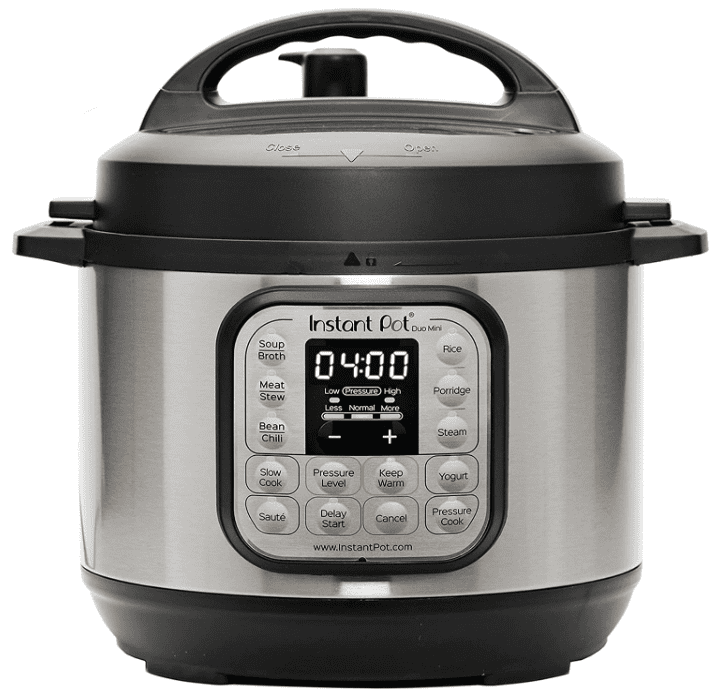 The Instant Pot Duo is simple and easy to use. This 7-in-1 appliance can pressure cook, slow cooker, steam, sauté & more.
Serving Suggestions
I recommend serving with a zesty Italian Salad and Cheese Buns.