This Fruit and Grain Breakfast Bowl recipe is a healthy and hearty way to start your morning. Quinoa is topped with berries and figs with a dash of sea salt.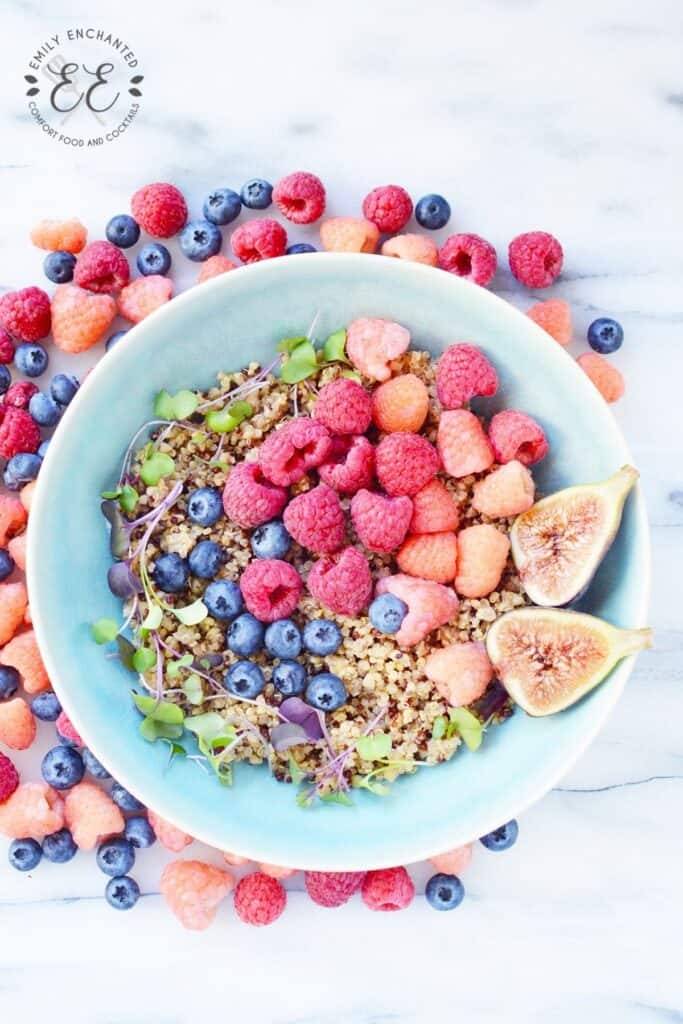 Fruit and Grain Breakfast Bowl Ingredients
To make this morning grain bowl, you will need the following ingredients (see the recipe below for exact quantities):
Tri-colored quinoa
Raspberries: try to find different colored raspberries to make this bowl extra pretty
Fig
Blueberries
Mixed microgreens: any small leafy greens will go well with this recipe
Sea salt
How to Make a Fruit and Grain Bowl
This breakfast recipe is pretty easy to make. All you have to do is cook the quinoa and add your toppings.
Cook the quinoa. Make the quinoa according to the package instructions. You can make it ahead of time and chill it if you prefer a cold breakfast bowl.
Arrange the breakfast bowl. Spread the warm or chilled quinoa on the bottom of a bowl. Slice the fig in half or into cubes and set to one side of the bowl. Toss the raspberries and blueberries on top of the quinoa and then sprinkle the mixed fresh microgreens around to the side of the dish.
Optional Add-Ins
Breakfast bowls are so versatile, you can create your own with just about anything you want. Here are some ideas of what you can add to this quinoa bowl recipe.
Drizzle with maple syrup, honey or agave nectar.
Substitute brown rice, freekeh or old fashioned oats for the quinoa.
Add milk to make it more like a cereal.
Try a dollop of Greek yogurt on top.
Add spices like cinnamon or nutmeg.
Storage Instructions
This is a wonderfully fresh breakfast or sits well if you would like to prepare it the night before and enjoy the next morning. Simply cover tightly and keep in the fridge until ready to serve.
What to Make With Leftover Quinoa
I like to make quinoa in big batches and store it in the fridge for later. You can make this morning grain bowl for breakfast, and then this Vegan Buddha Bowl for dinner.