4th of July Layered Drink is a fun patriotic beverage with layers of red white blue. This chilled drink is so festive!
This drink is perfect for adults and kids alike. This recipe will be a hit at your Fourth of July party.
Use juice or sports drinks of various sugar contents to create a pretty 4th of July drink. Using a drink with less sugar or no sugar will help the layers float on top of each other.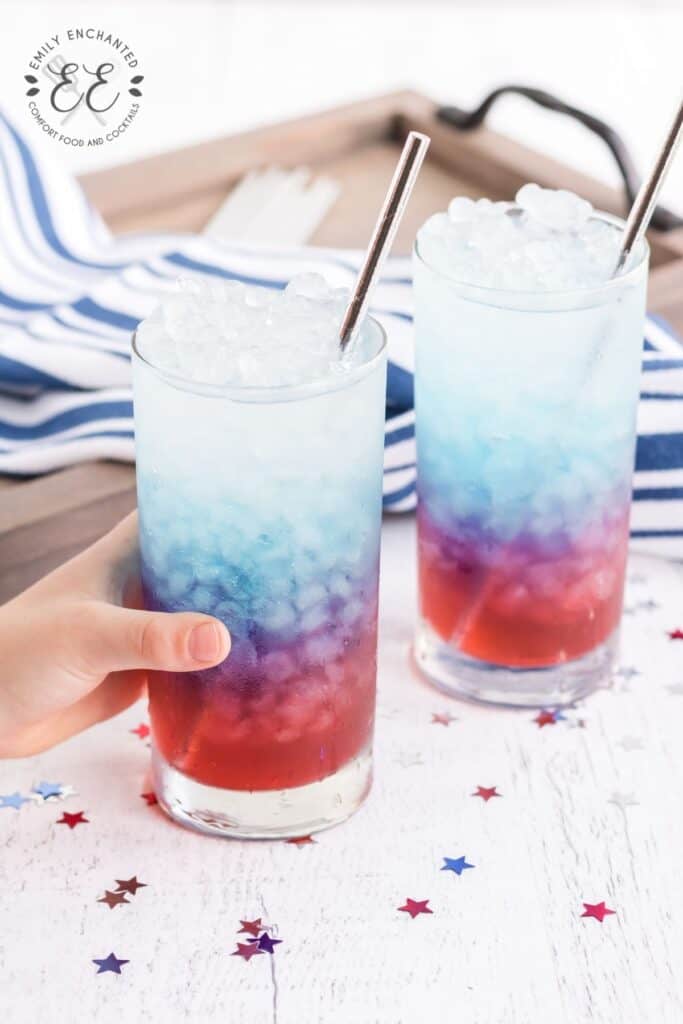 Red White and Blue Drink Ingredients
To make this easy non-alcoholic patriotic drink, you will need the following ingredients (see the recipe card below for exact amounts):
Red colored sports drink (must have the most sugar content of all three sports drink)
Blue colored sports drink (must have less sugar than the red, but not sugar free)
White/clear colored sports drink (must be sugar free)
Ice
How to Make a Layered Drink
In a tall glass, pour in the ice and fill the glass ⅓ full with the red colored sports drink.
Tip the glass slightly and slowly pour the blue colored sports drink on the side of the glass and over the ice so that it floats on top of the red layer.
Repeat the last step with the final layer of white/clear colored sports drink to create the final third layer.
Recipe Tips
It is important to pour the second and third layers very slowly so as not to mix too much with the layer below it. Another method is to use a cocktail spoon held upside down against the side of the glass. Gently pour the drink onto the spoon so it runs down the sides of the glass.
You can use any size ice cubes, but I like to use pellet ice (also called nugget ice, hospital ice or Sonic ice).
Can I Make This Drink Adult?
If you want to add alcohol, I would add vodka. I have not tried it, so I am not sure what it would do to the layers.