Spinach and Feta Stuffed Tart is a delicious dinner recipe made of a puffed pastry stuffed with a spinach and feta cheese filling.
I really enjoy cooking, but some days I just don't have time to find a recipe and run to the grocery store for ingredients. That's why I love delivery services that send you recipes and all the ingredients you need. I recently received a Home Chef delivery and wanted to share a recipe with you.
This post contains my referral link.
What is Home Chef?
Home Chef delivers perfectly portioned ingredients and easy-to-follow recipes directly to your door, so whether you're an amateur cook, or more seasoned in the kitchen, cooking with Home Chef is easy and enjoyable.
With your first box, you get a Home Chef Cookbook binder to hold all of your recipes, and a handy insert full of cooking tips. Each week, you can use the personalized recipe recommendations they provide you. Or, you can pick from 11 fresh, chef-designed dinners, priced at $9.95 per serving. They change their menu weekly to give you countless new dinner options.
This week I chose Spinach and Feta Stuffed Tart and Grilled Steak Salad with Buttermilk Dressing. I decided to make the Spinach and Feta Stuffed Tart recipe first. One cool thing about the recipe cards is that it tells you how many days you should make the recipe in, so that the food doesn't spoil. Because this one involves a puff pastry, it needed to be made within 4 days.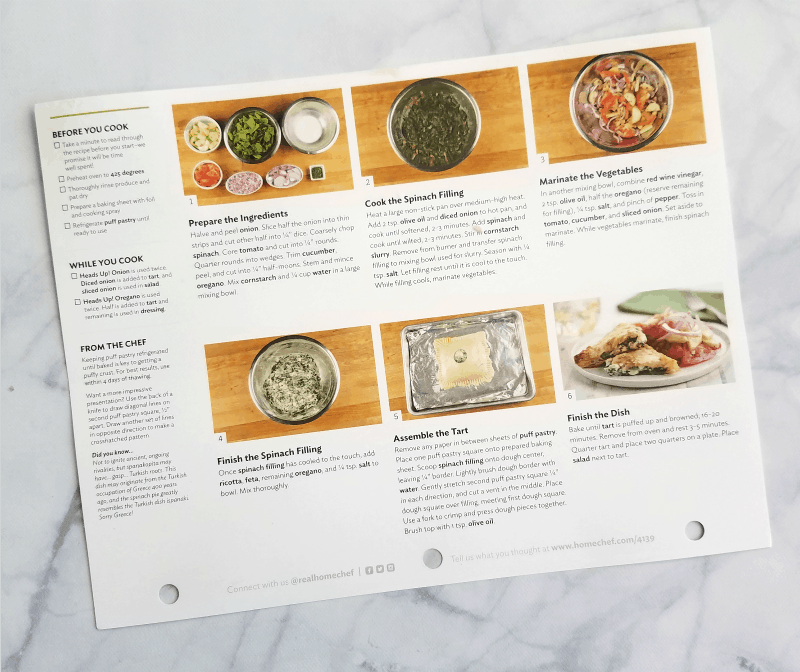 Spinach and Feta Stuffed Tart
This dish also came with ingredients for a Greek cucumber salad. Today, I'm only going to show you how to make the tart.
Ingredients (In Your Box)
2 Puff Pastry Dough Squares
1 Red Onion
3 oz. Baby Spinach
1/2 tsp. fresh Oregano
2 Tbsp. Cornstarch
2 oz. Ricotta
2 oz. Feta Cheese
Ingredients (From Your Kitchen)
Olive Oil
Salt
Pepper
Cooking Spray
Baking Sheet
Mixing Bowl
Large Non-Stick Pan
Directions
Preheat oven to 425 degrees. Prepare a baking sheet with foil and cooking spray.
Halve and peel onion. Cut half of the onion into 1/4″ dice. Set aside the other half as you will not need it.
Mix cornstarch and ¼ cup water in a large mixing bowl.
Heat a large non-stick pan over medium-high heat. Add 2 tsp. olive oil and diced onion to hot pan, and cook until softened, 2-3 minutes. Add spinach and cook until wilted, 2-3 minutes. Stir in cornstarch mixture. Remove from burner and transfer spinach filling to mixing bowl used for cornstarch mixture. Season with ¼ tsp. salt. Let filling rest until it is cool to the touch.
Once spinach filling has cooled to the touch, add ricotta, feta, 1/2 tsp. oregano, and ¼ tsp. salt to bowl. Mix thoroughly.
Place one puff pastry square onto prepared baking sheet. Scoop spinach filling onto dough center, leaving ¼" border. Lightly brush dough border with water. Gently stretch second puff pastry square ¼" in each direction, and cut a vent in the middle. Place dough square over filling, meeting first dough square. Use a fork to crimp and press dough pieces together. Brush top with 1 tsp. olive oil.
Bake until tart is puffed up and browned, 16-20 minutes. Remove from oven and rest 3-5 minutes.
Recipe from Home Chef
This dish was a lot more filling than I expected! It is sooo yummy. It did take longer to make than most Home Chef recipes I have tried, but it was worth it. I can't wait to try my next Home Chef recipe!