Red Velvet Dip is a cake batter dessert dip that is ready in 5 minutes. This no bake dessert recipe is as easy as mix and serve!
Red velvet is one of my favorite flavors. When I'm in the mood, I just buy a few boxes of cake mix and start baking! This Red Velvet Bundt Cake with cream cheese filling is to die for.
Red velvet has such a beautiful rich color, you can make this as a Christmas recipe or Valentine's Day recipe.
Red Velvet Dip Ingredients
To make this cake dip recipe, you will need the following ingredients (see the recipe card below for exact amounts):
Red velvet cake mix
Cream cheese
Cool Whip
Milk
Sprinkles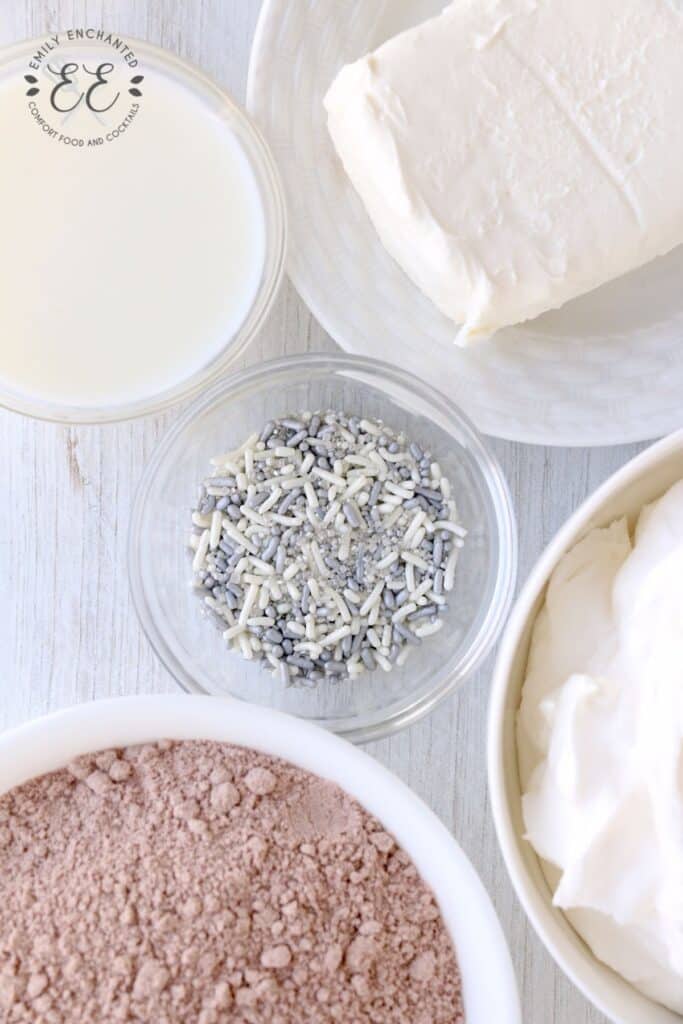 How to Make Red Velvet Dip
In a large mixing bowl, beat cream cheese and Cool Whip together until smooth and fluffy.
Mix in cake mix and milk until mixture is uniform.
Transfer dip to a serving dish and cover with sprinkles.
Is it Safe to Eat Cake Mix that Isn't Baked?
Cake mix contains raw flour, so if you are worried about consuming it, you can heat the cake mix to an internal temperature of 165 degrees. I explain how to do that in my Bunny Butt Cheese ball recipe.
What to Serve with Red Velvet Cake Dip
This cake batter dip is very sweet, so I like to serve with salty pretzels to get that sweet and salty combination. Here are some other ideas of what you can serve with red velvet cake mix dip.
Oreo Cookies
Keebler Fudge Stripes
Pepperidge Farm Milano Cookies
Delicious Dessert Dip Recipes
Triple Chocolate Cheese Ball – This dessert cheese ball is made with chocolate cake mix, chocolate chips and chocolate sprinkles.
Christmas Booty Dip – Booty dip is a viral TikTok recipe that is basically a marshmallow fluff dip with cream cheese and Cool Whip.
Caramel Apple Dip – This cream cheese dip is topped with caramel sauce and toffee. Serve with apples.
Pumpkin Pie Dip – This pumpkin dessert is made with vanilla pudding, cream cheese, and heavy whipping cream. Its tastes like a cream pumpkin pie!
S'mores Dip – Take your basic summer campfire dessert and put it in a skillet! Melt chocolate and marshmallows, and serve with graham crackers.