These Raspberry Cheesecake Shooters are incredibly light, fresh, tart, and delicious. They will disappear quickly!
Layers of graham cracker crust, crushed raspberries and cheesecake filling in individual cups are ready to serve at your next baby shower, Valentine's Day dinner, or to make ahead for an indulgent treat!
This post contains affiliate links.
Raspberry Cheesecake Shooters Ingredients
To make these individual cheesecakes, you will need the following ingredients (go to the recipe below for exact amounts):
Fresh raspberries: Use fresh strawberries, blueberries, or blackberries for a different taste.
Granulated white sugar
Lime juice: Feel free to use fresh or from concentrate lime juice. It can be substituted with lemon juice.
Butter: I used salted butter. If you using unsalted butter, add in ¼ teaspoon salt to your graham crackers.
Sweetened and condensed milk
Cream cheese
Powdered sugar
Half and half: This can be replaced with a 50/50 combination of heavy whipping cream and milk.
Vanilla extract
Graham crackers: You can use vanilla wafers instead of graham crackers.
Whipped Cream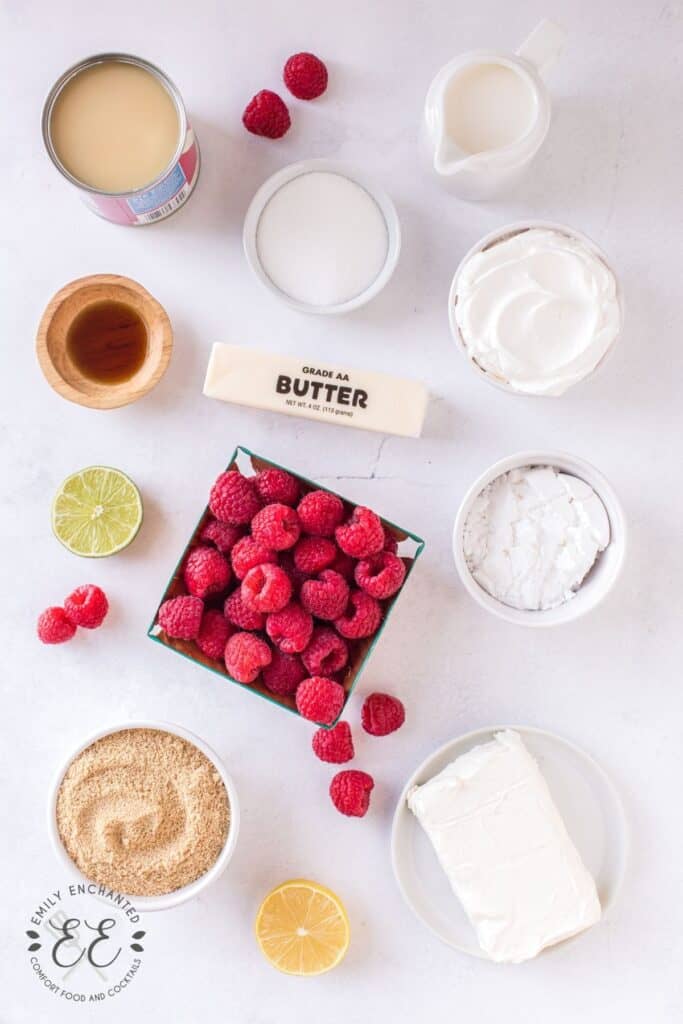 Supplies Needed to Make this Recipe
You will need the following supplies:
Mixing bowls – These OXO grip bowls are my favorite! I use them every day.
Mixer, hand or stand – I prefer to use my trusty KitchenAid mixer.
Microwaveable bowl
Raspberry Dessert Shooters
For the raspberry filling, place fresh raspberries, sugar, and lime juice in a bowl. Mash and mix all of these together until you get a nice puree.
For the cheesecake filling, beat together the sweetened and condensed milk, cream cheese, lime juice, and vanilla extract until combined. Turn the speed down to the lowest setting and then slowly add in the whipped topping and powdered sugar. Turn the speed up and beat on medium for one minute. Then turn the speed to the highest setting and beat for another 2 minutes or until everything is combined and creamy. Set aside in the refrigerator to chill.
In a microwavable bowl, melt the butter completely by heating it in the microwave. Take the graham cracker crumbs, melted butter, and sugar, and mix it all together until combined.
To assemble the shooter, press a layer of the graham cracker crust into the bottom of the cup. Follow with a layer of raspberry filling, then top with the cheesecake filling.
Garnish the top of the shooters with a dollop of whipped cream and a few raspberries. Serve and enjoy!
Tips for Cheesecake Shooters
With many of these raspberry dessert shooters, the raspberries are cooked, making it a more stable dessert with a jam-like consistency. I found that it was much easier and made for a fresher dessert by simply mashing the raspberries. You are free to cook your raspberries to thicken them if you would like.
I used 5.5 ounce plastic cups, but you can also use shot glasses for smaller portions, or 9 ounce cups for larger portions.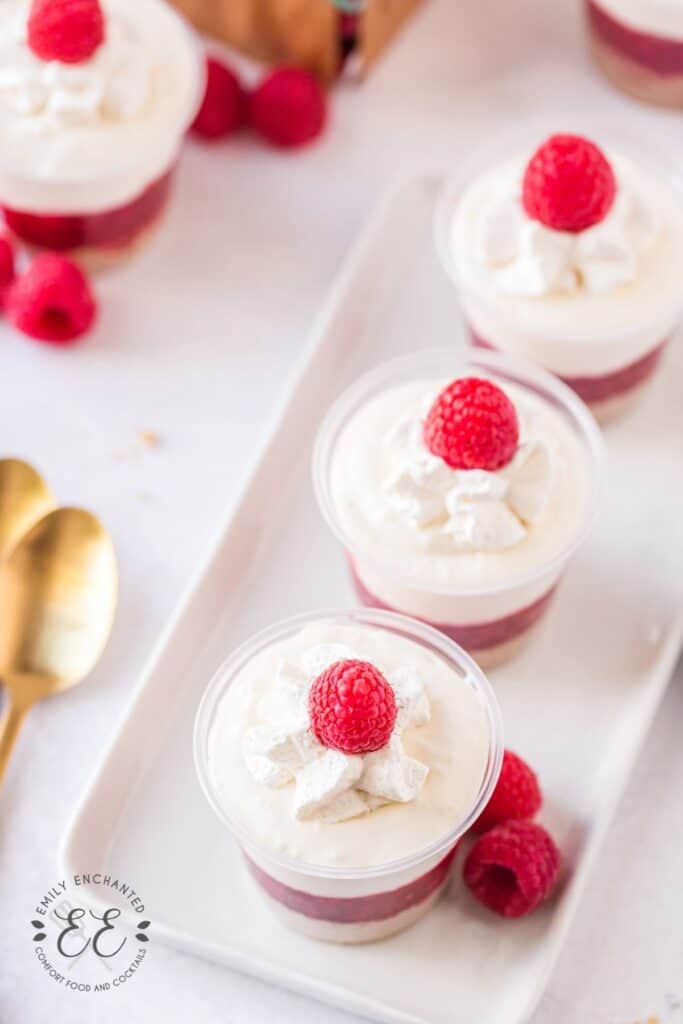 Storage Instructions
Store your shooters in an airtight container in the refrigerator for up to 3-4 days. The graham cracker crust will become soggy if not eaten right away, but it doesn't compromise flavor. I don't recommend freezing your dessert.
Can I Make This Recipe Ahead of Time?
You can prepare this dessert a day beforehand, but don't assemble it until you are ready to serve. The fillings will seep into each other too much otherwise.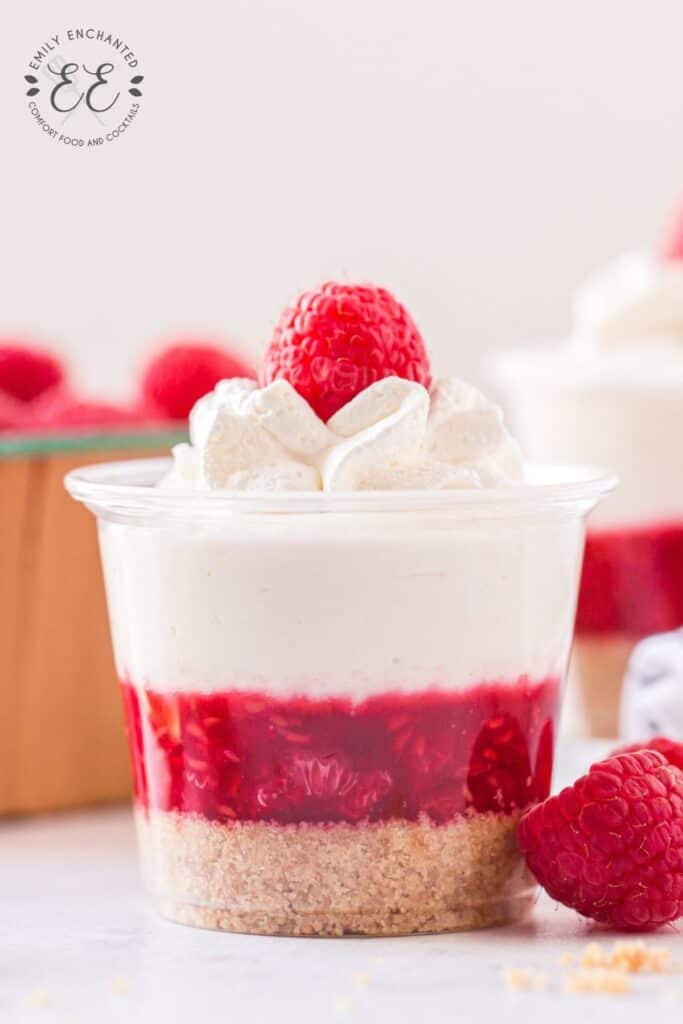 More Cheesecake Recipes