This easy Fall meal prep is the perfect way to start your day. These sweet, creamy and flavorful pumpkin pie overnight oats are a pumpkin lover's dream.
Overnight oats are ideal for busy mornings or on-the-go breakfasts. They are a great easy breakfast meal prep that is kid-friendly!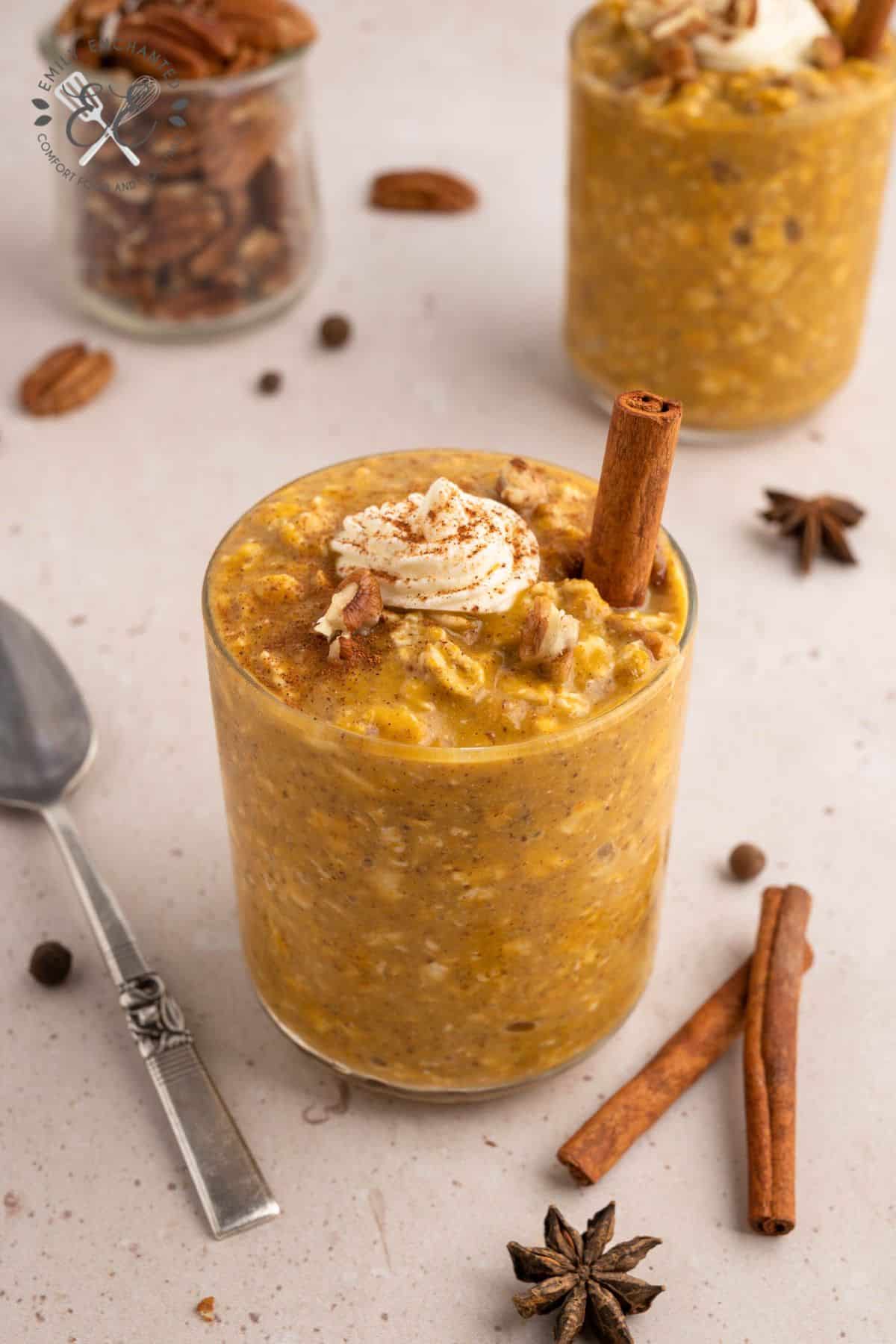 Pumpkin Pie Overnight Oats Ingredients
To make this pumpkin overnight oats, you will need the following ingredients (see the recipe card below for exact amounts):
old-fashioned rolled oats: Steel-cut oats and quick oats are not recommended when making overnight oats. Old-fashioned rolled oats are the best option for this method of preparation because they create a nice texture when soaked and absorb the soaking liquid properly.
unsweetened almond milk: Most unsweetened milk or milk alternatives will work in this recipe. Avoid canned coconut milk because this recipe is served cold and the fat in coconut milk tends to solidify in the fridge. I do not recommend using water.
vanilla protein powder
pumpkin puree: If using fresh pumpkin puree instead of canned puree, measure using a volume-based measurement instead a weight-based measurement because there can be large variations in weight of fresh puree. Also, if your puree seems to be more watery than canned pumpkin puree you may want to add a tablespoon of chia seeds or a few additional tablespoons of oats to get a thicker finished product.
ground flax seed: A tablespoon of chia seeds can be a great substitute if you don't have ground flax seeds on hand! Both flax and chia seeds are good sources of omega-3's and can help to thicken the oats.
crushed pecans
pumpkin pie spice: You can make your own pumpkin pie spice at home. Here is what you would need: 1 tsp ground cinnamon, ¼ tsp ground nutmeg, 1/8 tsp ground cloves, ¼ tsp ground ginger. Simply mix these spices together and measure out ½ tsp for this recipe. Store leftovers in an airtight container.
pure vanilla extract
sea salt
pure maple syrup
Optional toppings: Whipped cream and crushed pecans
How to Make Overnight Oats
Combine all ingredients (except optional toppings) in a jar or a container that seals well (select something that has a volume of 16 ounces or larger). Stir with a spoon until everything is well incorporated and there are no lumps. Seal the container and shake vigorously for about 30 seconds.
Place the sealed container in the fridge for at least 4 hours or ideally overnight.
To serve, give the oats a good shake or stir. Top with whipped cream and crushed pecans (if using). Can be enjoyed right out of the container it was prepared in.
Consume within 2 days of preparing for best quality.
FAQ's
What are overnight oats?
Overnight oats are oats prepared in a method that uses soaking instead of cooking. The soaking process softens the oats. It is a very simple method to prepare oats and usually takes only about 5 minutes. Once prepared the oats require about 4 hours to properly absorb the soaking liquid and soften. Generally overnight oats are prepared before bed and left to soak overnight to be enjoyed in the morning.
Are overnight oats gluten free?
This recipe will be compliant with a gluten-free diet if you select gluten-free oats. If you have celiac or a severe intolerance, be sure to check other ingredients (including protein powder) to ensure they are certified gluten-free.
Are pumpkin pie overnight oats healthy?
Yes! These overnight oats are a very healthy start to your day. They contain 12 grams of fiber, plenty of nutrients from the pumpkin puree, over 100% of your daily value of omega-3 fatty acids, and have a balance of macronutrients! The addition of protein makes them more satiating than regular oats.
More Delicious Overnight Oat Recipes