Pumpkin Pie Dip is a creamy dessert dip perfect for dipping your favorite cookies or crackers. This pumpkin dessert is made with vanilla pudding, cream cheese, and heavy whipping cream. It is to die for!
If you love pumpkin spice, you have to try my other pumpkin recipes: Pumpkin Snickerdoodles, Pumpkin Muffins, Pumpkin Cinnamon Rolls, or Pumpkin Granola.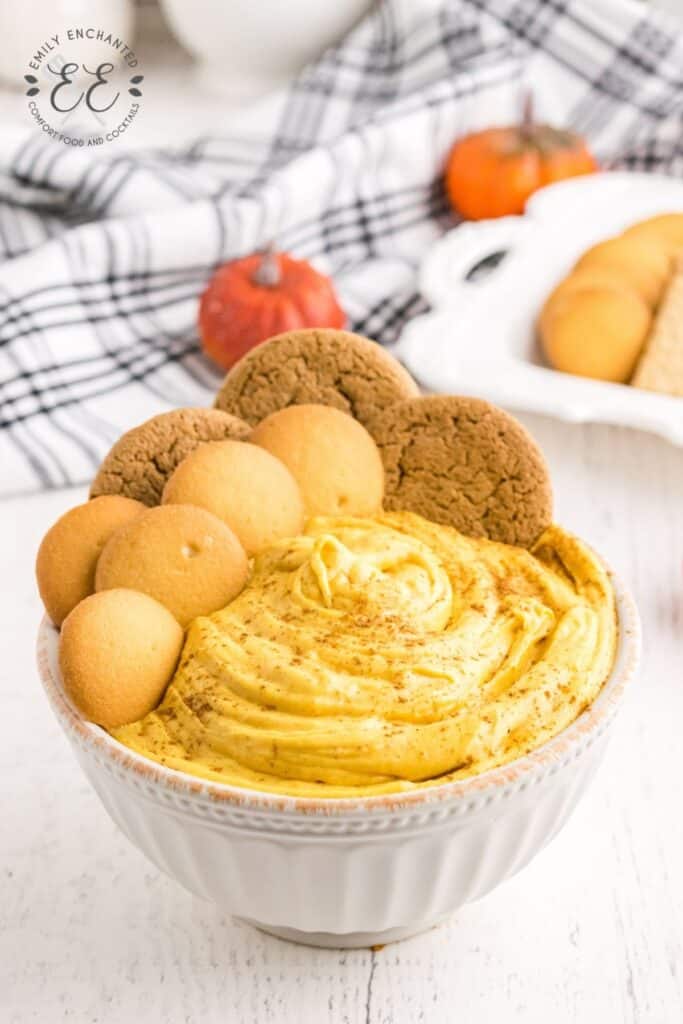 Pumpkin Pie Dip Ingredients
To make this pumpkin dessert recipe, you will need the following ingredients (go to the recipe below for exact quantities and instructions):
pumpkin puree
instant vanilla pudding
powdered sugar
cream cheese
pumpkin pie spice
heavy whipping cream
vanilla extract
How to Make Pumpkin Dessert Dip
Beat the heavy whipping cream. In a large mixing bowl beat heavy whipping cream until fluffy.
Beat, beat, and more beating. Add instant vanilla pudding mix and vanilla extract and beat on medium for 3 minutes. Add pumpkin puree, cream cheese and pumpkin pie spice, and beat on medium for 3 minutes.
Slowly mix in the powdered sugar. Add powdered sugar a quarter cup at a time with the mixer on low. Once all sugar has been added and mixed, turn the mixer to high for 3 minutes until you have a thick and fluffy dip.
Chill the dip. Cover with plastic wrap and place in the refrigerator for at least one hour to help the dip set and the flavors mix better.
What to Serve with Pumpkin Dip
It is best to serve this dip chilled. If it is too thick to dip at this time, let it sit for 30 minutes to come up to room temperature. I love to serve this dip with any of these:
ginger snaps
vanilla wafers
graham crackers
crunchy apples and pears
or…your favorite sweet cracker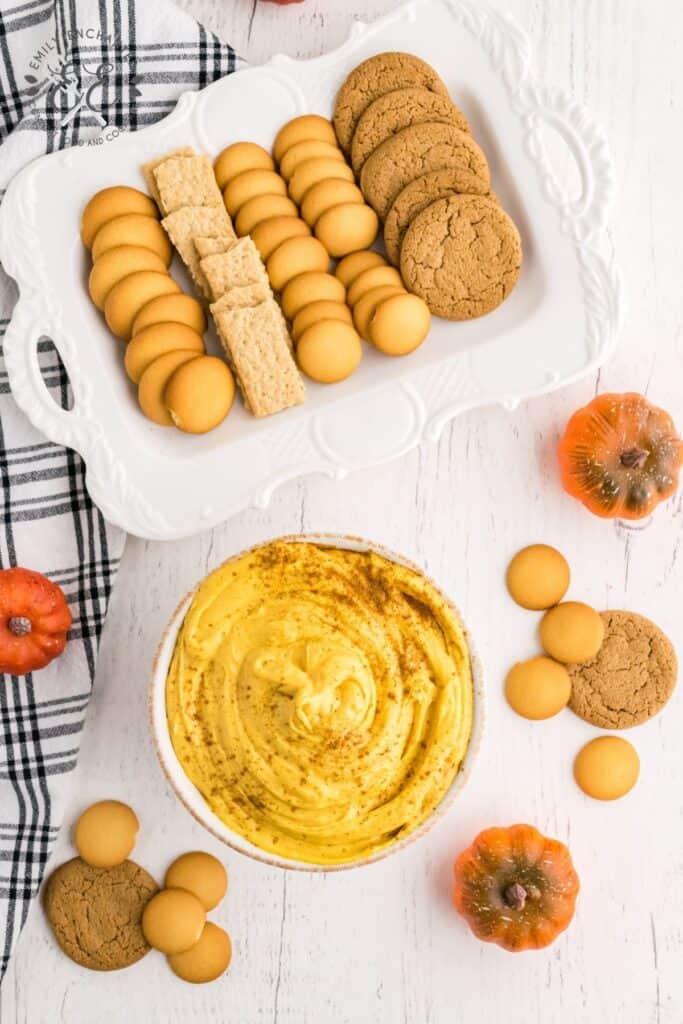 Can I Use Cool Whip Instead of Making Whipped Cream?
You could, but it usually doesn't hold the fluffiness quite as well, and it doesn't have the same richness in the flavor. I would suggest folding it in at the end if you choose to use it.
Can I Use Pumpkin Pie Filling Instead of Pumpkin Puree?
You can, but it will not be as thick as using pumpkin puree. There is a difference between canned pumpkin and pumpkin pie mix. You would not need to add the pumpkin pie spice if using filling.