Lemon Snowflake Cookies are a lemon crinkle cookie that are only made with 4 ingredients. Lemon cake mix, cool whip and egg are whipped together and then rolled in powdered sugar. These soft cookies with lemon flavor are so good!
These snowflake cookies are also known as crinkle cookies because of how they "crack" when baked. It makes a really cool design that is unique to crinkle cookies. They are also called Lemon Whippersnappers. So cute!
This cookie recipe is messy but so worth it! Even though it is messy, baking cookies is so easy. This is one of my favorite lemon Christmas cookies recipes.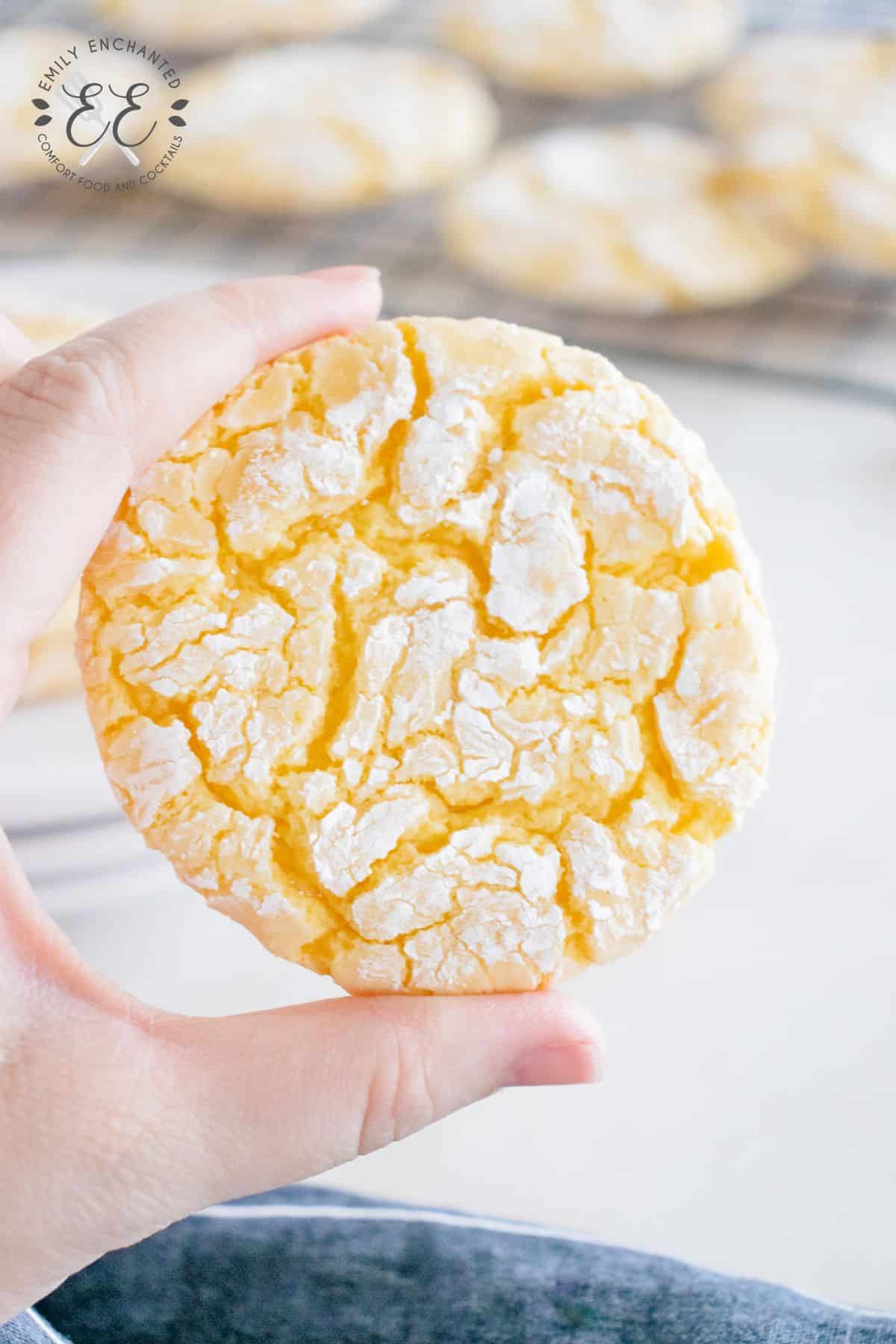 Lemon Snowflake Cookie Ingredients
Lemon snowflake cookies only need 4 ingredients!
Lemon cake mix with pudding
Whipped topping: I have found that other brands of whipped topping are thinner and more watery. I stick with regular Cool Whip. You can find it in the freezer section of the grocery store.
Egg
Confectioners sugar (aka powdered sugar)
How to Make Lemon Snowflakes
Preheat the oven to 350 degrees.
In a mixing bowl, combine cake mix, Cool Whip, and egg. Beat with an electric mixer on medium speed until well blended. Batter will be very sticky.
Fill a cookie scoop half full with batter and drop into confectioners sugar and roll lightly to coat.
Place on ungreased cookie sheets. I like to line my cookie sheet with parchment paper.
Bake for 10-12 minutes or until lightly browned around the edges. Watch them closely as this can vary by oven and altitude.
Let them cool on the baking sheets to harden a bit before moving them to a cooling rack.
Tips for Crinkle Cookies
It is very important to make sure the lemon cake mix you buy has pudding in it. Pillsbury, Duncan Hines and Betty Crocker all make a lemon cake mix with pudding in it. It usually has the word "Moist" in the title of the product. It will say "with pudding" on the box. If you can't find it in your stores, you can buy it online here (affiliate link).
If you measure out a teaspoon for small cookies, it yields about 5 dozen. I like them larger and do 1/2 cookie scoop, and it yields about 30 cookies.
I prefer larger cookies, so I use a small cookie scoop and fill it 1/3 to 1/2 full with the dough, depending on how big I want the cookie, then drop it in the powdered sugar and roll into ball. This makes it easier since the dough is so sticky. If you don't have a small ice cream scoop, then just lather your fingers with powdered sugar first.
Be sure not to overcook them. They should be a bit crunchy on the outside and chewy on the inside after cooling. They will harden just a bit as they cool.
The Best Christmas Cookie Recipes
Mint Chocolate Crinkle Cookies – These delicious cookies are made with Devil's Food Cake Mix and Andes Creme de Menthe baking chips. YUM!
Christmas Monster Cookies – This big cookies are so good and packed with oats, peanut butter, chocolate chips and M&Ms.
Chewy Chocolate Peppermint Cookies – These soft chocolate cookies are dipped in peppermint white chocolate. They are SO good!