This Keto Chicken Florentine is one of the best keto recipes and is easy to make. Chicken thighs are cooked in a skillet with a delicious mushroom and spinach sauce in this low carb chicken recipe.
Chicken Florentine is a rich and creamy chicken recipe that is full of flavor. Chicken is cooked in a cast iron skillet and the skin is browned to a crisp. Serve with the heavy cream sauce over rice or with bread to soak up all that goodness.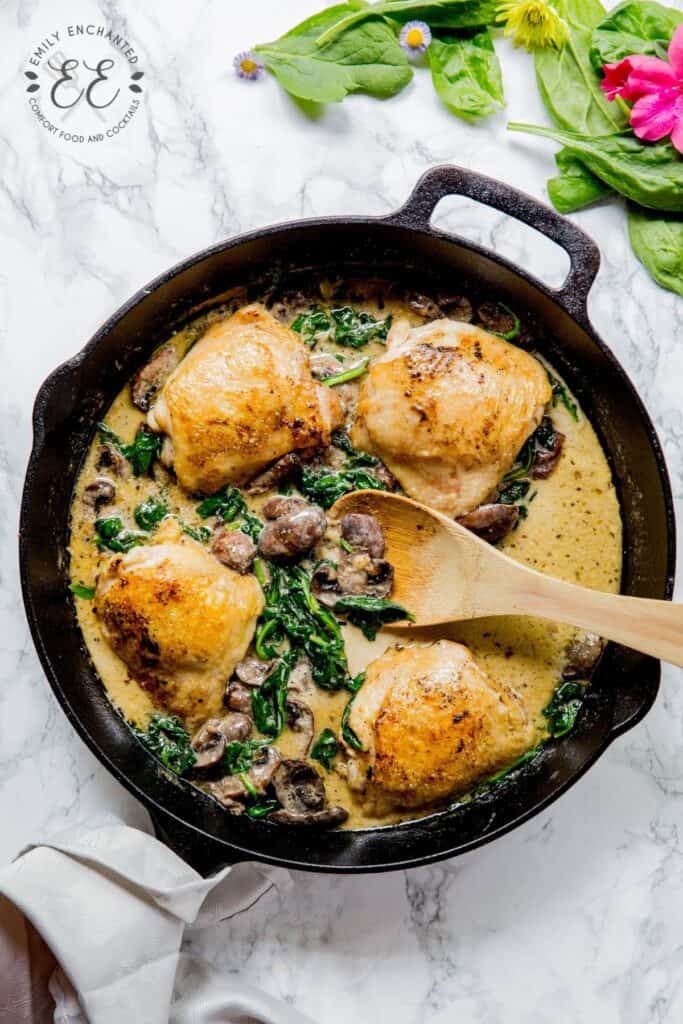 This post contains affiliate links.
Low Carb Chicken Florentine Ingredients
To make this low carb chicken florentine recipe, you will need the following ingredients (see the recipe card below for exact amounts):
Chicken thighs: bone-in, skin-on
Avocado oil: to make chicken florentine low carb, you use avocado oil as a substitution for olive oil and butter
Heavy whipping cream
Salt and pepper: I like to use Pink Himalayan sea salt and black pepper for this recipe
Cremini mushrooms
Shredded Parmesan cheese
Spinach
For this chicken recipe, you will need a cast iron skillet. You can easily fit 4 chicken thighs in a 12 inch skillet.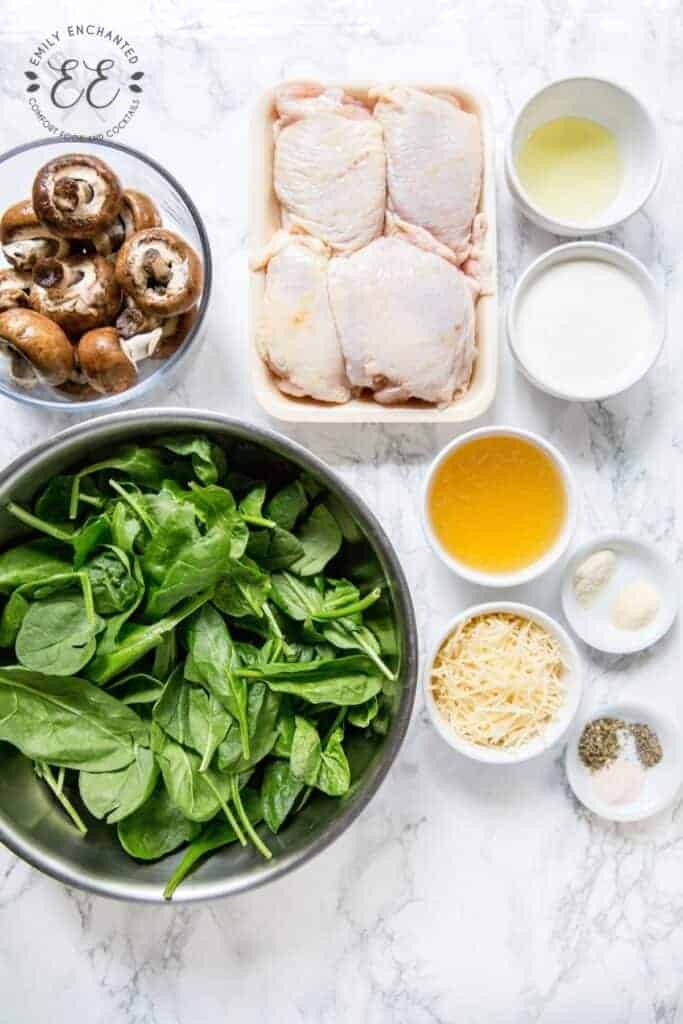 How to Make Chicken Florentine
This low carb chicken recipe is made in one pan and ready in 30 minutes.
Cook the chicken. In a cast iron skillet (or stainless steel pan), heat the avocado oil over medium high heat. Add chicken thighs and cook for 6-8 minutes each side. Skin should turn golden brown and chicken should be almost fully cooked. Remove chicken from skillet and place on a plate.
Make the sauce. Add chicken stock, heavy cream, salt and pepper, and other spices to the skillet. Stir occasionally and reduce heat to low once mixture starts to simmer. Add mushrooms and cook until softened. Add spinach and Parmesan cheese. Stir until cheese is melted.
Combine the sauce and chicken. Add chicken back into skillet with the heavy cream sauce and cook for an additional 3-5 minutes, stirring occasionally until chicken is fully cooked. Make sure internal temperature of chicken reaches 165 F.
Recipe Tips for Skillet Chicken
The grease is very hot and will splatter. I highly recommend getting a grease splatter screen.
The chicken thighs leave a lot of fat in the pan that will dilute the heavy cream. If you want a less fatty or less runny sauce, you can remove some or most of the fat from the skillet.
Fresh spinach has a much better texture for this recipe than frozen spinach.
You can use chicken breasts for this recipe, but the cook time will be quicker.
If your chicken is not reaching the proper internal temperature, you can finish the chicken off in the oven by placing the skillet directly on the rack.
FAQs
How Do I Know When Chicken Thighs Are Done Cooking?
Chicken thighs are done cooking when they reach 165 degrees. Use a meat thermometer to check the temperature by placing the needle in the middle of the thickest part of chicken. Make sure it is not touching the bone.
What color are cooked chicken thighs?
It is normal for chicken thighs to appear a little pinkish-brown, as they are dark meat and not white like chicken breast.
What is a Ketogenic diet?
This recipe makes a great keto chicken dinner. Keto (or ketogenic) is a fancy way of saying something is low carb and high fat. You stay away from things like bread and pasta, and stick to meat, oils, greens, nuts, and other low carb foods. You do not have to be on the keto diet to enjoy this recipe! But if you are interested in knowing nutrition information like net carbs and fat, see the recipe card below.
Can I Meal Prep this Keto Chicken Dinner?
This is one of the best keto chicken skillet recipes, so you will definitely want to add this to your meal prep menu. Evenly divide your fully prepared and cooked chicken florentine into four airtight containers. Put one chicken thigh in each dish, and evenly divide the sauce. Store in your refrigerator for up to 4 days. Reheat in microwave or oven.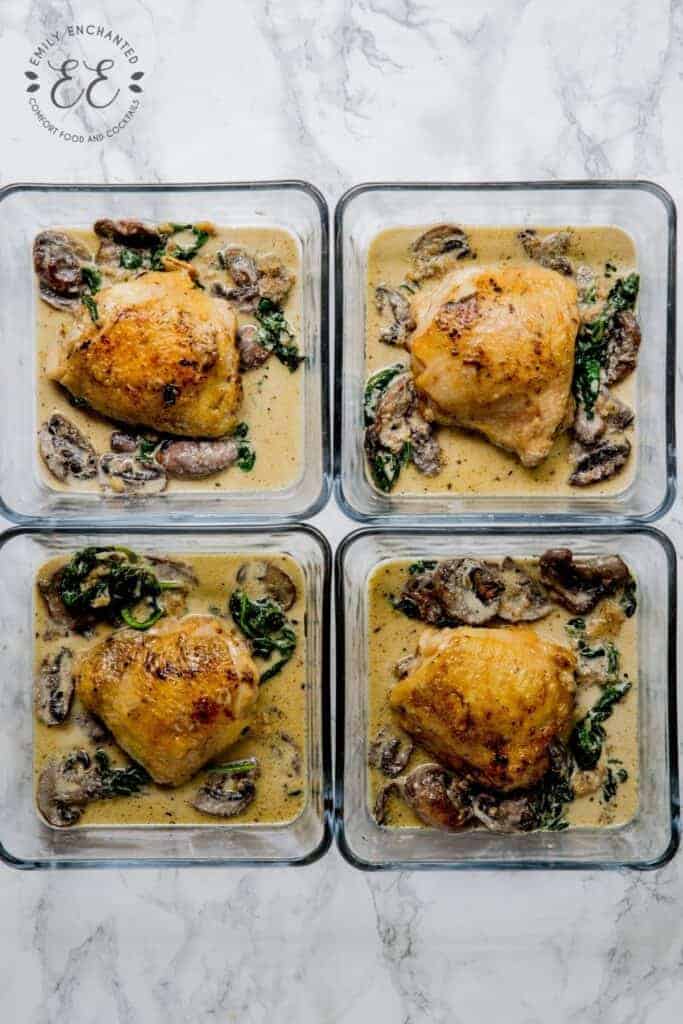 Serving Suggestions
This recipe creates a lot of sauce, so here are some great ideas of what to serve with Low Carb Chicken Florentine:
Fresh spinach salad
Zucchini side dish
And here are some not so low carb ideas:
Noodles – serve the chicken and sauce over egg noodles or any pasta of your choice.
Bread – dip some crispy Italian bread in the sauce. Yum!
Rice – brown or white
Other Amazing Chicken Recipes
If you like keto chicken recipes, you can easily makes variations of the following popular chicken dishes: