If you love sweet and spicy, you must try this Cheddar Jalapeno Cornbread recipe. Cheddar cheese and jalapenos take cornbread to the next level.
If you love spicy foods, this is the best cornbread recipe for you. Serve it with a slab of butter at your next Mexican dinner night. Enjoy it with Taco Casserole, Spicy Chili or Chicken Taco Soup.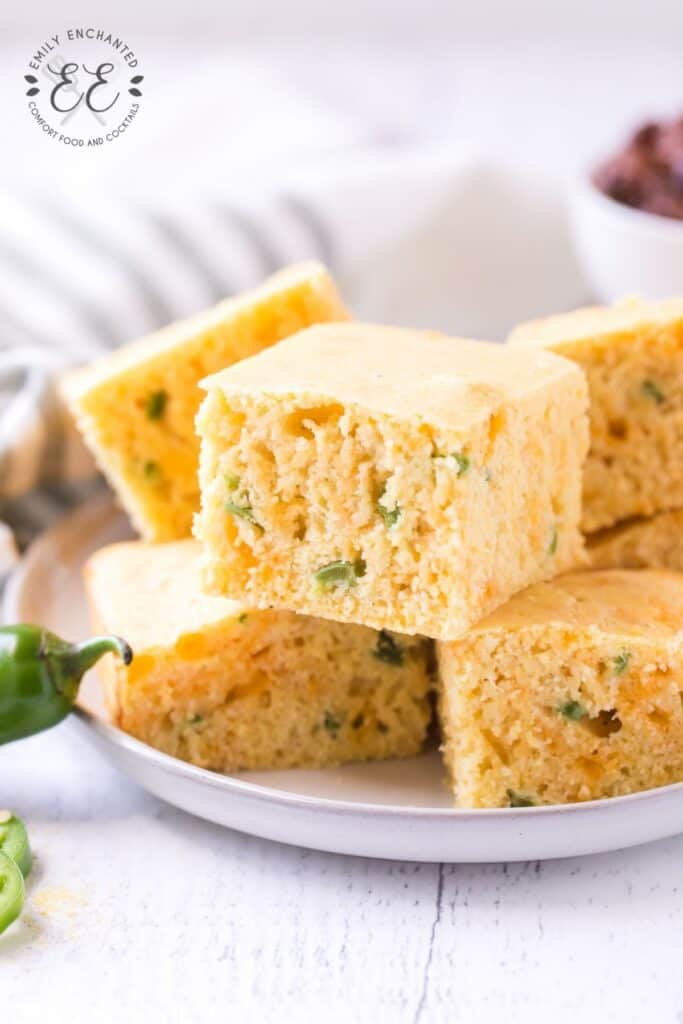 Jalapeno Cornbread Ingredients
To make this spicy cornbread recipe, you will need the following ingredients (go to the recipe below for exact quantities and instructions):
Flour
Cornmeal
Sugar
Salt
Garlic powder
Baking powder
Butter: I used salted butter because I felt that it offered a little bit more flavor, but you can use unsalted butter if you would like. Feel free to add in an additional pinch of salt to your batter is using unsalted butter.
Vegetable oil
Egg
Whole milk: if you don't have full milk available, feel free to use 2% milk instead
Cheddar cheese: you can substitute the cheddar cheese for your favorite type of cheese. This recipe would go particularly well with a shredded Pepper jack cheese.
Jalapeno
How to Make Jalapeño Cheddar Cornbread
Preheat oven to 400 degrees F.
Make the batter. Mix flour, cornmeal, sugar, salt, garlic powder, and baking powder together in a medium-sized mixing bowl. Add the melted butter, oil, egg, and milk to the dry ingredients. Whisk until everything is combined. Fold in the cheddar cheese and diced jalapeños.
Prepare the pan. Add the remaining 2 Tablespoons of butter to an 8×8 inch pan or 10-inch oven-safe skillet. Place into the oven for 5 minutes or until the butter melts.
Bake the cornbread. Remove the pan from the oven and immediately pour the batter into the hot pan. This is what helps develop the crispy, buttery crust. Return to the oven to bake for 25-30 minutes or until golden brown, and a tester comes out clean when inserted in the center.
Let cool for 10 minutes, slice, then serve.
Can I Make Cornbread into Muffins?
It's very easy to make cornbread into muffins instead of cooking it in a pan. Every other aspect of the recipe stays the same except for the cooking time. You will still heat your oven up to 400 degrees Fahrenheit and prepare your batter just like you normally would.
But instead of baking the cornbread for 25 minutes, you are going to bake it for 15 minutes or until the muffins are golden brown. There's no need to use cupcake liners in your muffin tin. Simply grease the muffin tin before pouring in the batter instead of using butter. Pour batter until each tin is filled 2/3 of the way full.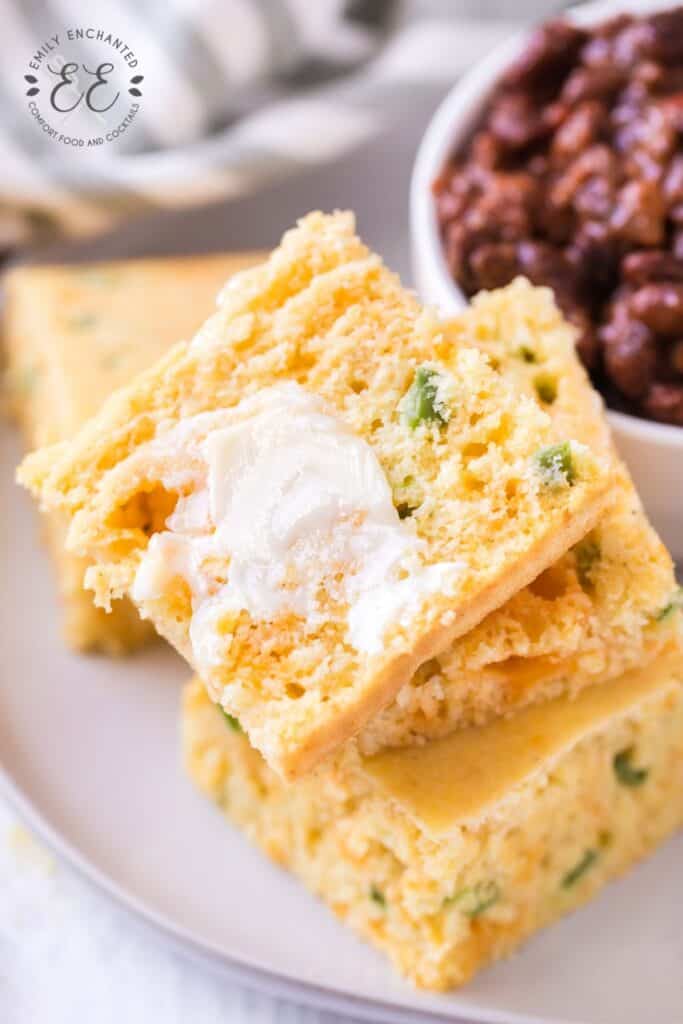 Storage Instructions
You can store cornbread in the refrigerator or at room temperature for up to five additional days. Make sure it is stored in an airtight container. You can also store cornbread in the freezer for up to three months.
I recommend cutting your cornbread before freezing for easier access and to make the defrosting process faster.