Easter Bunny Veggie Tray is a super cute Easter appetizer that is quick and easy to make. Take your time assembling the veggies and get creative with it!
This recipe makes 2 cups of delicious dill dip that will surely feed a crowd with all the veggies, crackers and cheese. This healthy snack board is the perfect start to your Easter dinner. But don't forget to save room for dessert! You will not want to miss out on this fun Easter dirt cake.
Easter Bunny Veggie Tray Ingredients
To make this healthy Easter recipe, make sure you have the following ingredients on hand (see the recipe below for exact amounts and instructions):
Cauliflower
Broccoli
Celery
Ritz Crackers
Cheese
Baby radishes
Baby carrots
Cucumber
Red bell pepper
Grape tomatoes
Asparagus
Kalamata olives
Mayonnaise
Sour cream
Dried parsley
Dill
Onion powder
Salt
Worcestershire sauce
Lemon juice
Black pepper
This 12 oz. ramekin is the perfect size for this dip!
How to Make an Easter Veggie Tray
Step 1. Make the dip
In a small mixing bowl, combine together all ingredients for your dill vegetable dip. Stir until well combined. Once your dip is mixed, place it in the refrigerator to allow the flavors to fully combine.
Step 2. Assemble the veggie tray
Next, begin assembling your veggie tray. Place a medium ramekin in the center of your tray. On opposite sides of your ramekin, place down your cauliflower and broccoli first.
After your broccoli is placed, remove half a sleeve of crackers and place down for the ears. You will want to make two lines of crackers for each ear with 1-2 crackers at the very tops of the ears to round off the shape. Be sure to have the fronts of the crackers face inwards, towards one another.
Before placing the cheese cubes inside the cracker ears, align your celery on the other side of each ear. This will create a barrier and allow for your crackers to become more sturdy. Once secure, add in the cube cheese in the middle of each ear.
From here, begin adding your layers switching from the broccoli side to the cauliflower side. Align your radishes next to the celery. And your carrots and cucumber next to the cauliflower.
Fill in the excess space you have with the red bell peppers and tomatoes.
Remove your dip from the refrigerator and spoon out into the ramekin on your tray.
Step 3. Make the bunny face
Once your dip is inside your dish and the top is evenly smoothed out, you can begin creating your bunny's face.
Start by placing two kalamata olives in the upper ⅓ area of your dish for the eyes. From there place a grape tomato in the very center for the nose. Slice a kalamata olive in 3 thin pieces, longways. Use these three pieces to assemble the mouth.
Place 3 pieces of asparagus on each side to make the whiskers.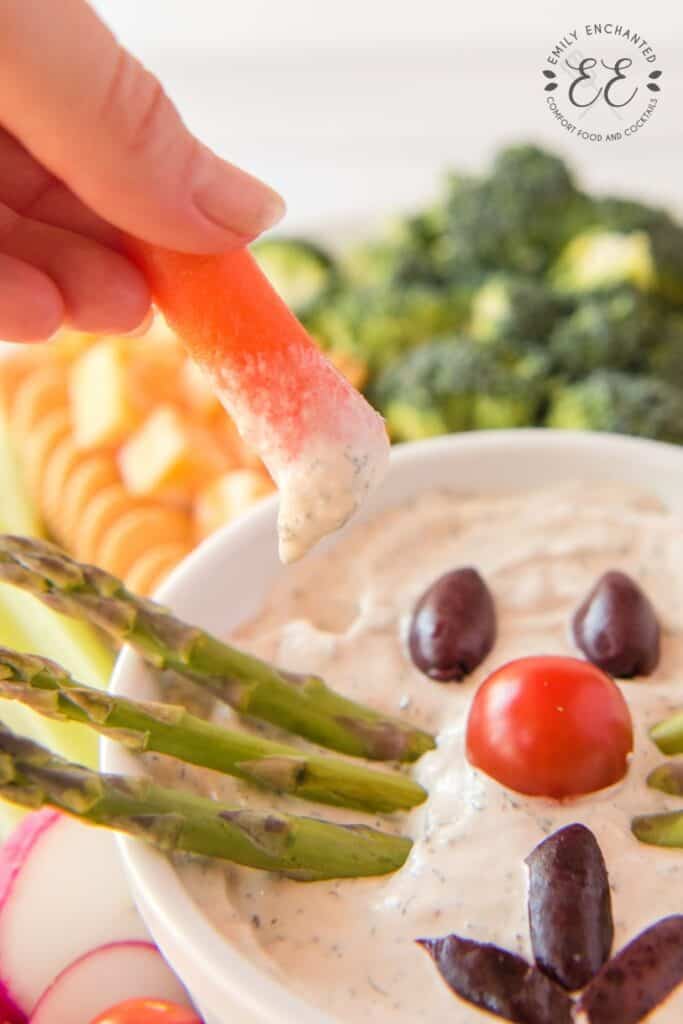 FAQs
Can I Make this Ahead of Time?
Yes! You can refrigerate the entire tray until serving.
Can I Use Premade Dip?
Yes, I use store bought dip all of the time. You can even squirt ranch dressing in a bowl and call it day! You can also serve with hummus.
Recipe Tips
The veggie selection for this tray are just suggestions – explore and get creative! However to best see your bunny rabbit's face, using snacks to best define his ears, eyes and whiskers are key.
For this tray, I recommend an oval shaped platter measuring at 18×14 or a cutting board that is 20×14.