Cornflake Wreaths are a classic Christmas treat that can be found on every Christmas cookie table! Cornflakes and melted marshmallows are dyed with green food coloring, and holly candies finish off this cute treat.
This post contains affiliate links.
Cornflake Wreaths Ingredients
To make Christmas Wreaths with Corn Flakes Cereal, you will need the following ingredients (scroll down to the recipe card below for exact amounts and directions):
Unsalted butter: Butter is used in this recipe to elevate the flavor profile and assist in melting the marshmallow.
Mini marshmallows: For this recipe, we choose mini marshmallows for their small size and ease of melting quickly.
Pure vanilla extract: We chose to use pure vanilla to elevate the flavor profile of these cornflake treats. We love to use pure vanilla extract for the warm depth of flavor it brings to baked goods.
Pure almond extract: This recipe uses almond extract to achieve an elevated flavor profile. If you have a nut allergy, eliminate almond extract from the recipe!
Green food coloring: We used classic green food coloring for this recipe. You can use neon green if that is what you have on hand; however, it will have a slightly different tone of green.
Corn flakes: You can use your favorite brand of cornflakes. We chose to use the original corn flake rather than sugar-coated for this recipe.
Cinnamon red hot candies: We love the texture and pop of flavor that cinnamon candy brings to this recipe. You can use cinnamon imperials or red hots.
Holiday sprinkles: Grab your favorite holiday sprinkles and decorate these fun wreaths!
Special Tools Needed
Measuring cups
Measuring spoons
Parchment paper
Large baking sheet
Large saucepan or dutch oven
Rubber spatula
Large cookie scoop
How to Make Christmas Cornflake Wreaths
Line a baking sheet with parchment paper and set it aside.
In a large saucepan or dutch oven, melt ½ cup of unsalted butter over medium heat. Once the butter is melted, add ½ teaspoon pure vanilla extract, ¼ teaspoon almond extract, and 1 teaspoon green food coloring. Stir to combine.
Reduce the heat to low and add 4 cups of mini marshmallows. Continue to melt the butter and marshmallow mixture on low heat. Stir gently until all the marshmallows melt. Remove from heat. Do not allow the mixture to burn.
Next, slowly fold 4 cups of corn flakes cereal into the mixture, taking care not to crush them. Be sure to coat all of the cornflakes.
Create a heap of corn flakes on the parchment paper using a large cookie scoop. Use your fingers to press out the center so that it is open. Round out the edges so that they look like a wreath. Add red cinnamon candies around the wreath. Finally, add your favorite holly leaf sprinkles.
Allow the corn flake wreaths to sit at room temperature for about 10 minutes. Remove from the parchment paper.
Serve at room temperature.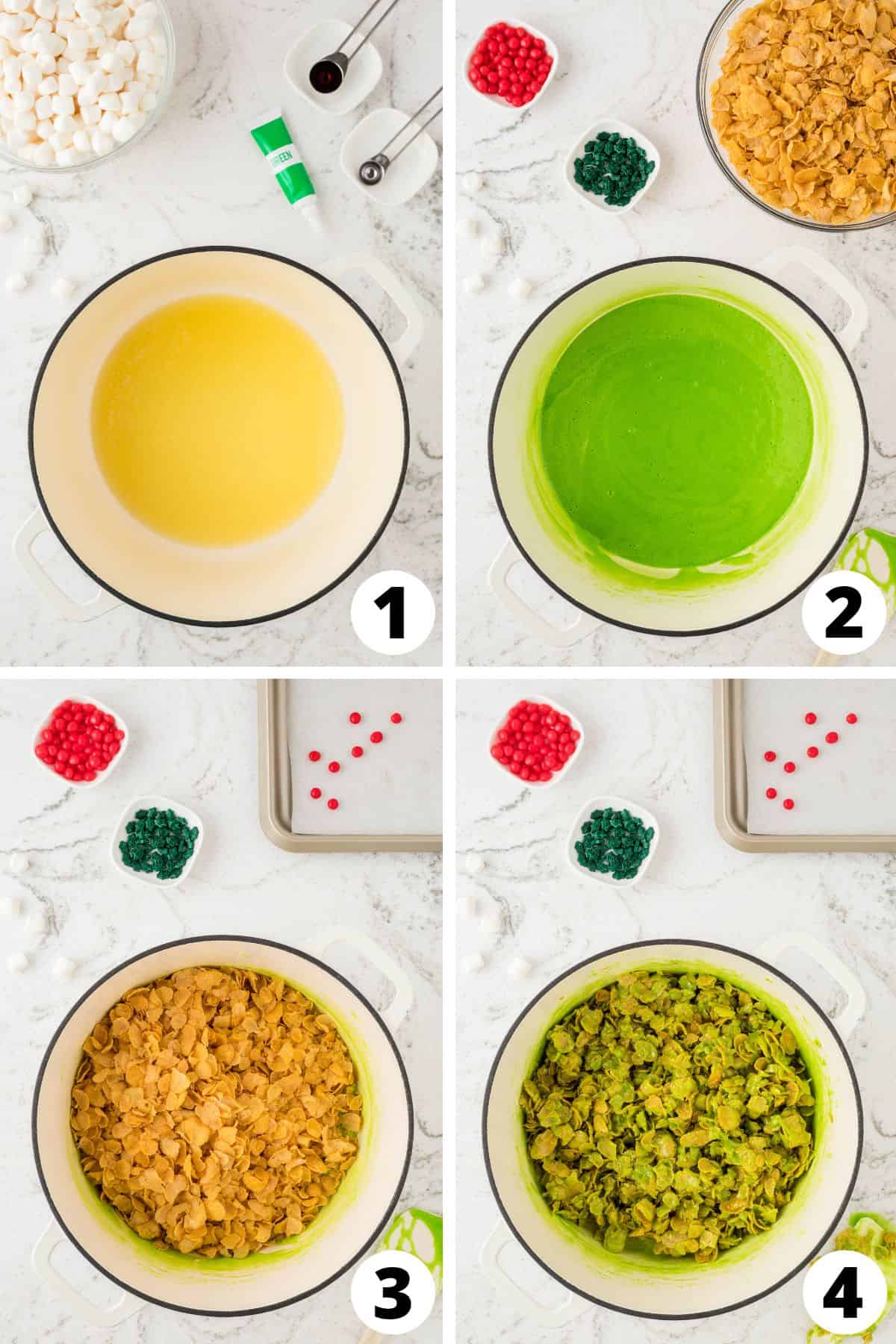 Recipe Tips
Spray a small amount of cooking spray on the scoop and on your hands to help reduce the flakes from sticking to your scooper and hands.
Storage Instructions
Store in an airtight container at room temperature for up to 3 days.
Substitutions and Variations
Unsalted butter: We love to create baked goods using unsalted butter so that we can control the sodium content in recipes. If you prefer to use salted butter, go right ahead. The flavor will be slightly saltier than the recipe provided.
Pure vanilla extract: You may use imitation vanilla if that is what you have on hand.
Almond extract: If you have a nut allergy, eliminate almond extract from this recipe.
Mini marshmallows: If you prefer to use large or jumbo marshmallows, by all means, go ahead. We use mini marshmallows because of their small size and ease of melting.
Cinnamon red hot candies: If you don't like cinnamon, substitute red mini M&M's or another red decorating sprinkle.
Holly leaf sprinkles: You can decorate these yummy wreaths with your favorite holiday sprinkles.