Corned Beef Sliders are made on Hawaiian rolls and layered with corned beef, swiss cheese and thousand island dressing. The rolls are buttered and then baked to perfection in the oven.
These sliders are so good and can be used a base for any type of slider you prefer. Don't like corned beef? You can substitute pastrami, roast beef, ham, chicken – whatever you like!
Corned Beef Sliders Ingredients
To make these sliders, you will need the following ingredients from the grocery store (jump to the recipe below for exact amounts and instructions):
Hawaiian rolls: I use King's Hawaiian Original Hawaiian Sweet Rolls
Swiss cheese
Corned beef
Thousand island dressing
Salted Butter: You can use unsalted butter if you prefer less salt
Garlic powder
Onion powder
Sesame seeds (optional)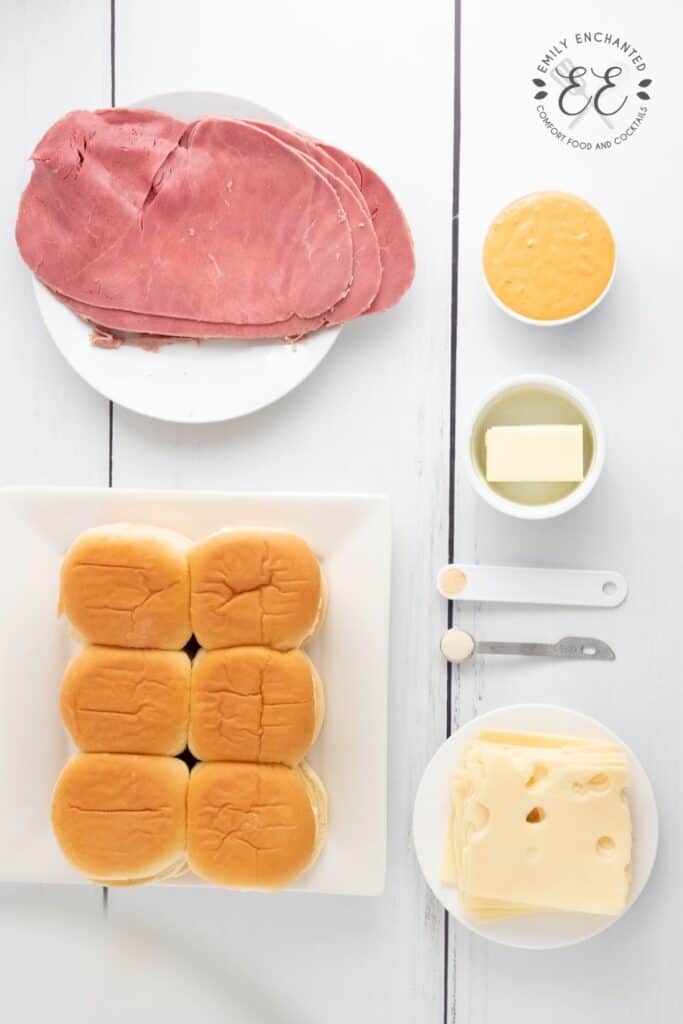 How to Make Corned Beef and Cheese Sliders
Preheat oven to 350 degrees F. Grease a 13 x 9 baking dish with cooking spray. Line the backing dish with bottom half of rolls.
Spread the corned beef evenly over rolls, then the cheese.
Drizzle with thousand island dressing.
Place the top half of rolls on the sliders.
Melt the butter in a small pot on the stove, or in a small bowl in the microwave. Add the garlic powder and onion powder to the melted butter. Evenly brush the tops of rolls with the butter mixture. Sprinkle sesame seeds on top.
Cover the baking dish with aluminum foil. Bake for 10 minutes. Remove the aluminum foil and bake for another 10 minutes.
Slice and enjoy! I like to serve with extra Thousand Island dressing on the side.
Can I Make Reuben Sliders With this Recipe?
Want to make this a Reuben slider recipe? Just add sauerkraut on top of the cheese before baking. Perfect for St. Patrick's Day!
Can I Reheat Sliders?
Reheat any leftovers in aluminum foil in the oven for 10 minutes at 350 degrees.