Creamed Corn Casserole packs a huge flavor punch and makes a delicious side dish for any type of meal. This classic recipe is made with Jiffy Mix.
This casserole is a cross between cornbread and creamed corn. It is sometimes called corn pudding. Corn casserole is one of the best corn side dishes.
Now, I am not a fan of creamed corn by itself. But this side dish IS. SO. GOOD. And Jiffy Casserole pairs perfectly with my Chili Dog Casserole. A meal that will leave you in a happy food coma – promise.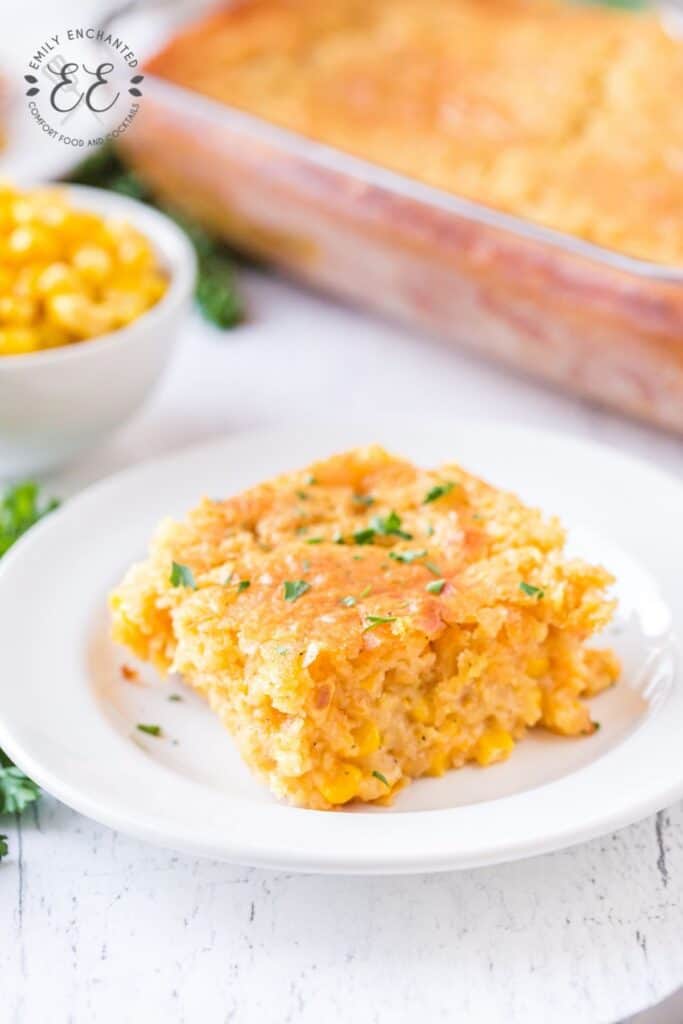 Creamed Corn Casserole Ingredients
To make this cheesy corn side dish recipe, you will need the following ingredients (see the recipe card below for exact amounts):
Plain Greek yogurt: Most other recipes use sour cream, but many prefer Greek yogurt instead.
Sweet canned corn: Use fresh corn on the cob instead if you have it.
Corn muffin mix: If you would like to make this mix from scratch, that is a great option.
Creamed corn: If you have another recipe for creamed corn, feel free to use it. I have one here with bacon in it.
Salted butter: You can also use unsalted butter
Salt
Pepper
Cayenne pepper: Add to taste depending on spice preference. If you don't like spicy, don't add the cayenne pepper. Add more if you would like it even spicier.
Garlic powder
Cheddar cheese
Cornstarch
Egg
How to Make Corn Casserole with Jiffy Mix
Prepare the oven and baking dish. Preheat the oven to 350 degrees and prepare an 8×8 casserole dish by coating it with cooking spray.
Make the batter. In a large bowl, combine all the ingredients together and stir until it is well mixed.
Bake the casserole. Pour the mixture into the 8×8 baking dish and bake in the oven for 50-60 minutes or until the top turns golden brown.
Serve and enjoy! Let the casserole set and cool off for several minutes before serving.
Storage Instructions
You can store this casserole in an airtight container in the refrigerator for 3-4 days. You can also freeze this and reheat later.
FAQs
How Do I Make My Casserole Fluffier?
If you want a fluffier casserole, you can add two eggs to the recipe, and this will create an airier meal. The Greek yogurt in this recipe is delicious, but it does cause the casserole to be less fluffy than other typical corn casserole recipes, so we add cornstarch to make up for that.
Can I Add Cheese to This Recipe?
Cheese is always a wonderful addition to any recipe. In addition to the cheese that is already in the casserole, you can also add a cup of cheese to the top of the casserole during its last ten minutes of baking to get that extra melty deliciousness.
Can I Prepare This Ahead of Time?
You can prepare this casserole up to 48 hours ahead of time after preparing this dish. Make sure it stays refrigerated before baking and bake the day of for best quality.
More Delicious Side Dish Recipes