Christmas Punch is a beautiful Christmas drink recipe that will brighten any party. This non-alcoholic Christmas punch is full of fruit flavor.
This post contains affiliate links.
Christmas Punch Ingredients
To make this holiday punch recipe, you will need the following ingredients (see the recipe card below for exact amounts):
Fresh cranberries
Oranges
Lime: You can try lemons, but it will change the taste a little bit.
Cranberry juice: make sure it is 100% cranberry juice.
Grapefruit juice: You could also substitute this for a grapefruit soda like Squirt or Fresca.
Orange juice: The best orange juice is always freshly squeezed orange juice. But you can use orange juice from concentrate
Fresh mint
Sprite: Another lemon-lime soda knock off is also a great option here.
How to Make Christmas Punch
Combine the sprite, cranberry juice, orange juice, and grapefruit juice in a pitcher and stir together.
Take the optional additions of fresh cranberries, orange slices, and lime slices and dump them into the pitcher.
Refrigerate to chill everything and keep cold until serving.
When serving, add to a large punch bowl, garnish with a few optional fresh mint leaves and enjoy!
Storage Instructions
Cranberry punch tastes best when served fresh. However, it can be stored in the refrigerator for up to one week. The carbonation will quickly dissipate, but it will still retain a great flavor.
Can I Add Any Other Flavors to This Punch?
Christmas punches come in all shapes and sizes. You can try a lot of different versions of this with different types of drinks. Try substituting the sprite for ginger ale, sparkling cider, or a bubbly wine.
Consider swapping out the grapefruit juice for pineapple juice, or adding some pink lemonade or pomegranate juice. Also, try this with lime sherbert.
What Kind of Cranberry Juice Should I Use?
Make sure you use a sweetened 100% cranberry juice. If it includes other flavors, it won't end up tasting the same, and if it's unsweetened, it will be too tart.
But, if you get the wrong kind of cranberry juice, stir in ¼ cup simple syrup or ¾ cup sprite for additional sweetness.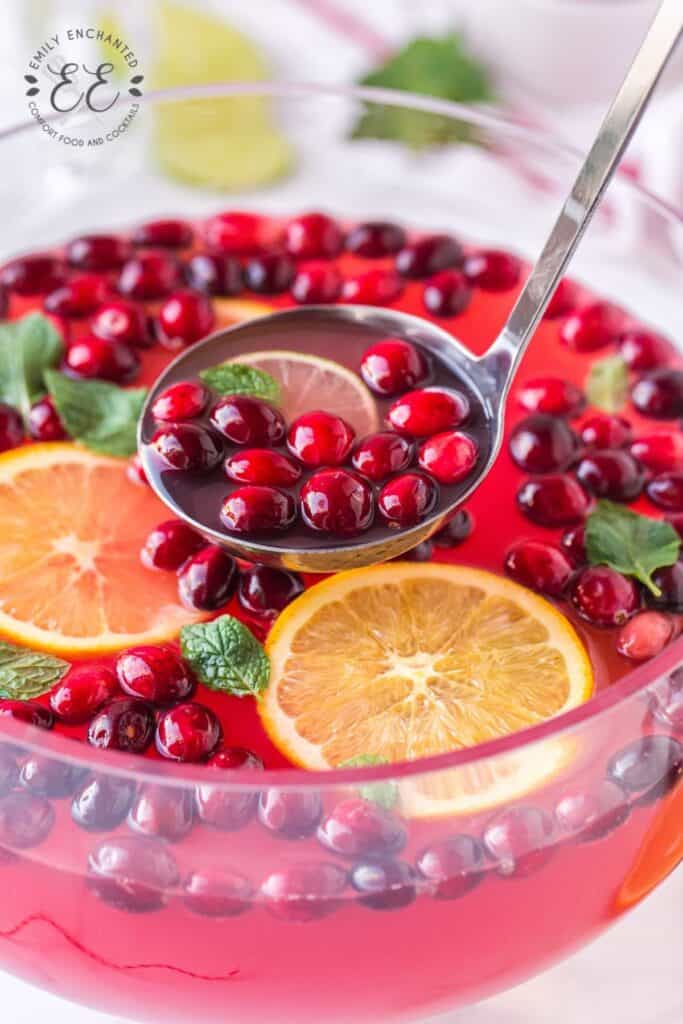 What Do I Do if I am Serving a Really Large Party?
This recipe is meant to serve a small family. If you are serving a large amount of people, I would double, or even triple the recipe.
Can I Spike this Christmas Punch?
Absolutely! If you want to spike this punch, I suggest sparkling wine for a little bubbly, white rum, or vodka. Add 1 cup of whatever liquor you prefer.