Christmas Marshmallows for Hot Chocolate are a fun and unique way to spruce up your traditional winter drink. These marshmallow stirrers for hot chocolate melt in your drink and add some extra flavor to your hot chocolate.
These chocolate marshmallows can be eaten as a treat just by themselves too! You can even stick a candy cane in them like these Marshmallow Pops.
I love hot chocolate so much that I have a dedicated hot chocolate Pinterest board. Make sure to add these hot chocolate marshmallows to your to do list for any holiday party. These will be a big hit!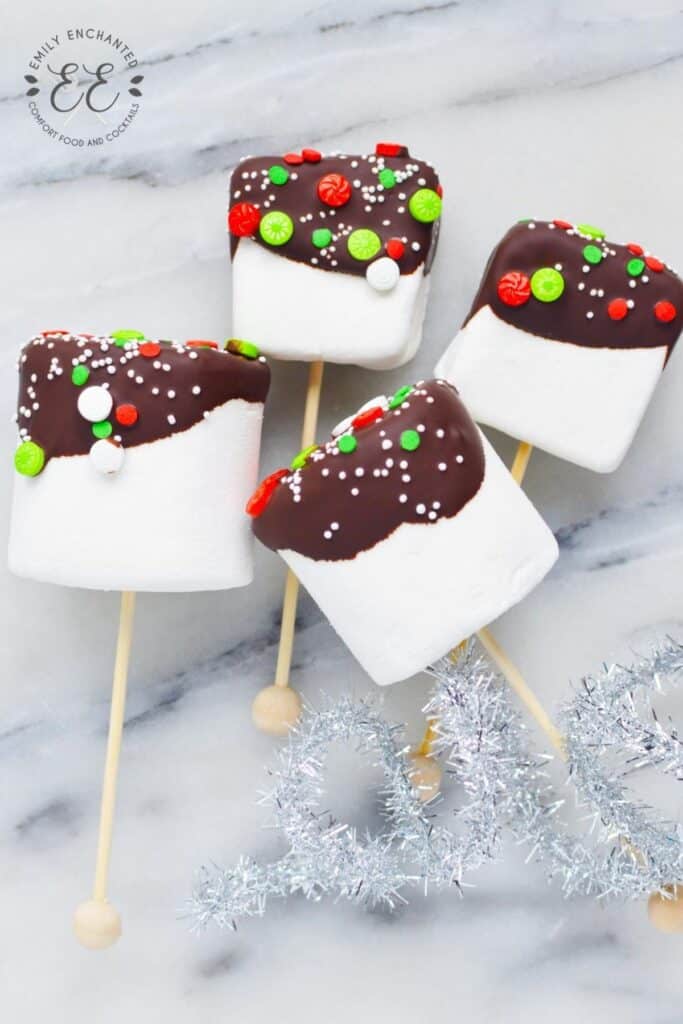 This post contains affiliate links.
Christmas Marshmallows Ingredients
Christmas marshmallows need very few ingredients and are easy to find in any grocery store.
How to Make Marshmallows for Hot Chocolate
Making Christmas marshmallows can potentially be a messy task, but these specific instructions should make it easier.
Melt the chocolate to package instructions in a heat safe bowl.
Set up a few heavy glasses that the marshmallow pops can stand up in while cooling and setting without touching each other. (Once they have hardened it is fine to have them all standing/stored in the same glass and touching).
Melt the chocolate according to package instructions, stirring constantly to ensure it doesn't overheat or burn.
Place the wooden sticks almost all the way through the marshmallows.
Dip the tops of the marshmallows one at a time into the chocolate. Then hold upright and let it move down the sides a bit.
Quickly cover the marshmallows dipped in chocolate with sprinkles by sprinkling with your hand. Do not dip directly into the sprinkles.
Set the sticks into the glasses so the marshmallows are on the top and allow them to harden. You can set them in the refrigerator to harden faster.
Storage Instructions
These can be enjoyed right away or you can cover and store them in the refrigerator.
FAQs
Can I freeze marshmallows?
These Christmas marshmallows freeze wonderfully. This allows you to make them weeks or longer in advance and then simply place them in an air tight container so they'll be ready for drop in guests or to cut down on your holiday party day of prep! Simply allow 30 minutes or so of rest time between remove from the freezer and serving.