This Red and Green Christmas Deviled Eggs Appetizer is so festive! Kick the classic deviled egg recipe up a notch by adding Christmas colors.
Dyed eggs are not just for Easter! These stuffed eggs make a great appetizer and are beautiful to serve.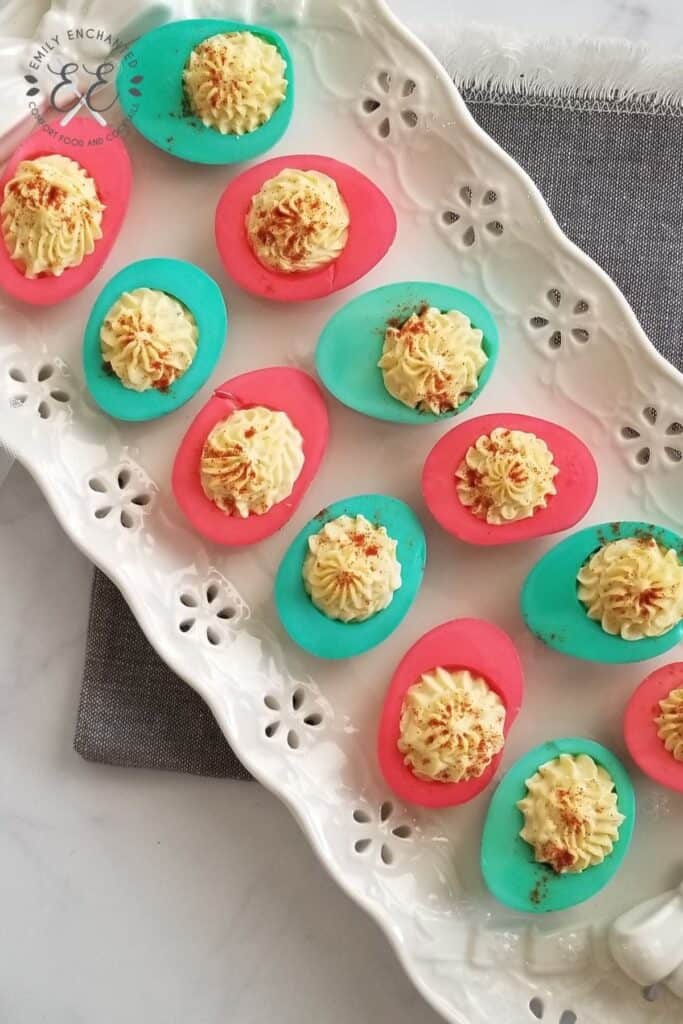 This post contains affiliate links.
Christmas Deviled Eggs Ingredients
This is a classic deviled egg recipe, made with mayonnaise and mustard. The only thing that is changed is the eggs are dyed!
Eggs: You can buy hard-boiled eggs in the grocery store. Peeling is my least favorite part and I love to skip that step!
Mayonnaise
Ground mustard
Salt and pepper
Paprika, for garnish
Red food coloring
Green food coloring
How to Make Red and Green Eggs
First, hard boil the eggs. Add eggs to a pot and fill with water, to about an inch above the eggs. Bring to a rolling boil and remove from heat. Let sit for 10-12 minutes. Strain the water and from the pot and run cold water over the eggs to cool them down. Once cooled, peel the shell off the eggs.
Cut eggs in half lengthwise and carefully scoop out the yolks into a bowl.
Add mayonnaise, mustard, salt and pepper to bowl and stir until combined.
Put 5 drops of red food coloring into a bowl of water and 5 green into another bowl of water. Place the egg whites into the colored water and allow to sit in the water for 10-15 minutes, or until the eggs are the shade you like.
Pat the colored eggs dry.
Fill the egg whites with the egg mayonnaise mixture.
Arrange on a plate, cover and refrigerate up to 24 hours.
Sprinkle paprika on top just before serving.
How to Serve Deviled Eggs
Deviled eggs can be served as hors d'oeuvres at every party or holiday dinner. Serve them on a special deviled egg plate.
Tips for Deviled Eggs
The longer you let the eggs sit in the dye, the more vibrant the color will become. If you want intense colors and more of a true red and green, instead of pastel red and green, try the color mixture recipes in this post.
I use a cake decorating bag and tip to fill the egg whites with the egg mayonnaise mixture to make them look extra pretty.
Try making deviled eggs with relish in the filling.