This recipe for chicken alfredo bake is a creamy, cheesy, easy dinner casserole. It's penne pasta cooked with chicken and a delicious homemade alfredo sauce for a satisfying Italian-inspired dinner.
A simple dinner, this recipe has just a few steps: the sauce, pasta and chicken all get stirred together in a large skillet and then baked in a 9 x 13" dish in the oven.
The best part of this recipe is the sauce – it's perfectly cheesy and creamy for a crave-worthy dish. This is an all-in-one hearty dinner that's always a hit.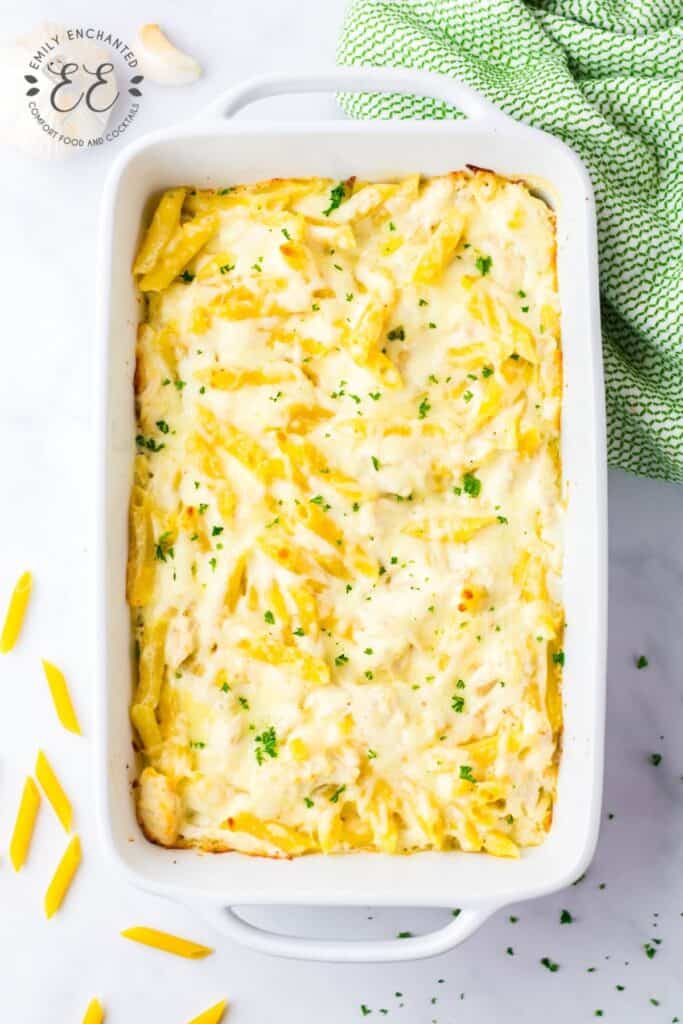 This post contains affiliate links.
Chicken Alfredo Bake Ingredients
To make this oven baked pasta dish, you will need the following ingredients (go to the recipe below for exact quantities and instructions):
Penne pasta: penne is the best pasta to use for this baked alfredo, but you can also use rigatoni, farfalle, ziti, or cavatappi
Unsalted butter
All-purpose flour
Garlic
Shredded Parmesan cheese: shredded Parmesan cheese melts better than the grated cheese you normally buy
Heavy cream
Nutmeg
Shredded mozzarella cheese: shredded mozzarella cheese melts better than fresh mozzarella. You can buy the regular block mozzarella if you wish to shred it yourself.
Salt & pepper
Chicken breast
Parsley: optional for garnish
How to Make Chicken Alfredo Pasta Bake
For this baked casserole recipe, you will be cooking the pasta, chicken, and making the sauce all separately, and then baking them together to unite all the flavors.
Prep the oven and baking dish. Preheat the oven to 375 degrees. Grease a 9 x 13" baking dish with cooking spray.
Cook the pasta. Cook the pasta according to the package instructions until al dente. Strain and set aside.
Cook the chicken. Cook and shred the chicken breast, set aside.
Make the sauce. In a large saucepan, melt the butter over medium heat. Once melted, whisk together the butter and flour. Cook for 1 minute more. Add the garlic, Parmesan cheese, heavy cream and nutmeg to the saucepan. Stir to combine and cook for 2 – 3 minutes, until the cheese begins to melt. Simmer the sauce for 8 – 10 minutes, until it begins to thicken. Stir frequently. Turn the heat to low and stir in ½ cup mozzarella cheese. Season with salt and pepper to taste.
Combine all ingredients in baking dish. Add the pasta and shredded chicken into the saucepan. Stir to combine. Pour the mixture into a 9 x 13" baking dish. Sprinkle the remaining ½ cup of mozzarella on top.
Bake and serve. Bake in the oven uncovered for 20 minutes, until the cheese becomes melted, bubbly and barely golden brown. Optionally, garnish with parsley before serving.
Tips for Baked Chicken Alfredo
Cook your pasta al dente: when cooking your pasta, be sure to cook it until it's just barely tender or al dente because it will cook further in the oven.
The best method of cooking chicken to be baked in a casserole is to boil the chicken.
I like to make multiple chicken breasts at a time to use for other recipes, such as this Buffalo Chicken Mac and Cheese or Chicken Bacon Ranch Dip.
Substitutions for Pasta Bake Recipe
Sometimes you don't have all the recipe ingredients on hand, or you just want to change things up a bit. Here are some ideas of how to make this recipe your own:
Substitute your favorite pasta: instead of penne pasta, this dish can also be made with any medium or large sized noodle pasta.
Substitute rotisserie chicken: to skip pre-cooking the chicken for this recipe, use rotisserie chicken.
Add different cheeses: other cheeses that are great for melting are swiss, asiago, fontina, gouda, gruyere, and monterey jack.
The Best Pasta Recipes
Here are some of my other favorite pasta recipes:
Garlic Parmesan Noodles (the most popular recipe on my site!)