Berry Croissant Bake is a sweet breakfast recipe that is so easy to make. Mix all ingredients in a baking dish and throw in the oven!
Serve as a main course or with eggs and bacon for a well balanced meal.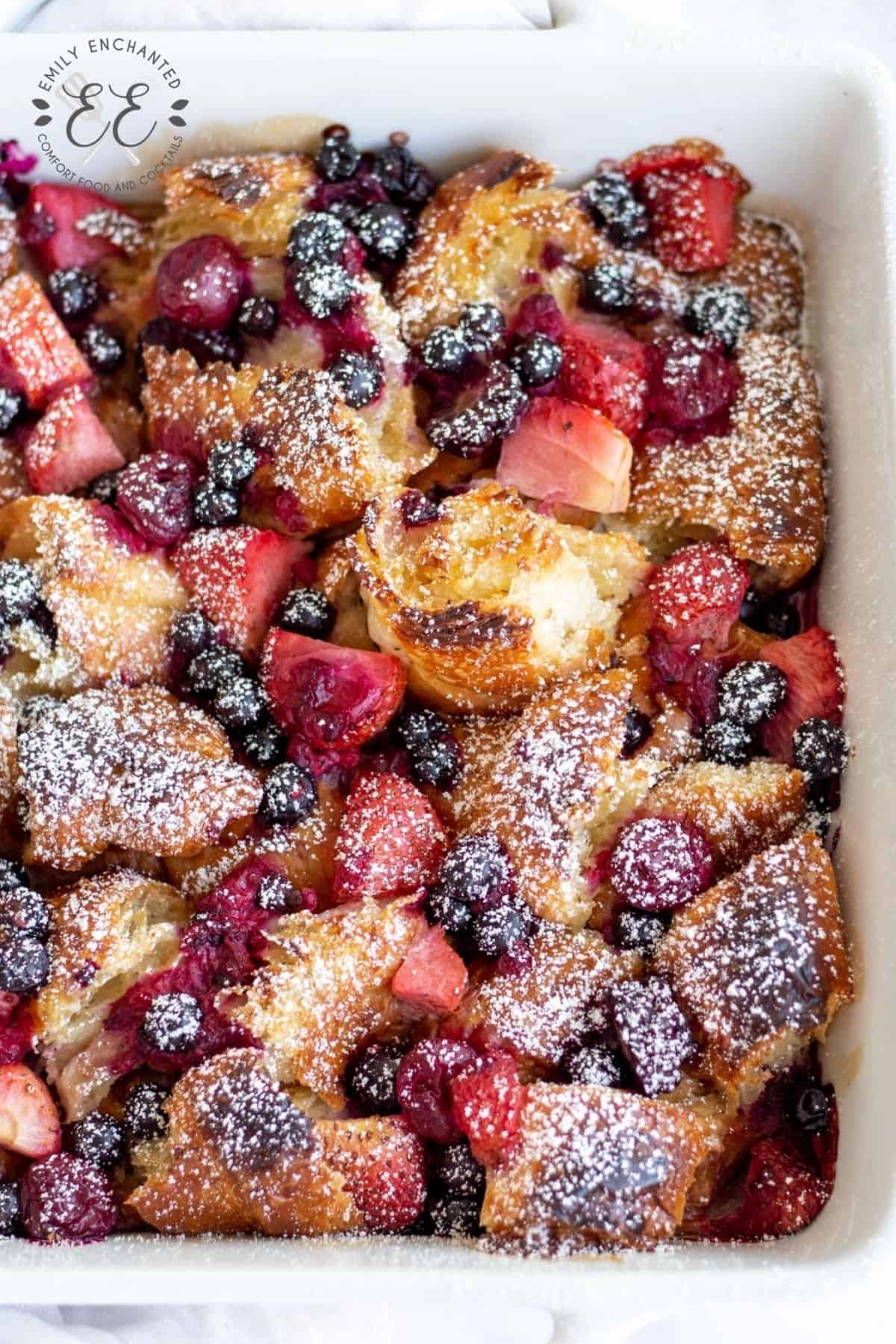 Berry Croissant Bake Ingredients
To make this croissant breakfast bake, make sure you have the following ingredients on hand (see the recipe below for exact amounts and instructions):
Croissants
Mixed berries
Cream cheese
Eggs
Whole milk
Unsalted butter, melted
Lemon
Ground cinnamon
Brown sugar
Vanilla extract
Powdered sugar
How to Make Croissant Bake
Preheat the oven to 375ºF. Spray an 8×8 inch baking dish with non-stick cooking spray.
Add the croissant pieces into the baking dish and sprinkle the mixed berries evenly over the croissants.
In a medium-size bowl beat together the cream cheese, eggs, milk butter, lemon zest, cinnamon, brown sugar, and vanilla extract.
Pour the cream cheese mixture over the croissant and berries.
Let it rest for at least 1 hour or refrigerate overnight.
Bake for at least 35-40 minutes or until golden brown.
Serve warm with some powdered sugar sprinkled on top or a drizzle of honey or maple syrup. Enjoy!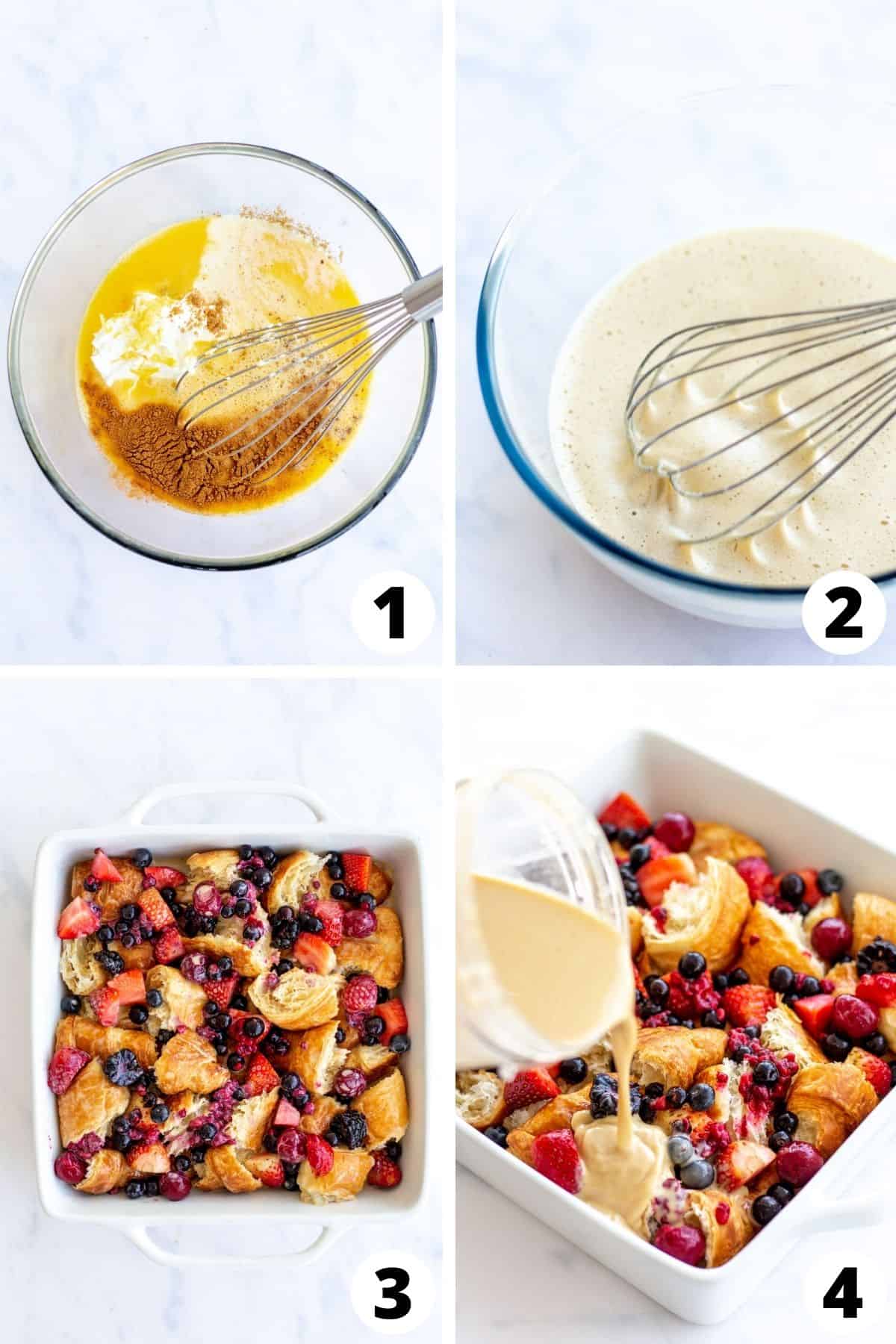 Recipe Tips
We used fresh croissants from the bakery.
We highly recommend letting the croissant and cream cheese mixture sit for a while and preferably overnight as it will help absorb all the liquid into the croissants resulting in a more flavorful and moist croissant bake.
Make sure the cream cheese is at room temperature so it will mix well with the other ingredients.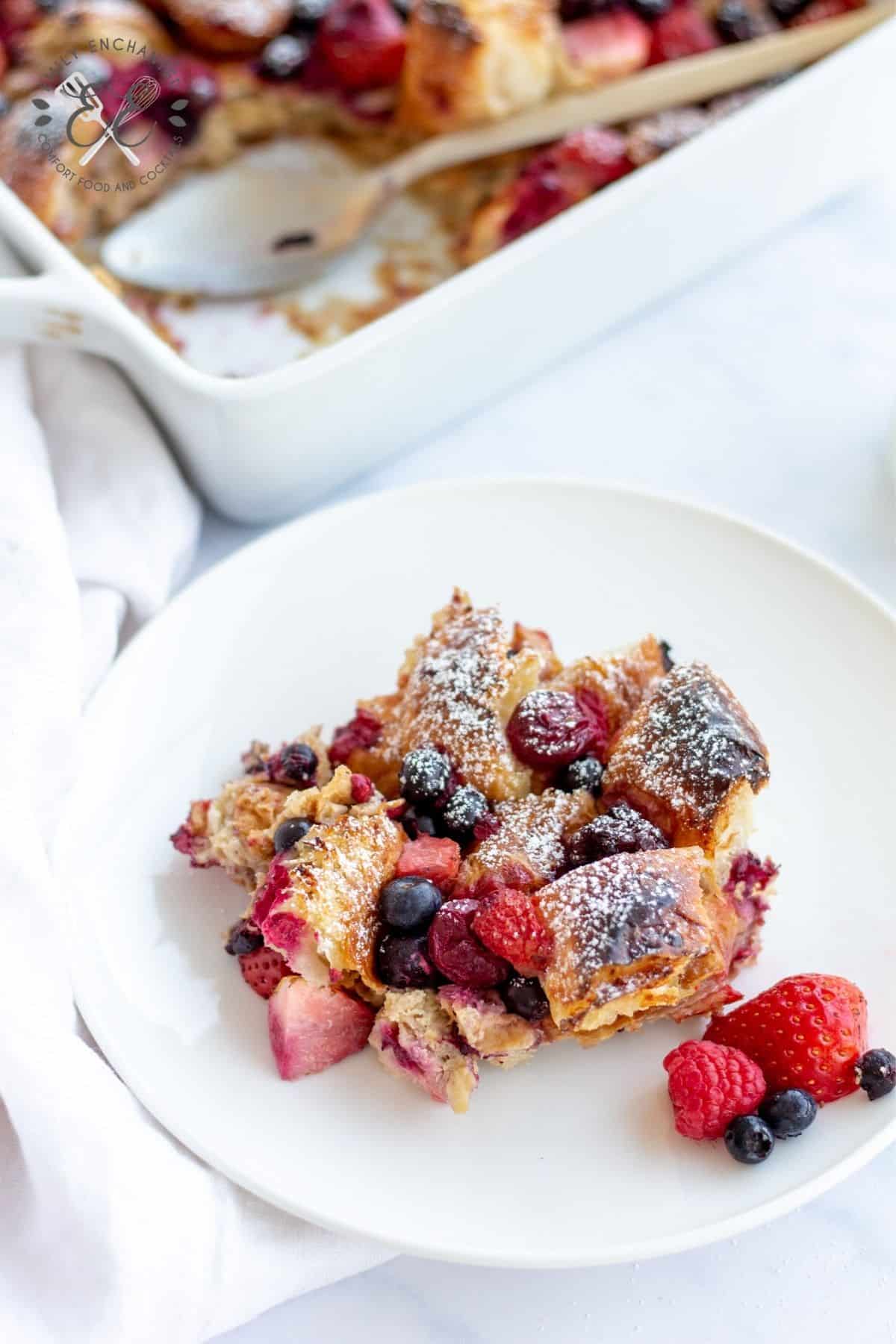 Substitutions
For a chocolate version skip the berries and the lemon zest and add one cup chocolate chips to the cream cheese mixture. Sprinkle a few chocolate chips on top and bake as instructed.
Can you use frozen berries instead of fresh?
Yes, you can make this recipe using fresh or frozen berries. I've used both and it tastes amazing either way.
What else can you use instead of croissants?
We used buttery croissants from the bakery but you can use one loaf of bread cut into cubes. If the bread is a couple of days old that's ok!
More Sweet Breakfast Recipes