This baked macaroni and cheese dish is creamy and delicious! Three different cheeses are used to get that thick and creamy texture and flavor, making this one of the best macaroni and cheese recipes.
In order to get that cheesy goodness, you will need to create a roux on the stove top with your butter and flour. This will be the base to thicken up your milk and cream. Then all you have to do is add in your seasonings and cheeses and bake it to perfection in a baking dish.
You can serve this macaroni and cheese recipe as a main dish or as a side dish. Try it with BBQ Chicken Sandwiches, Little Smokies, or Spicy Chili.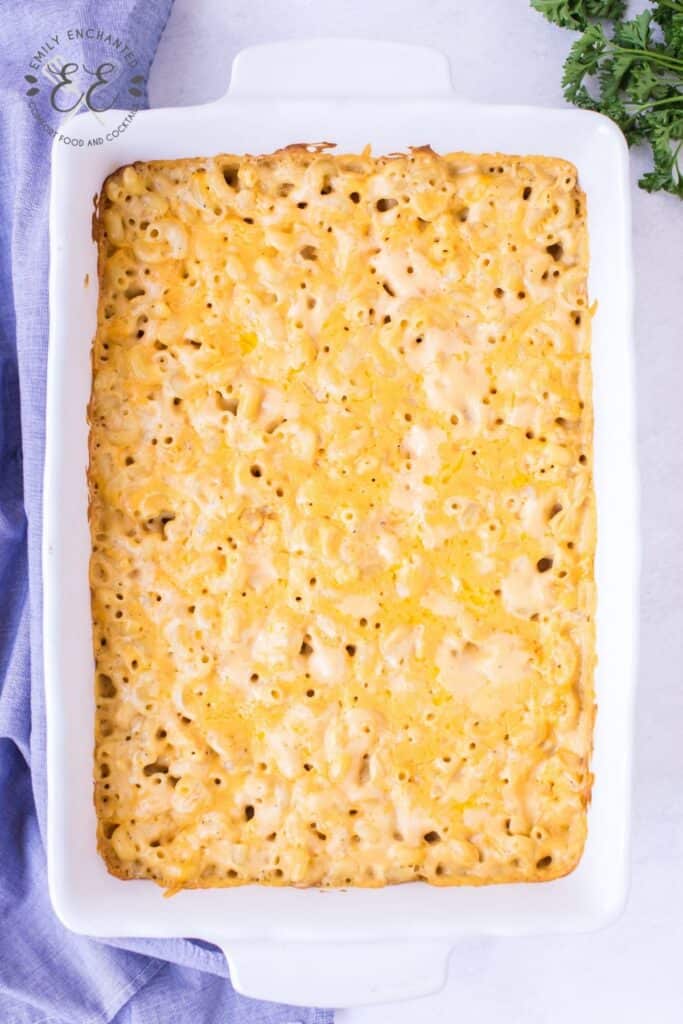 This post contains affiliate links.
Baked Macaroni and Cheese Ingredients
To make macaroni and cheese from scratch, you will need the following ingredients (see the recipe card below for exact amounts and directions):
Dry pasta: I used elbow macaroni, but you can use any small to medium sized pasta for this.
Salted Butter
Flour
Whole milk: You can also use 2% milk, but it may take a little bit longer to thicken up.
Heavy whipping cream
Seasonings: I used dry mustard powder, onion powder, salt, and pepper.
Cheese: For this mac and cheese recipe, I use 3 different types of cheese: sharp cheddar, Velveeta cheese, and shredded Parmesan cheese. I use block sharp cheddar and shred it in a food processor. Block cheddar melts better than bagged shredded cheese. Also be sure to use shredded Parmesan cheese and not the grated shaker cheese.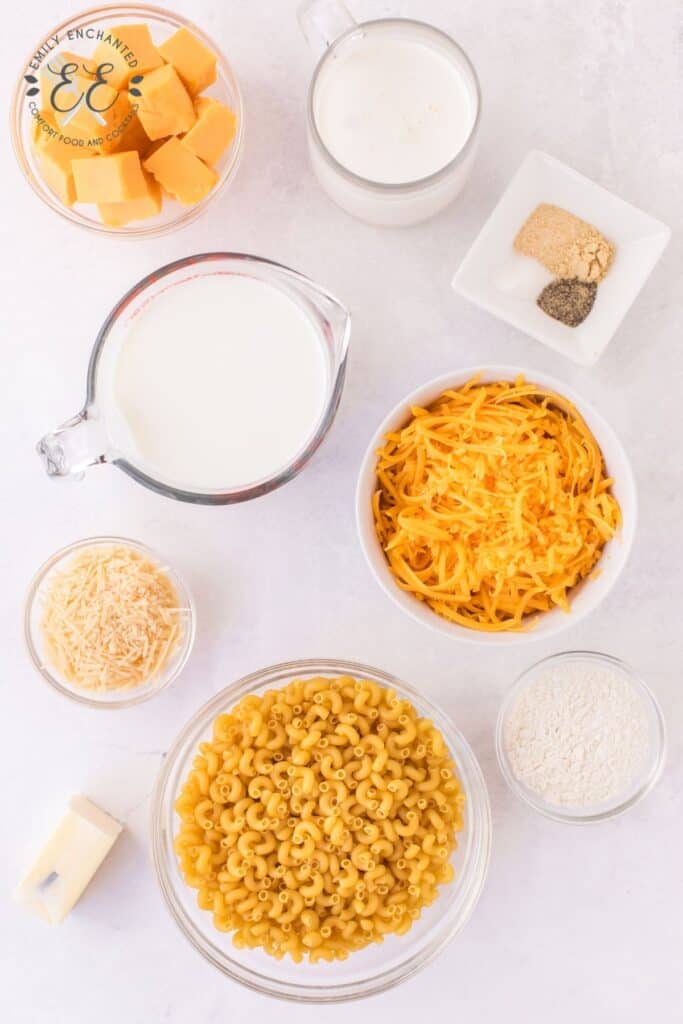 How to Bake Mac and Cheese in the Oven
This is not a one pan recipe. You must first cook the noodles. The mac and cheese gets baked in the oven to make sure all the cheese is extra melted. This is not your boxed mac and cheese with fake cheese powder! The real deal is worth waiting for.
Preheat oven to 350 degrees F.
Cook the noodles. Cook macaroni until just under al dente (it will finish cooking in the oven). Set aside.
Make the roux. Melt butter in a large saucepan over medium heat. Whisk in flour and cook for an additional 2 minutes. Slowly whisk in milk, cream, mustard powder, onion powder, and salt and pepper. Cook until thickened, stirring frequently for about 2 minutes.
Melt the cheese. Remove from heat and stir in 3 cups sharp cheddar, Velveeta cheese, and Parmesan cheese until melted. It's okay if the Velveeta cheese isn't completely melted.
Add to baking dish. Gently stir macaroni into cheese sauce and pour into a lightly greased 9×13 inch baking dish. Top with remaining 1 cup sharp cheddar cheese.
Bake to perfection. Bake in oven for 30-35 minutes or until bubbly. Do not overcook – this will dry out your macaroni and cheese. Enjoy!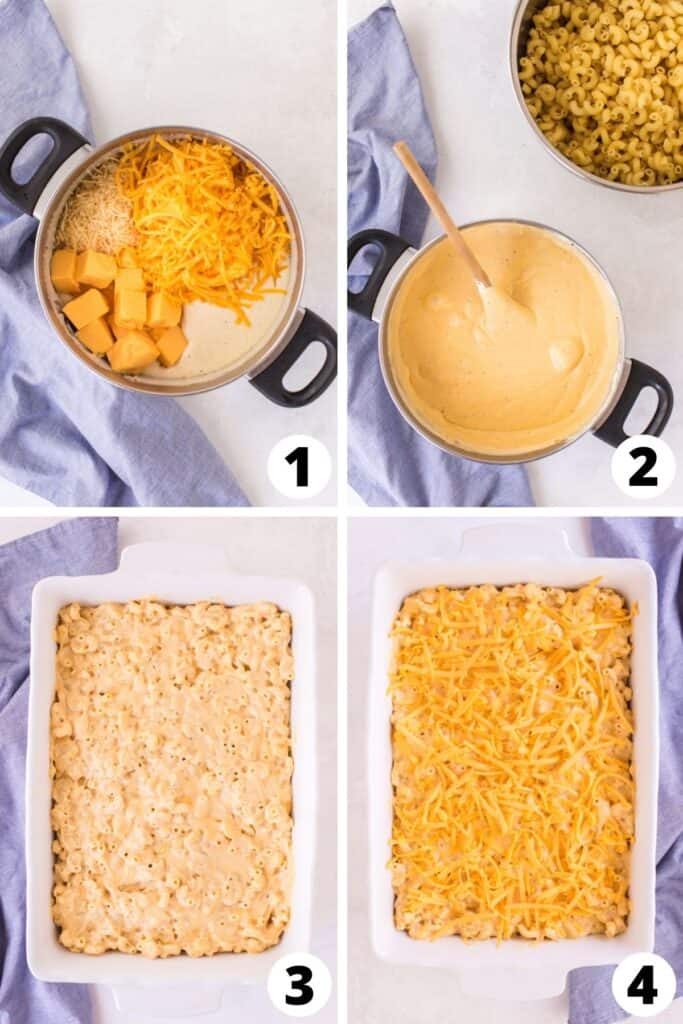 Optional Add-Ins for Baked Mac and Cheese
This baked macaroni and cheese is a great on its own, but you can always add in extras in order to bring it to the next level. Some options are:
Bread crumbs: Crumble on some buttered bread crumbs to the top before you put it in the oven and you will be left with a nice crunchy top.
Bacon: Add it inside of your macaroni and cheese or crumble it on the top.
Hot dogs, sausage, or ham: For a little extra protein and flavor.
Hot sauce: Add a little spice to your mac and cheese recipe.
Storage Instructions
Store your baked macaroni and cheese in the refrigerator for an additional 4 to 5 days.
FAQs
Can I Freeze Macaroni and Cheese?
Baked mac and cheese freezes well. You can freeze your macaroni and cheese for up to 2 months for best quality.
What are the Best Noodles to Use for Macaroni and Cheese?
Elbow macaroni is best for traditional mac and cheese, but you can use spiral noodles, bowtie pasta or shells.
What is the Best Cheese to Use for Macaroni and Cheese?
You can mix and match the type of cheese that you put into your macaroni and cheese. Every combination will produce a slightly different flavor. One delicious combination is sharp cheddar, Velveeta cheese, and Parmesan cheese. Some other great cheeses to add to your macaroni and cheese are Colby jack, mozzarella, mild cheddar, or even pepper jack for a spicy kick.